This article first appeared in The Edge Malaysia Weekly, on December 3, 2018 - December 09, 2018.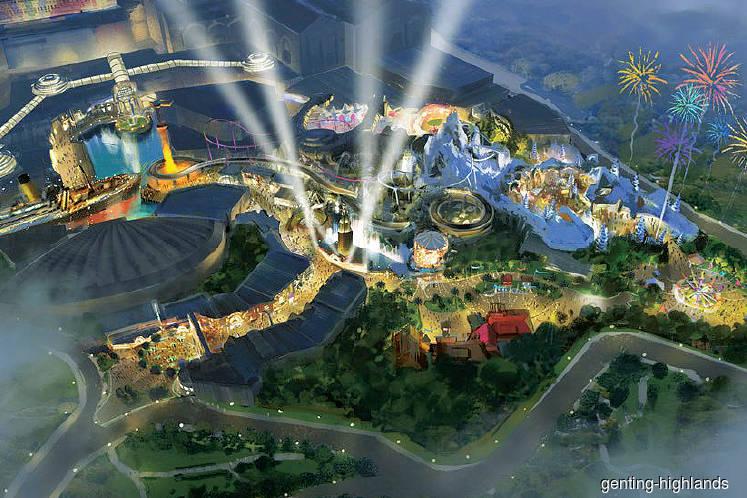 FOR Genting Malaysia Bhd, the saying that it never rains but it pours certainly rings true. Over the last two months, the Malaysian gaming juggernaut's,   share price fell by more than 40% and that of its parent, Genting Bhd, dropped 18% as the bad news kept coming.
And just when shareholders thought the worst was over, following a 10% hike in casino duties, Genting Malaysia announced that it was suing 21st Century Fox and its soon-to-be new owner, Walt Disney Co, for pulling out of an agreement for a Fox World theme park at its casino resort.
Then, last Friday, Genting Malaysia posted a net loss of RM1.49 billion for the period ended Sept 30, 2018 — its first in 10 years. It saw a net loss of RM387.8 million in the quarter ended Dec 31, 2008.
The group's losses were mainly due to higher impairment on certain assets relating to the Malaysian operations, amounting to RM58.5 million, and an impairment of RM1.83 billion on its investment in promissory notes issued by the Mashpee Wampanoag Tribe for the development of an integrated gaming resort in Massachusetts, the US.
"The impairment loss was due to the uncertainty of recovery of the notes following the US government's decision in September 2018 to have the land in trust for an integrated gaming resort development," according to Genting Malaysia's filing with Bursa Malaysia.
Its parent, Genting, also slipped into the red with a net loss of RM275.8 million for the quarter ended Sept 30, compared to a net profit of RM190 million in 3QFY2017. However, it is worth noting that most analysts have cautioned on the potential impairment loss prior to the release of the financials.
Analysts were disappointed by management's refusal in a conference call last Friday to provide clarity on the status of the outdoor theme park (OTP) following Genting's lawsuit against Fox and Disney.
"I think most of us are really very disappointed as this is the most pressing matter at the moment. Management should be more transparent about the details of the issues related to the theme park," an analyst says, adding that the lack of clarity is hardly a boost for investor confidence.
Most research houses see the legal proceedings involving Disney and Fox as a negative surprise and slashed their earnings forecasts for Genting Malaysia and Genting as most had expected higher visitor arrivals to Genting Highlands in 2019 and 2020, with the opening of the theme park in the first half of next year. Recall that management had targeted to achieve 30 million visitor arrivals annually by 2020, with the OTP acting as a catalytic crowd-puller that would enhance casino visitation and overall spending in FY2019 and FY2020.
Bloomberg data reveals that at least six analysts downgraded their target prices and recommendations for Genting Malaysia last month alone. Nonetheless, the consensus target price of RM3.83 is still 33.9% higher than its closing price last Friday.
As for Genting, most analysts have maintained their recommendations with an average target price of RM9.23, indicating a potential return of 47% based on its closing price of RM6.28 on Friday.
Maybank Investment Bank Research analyst Yin Shao Yang was the only analyst who upgraded his call on Genting Malaysia from "hold" to "buy" following the sharp decline in the share price. This was prior to the conference call on Friday.
Yin says in his report that the current share price implies that the OTP investment has been written off. He adds that Genting Malaysia may even receive the OTP for free with spare change if it wins its US$1 billion claim.
"Fox claimed US$46.2 million in accelerated payments but Genting Malaysia intends to claim for its OTP investment of US$750 million and consequential and punitive damages that, in total, will exceed US$1 billion. Although the theme park will no longer be Fox-branded, we understand that its construction will continue and it will eventually operate as an 'in-house' OTP. Recall that Genting Malaysia operated its own OTP before closing it in September 2013," he says.
A fund manager who agreed to speak on condition of anonymity tells The Edge that the impact from the Fox World theme park is not as significant as the increase in gaming duties on gross collections to 35%, as well as the increase of the annual casino licence fee by RM30 million to RM150 million and machine dealer's licence to RM50,000 from RM10,000 a year.
"While it is a loss not to have the first Fox-brand theme park in the world in Genting, the impact is not as severe. The theme park is unlikely to be the main revenue contributor to the group, even if it is Fox branded, and the whole idea is to increase visitor arrivals with the opening of the theme park.
"So, while there is going to be some negative impact on the group's earnings, Genting could still run the theme park on its own so it will not be a total loss for the company. And if it wins the case against Fox and Disney, it will get some compensation," he says, adding that the legal proceedings could take some time but even a potential impairment of US$750 million from the OTP investment does not justify the sharp decline in share price.
Genting Malaysia was the second worst performing stock for the week among the FBM KLCI component stocks, behind Telekom Malaysia Bhd, while Genting was the fourth worst performing stock for the week behind Axiata Group Bhd. Genting Malaysia's share price has fallen 20.3% over the past week, as news of the lawsuit against Fox and Disney emerged, to a six-year low of RM2.84 before recovering somewhat to close at RM2.86 on Friday. Genting's share price declined 8.9% to close the week at a three-year low of RM6.28.
On whether Genting Malaysia's downward trend has reversed, Hong Leong Investment Bank's head of retail research Loui Low believes that there is stiff resistance in the range of RM2.90 to and RM3, despite a slight recovery seen on Friday.
"There is no sign of a reversal yet as it (technical indicator) is still downward trending for the time being. Despite [being] oversold, it needs to surpass RM3 convincingly before the reversal would start."
As for Genting, he says it is still trending lower with no sign of reversal and the share price may even revisit RM6, followed by the next support at RM5.80.
On a more positive note, Rakuten Trade Sdn Bhd vice-president of research Vincent Lau, tells The Edge that while Genting Malaysia and Genting could still face some downside pressure amid the negative sentiment involving high-profile companies such as Disney and Fox, investors with a longer-term view could look at the opportunities to buy the dip.
Save by subscribing to us for your print and/or digital copy.
P/S: The Edge is also available on Apple's AppStore and Androids' Google Play.