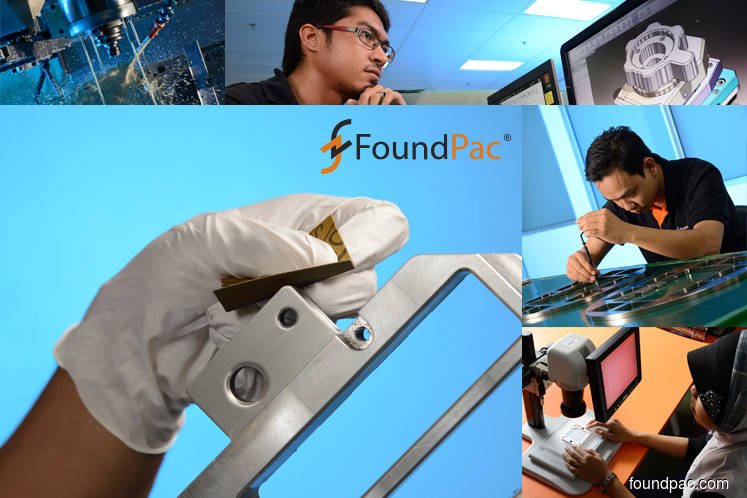 KUALA LUMPUR (Aug 14): FoundPac Group Bhd's net profit fell 34.8% to RM1.83 million in the fourth quarter ended June 30, 2018 (4QFY18) from RM2.81 million a year ago due to higher staff costs.
In a filing today, FoundPac, which designs and develops precision engineering parts for semiconductor manufacturers, said the drop in profitability was a result of share options granted under an Employee Share Option Scheme (Esos) of RM740,000 and the inventories written down of RM250,000 for the current quarter.
Quarterly revenue fell 12.1% to RM9.2 million from RM10.46 million, mainly attributable to the decrease in export sales of RM1.85 million, offset by the increase in local sales of RM580,000.
For the cumulative period (FY18), FoundPac's net profit fell 21.6% to RM8.01 million from RM10.22 million a year ago, while revenue fell a marginal 1.2% to RM35.53 million from RM35.96 million recorded in the corresponding cumulative period ended June 30, 2017.
The lower revenue was mainly attributable to the decrease in sales from its US market, offset by the increase in sales at Asia region for FY18.
The decrease in cumulative net profit was mainly due to the lower other income, higher staff related expenses as a result of share option granted under Esos of RM1.16 million, inventories written down of RM250,000, and the foreign exchange loss of RM370,000 in FY18 compared to foreign exchange gain of RM460,000 in FY17, FoundPac said.
FoundPac said its board and management are positive about its prospects for the next financial year ended June 30, 2019 based on the uptrend market outlook of the semiconductor industry and electronics industry.
"Our group will continue to uphold its core and long-term strategy to focus on business expansion and diversification, product development, as well as business process optimisation through lean implementation across all operations in the organisation," it added.