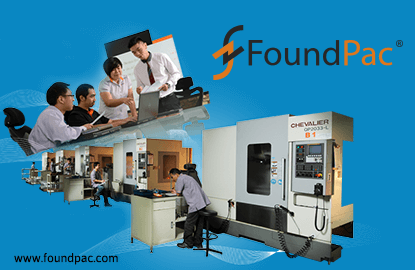 KUALA LUMPUR (Dec 13): Penang-based precision engineering parts fabricator and supplier FoundPac Group Bhd, which is en route to being listed on Bursa Malaysia's Main Market on Dec 29, has priced its initial public offering (IPO) shares at 54 sen apiece to raise up to RM21.6 million.
In its IPO prospectus released today, it said it will be issuing 40 million new shares, of which 18.5 million will be made available to the Malaysian public, and 10.5 million to its eligible directors, employees and business associates, with the remaining 11 million to be placed out to identified investors.
In addition, its major shareholder FoundPac Holdings Sdn Bhd is offering 92 million shares up for sale, by way of private placement — 55 million will be placed to identified investors, with the remaining 37 million to selected Bumiputera investors.
In a statement, FoundPac chief executive Lee Chun Wah said proceeds from the group's listing will help drive the next phase of the group's growth, and strengthen its business as a whole.
Of the RM21.6 million to be raised, RM8 million will be used for the purchase of property, plants as well as equipment, RM3.6 million will be reserved for working capital, RM3 million for design and development efforts, and RM4 million to fund the group's overseas expansion plans.
FoundPac, which was established in 2005, expects to have a market capitalisation of approximately RM199.8 million upon listing based on the IPO price of 54 sen.
"While locally based, the group's products are exported for the most part to various international markets primarily in Europe and the United States, with the US market constituting almost 73% of FoundPac's sales in FY2016," it said.
"In light of the positive prospects for the growth of the semiconductor industry globally, thanks in part to the continued increase in adoption of mobile devices and the Internet of Things (IoT), I believe the time is right to take advantage of FoundPac's established track record, to steadily expand our market share in major markets including Milan, Italy and California in the US, where we have plans to set up new sales offices.
"Concurrently, we plan to strengthen our current capabilities through the setting up of a dedicated design and development team, which will be focused on product development. To further stabilise our revenue generation the group is also looking to diversify our customer base to include end-user industries like those in the automotive industry," Lee shared.
TA Securities Holdings Bhd is the principal adviser, sole underwriter and placement agent for the IPO exercise.