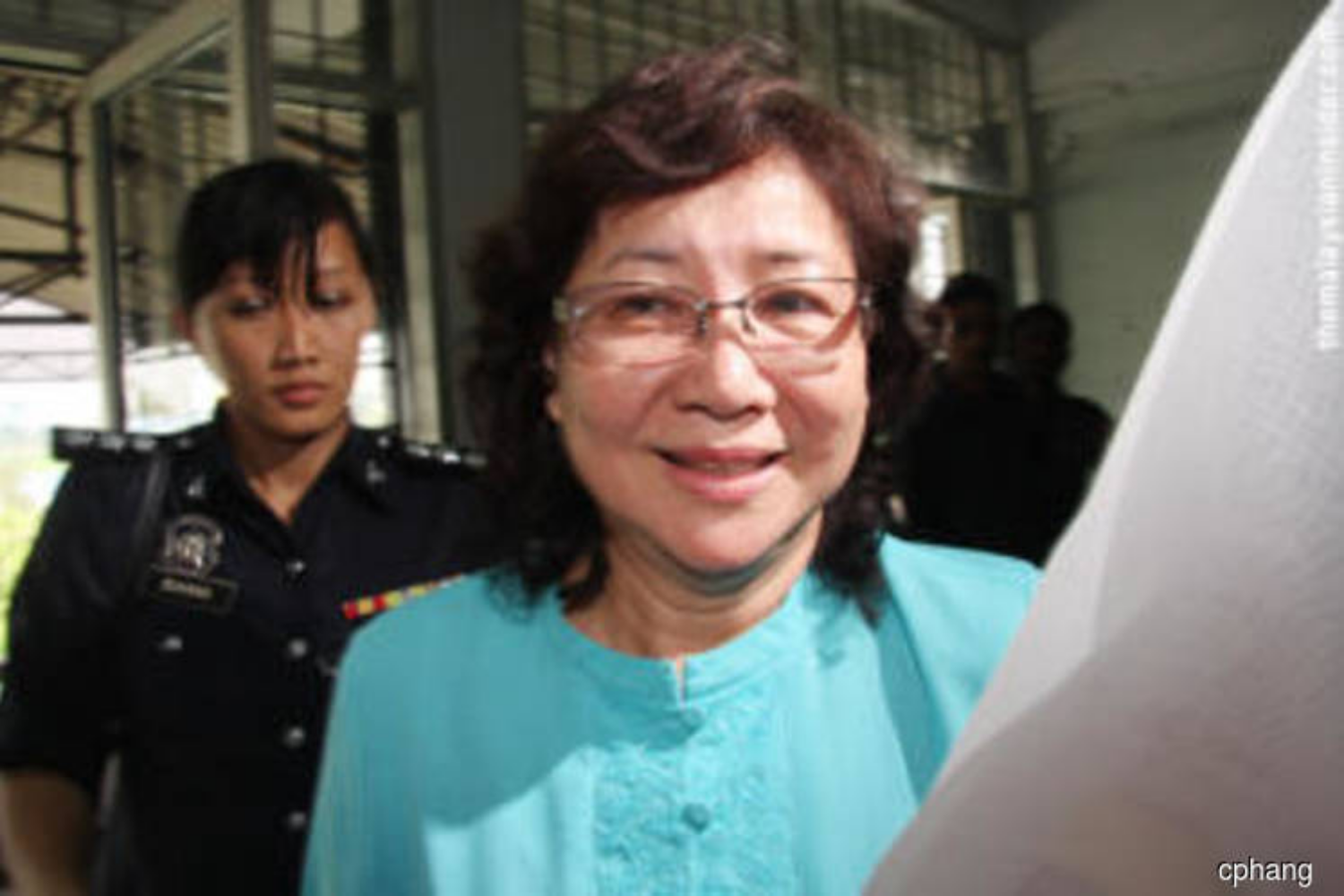 KUALA LUMPUR (Jan 19): Former Port Klang Authority general manager (GM) Datin Paduka OC Phang, who was ordered to pay RM2.6 billion in damages by the Shah Alam High Court to the authority, has been declared a bankrupt.
The petition notice declaring her a bankrupt was made following a Kuala Lumpur High Court order dated April 11, 2019, that allowed PKA directors to recover the amount of damages that had been assessed.
The notice seeking the court to make the announcement was made by Datuk Yap Pian Hon, who was one of the directors.
This comes after the Shah Alam High Court had in 2018 found her liable for 11 of the 15 breaches listed by PKA in a suit filed against her following the Port Klang Free Zone (PKFZ) cost overruns, according to Malaysiakini.
Justice Datuk M Gunalan, who has since been elevated to the Court of Appeal, had agreed with PKA's claim that Phang owed her duties to PKA as its GM and given that it is a statutory body, she could not bypass the board of directors and rely solely on sanctions of the Transport Ministry, Finance Ministry and the Prime Minister to enter into agreements which were binding on PKA.
"It is erroneous for Phang to contend that the Treasury guidelines were not binding or applicable to her or that she had not known of the same. Phang cannot in principle rely solely on the protection of the Transport Ministry for her actions," he said.
The court ruled that Phang had breached her duties as PKA GM by entering into agreements without first consulting the PKA board of directors and in disregard of PKA's dire financial state, but which instead appeared to benefit the interests of a third party.
Phang had tried to bring 23 PKA directors as third party individuals into the claim as part of her defence but failed. Hence, she was ordered by the court to pay RM80,000 in costs, but was not able to come up with the amount.
It is not known where the former GM is currently, as her last known address is in Bukit Bandaraya, Bangsar.
The civil suit against Phang is the only successful court case brought against those allegedly responsible for the overwhelming costs.
Meanwhile, the Federal Court had last Wednesday dismissed the prosecution's final appeal to forfeit RM37.8 million from Bintulu member of Parliament Datuk Seri Tiong King Sing, Kuala Dimensi Sdn Bhd (KDSB) and seven others in the PKFZ case.
Besides Tiong and KDSB, the main contractor of the PKFZ project, the prosecution had also named Transshipment Megahub Bhd, Coastal Skyline Sdn Bhd, Wijaya Baru Aviation Sdn Bhd, Wijaya Baru Sdn Bhd, Wijaya Baru Construction Sdn Bhd, Law Ka Hieng and the Selangor State Development Corp (PKNS) as respondents.
Lee: Prosecution and police sloppy
Former PKA chairman Datuk Lee Hwa Beng called the case by the police and prosecution sloppy at best, after the apex court last week found that the prosecution had failed to relate how Phang's three counts of breach of trust led to the money-laundering claims.
Speaking to The Edge, Lee — one of those who found something amiss in the project and helped reveal the purported mishandling and budget overruns — said if the prosecution would have read his book "PKFZ: A nation's trust betrayed", it may have performed better.
"I respect the Federal Court's decision with regards to the prosecution's final appeal (to forfeit RM37.8 million worth of property and cash) from KDSB, Tiong and seven others.
"I noticed that the apex court judgement also alluded to the electrical infrastructure that was allegedly built but in actuality are falsely claimed as rightly pointed out, but no evidence or names of witnesses were referred to in the prosecution or police affidavit that resulted in the apex court to reject the appeal.
"Normally the Tenaga Nasional Bhd (TNB) would oversee such infrastructure projects, and [I wonder] how come such evidence was not produced from the witnesses in the police and prosecution's affidavit," he said.
"It is as if the prosecution and the police [have been] doing the case half-heartedly since then attorney-general Tan Sri Abdul Gani Patail's time," he claimed further.
Lee also took the two-year-old Pakatan Harapan government to task for not working hard in seeing justice be done in this case.
So far, the PKFZ had not seen any successful prosecution, with criminal breach of trust charges against Phang withdrawn in 2016.
Three other individuals — two from KDSB: its project manager Law Jenn Dong and its chief operating officer Stephen Abok, and its appointed architect Bernard Tan Swee Seng of BTA Architect — were charged with cheating. They were acquitted by the Sessions Court in 2017.
The then government and Gani had also brought charges against two former transport ministers Tun Dr Ling Liong Sik and Tan Sri Chan Kong Choy for allegedly deceiving the then Tun Dr Mahathir Mohamad's and Tun Abdullah Ahmad Badawi's cabinets respectively when they were prime ministers.
Ling was acquitted by the High Court, and the prosecution did not file an appeal, while Chan's charges were later withdrawn.
Read also:
Apex court dismisses Govt's appeal to forfeit RM37m from Tiong, eight others over PKFZ project