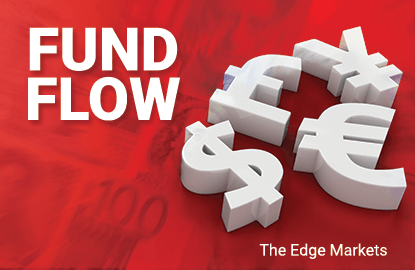 KUALA LUMPUR (Oct 31): General foreign investor activity on Bursa remained suppressed last week, but there was a notable pickup in trading aggressiveness, with foreigners offloading RM396.8 million last week, the highest amount since the second week of September, according to MIDF Research.
In his weekly fund flow report today, MIDF Research head Zulkifli Hamzah said except on Monday, when there was marginal foreign buying, selling dominated the rest of the trading week.
He said there was a notable spike in foreign attrition on Wednesday and Thursday, similar to that seen in emerging markets in this region.
"The selling tapered significantly in Kuala Lumpur and Jakarta by Friday, but persisted in Bangkok and Manila.
"On Bursa, foreigners sold RM162.6 million on Wednesday and RM220.0 million on Thursday.
"The RM220 million attrition on Thursday was the 24th day that the amount had exceeded RM200 million this year," he said.
Zulkifli said last week's attrition reduced the cumulative net foreign inflow into shares listed on Bursa to an estimated RM2.0 billion, down from a peak of RM6.47 billion, which was the figure in April.
He said this meant that since April, foreign investors have redeemed about RM4.47 billion.
The amount is still modest relative to the RM19.5 billion and RM6.9 billion net outflow in 2015 and 2014 respectively.
"General investors' participation deteriorated sharply last week. The ADTV (average daily value of shares traded) of foreigners dropped 18% to RM734 million, the third lowest in a trading week this year.
 
"It was even lower than the ADTV recorded during the Chinese New Year and Hari Raya weeks," he said.
 
Zulkifli said retail participation remained weak even after the
Budget.
 
He said retail ADTV has dipped below RM500 million four weeks in a row now.
 
He said the market has not seen the extent of retail withdrawal from the market since early 2013.