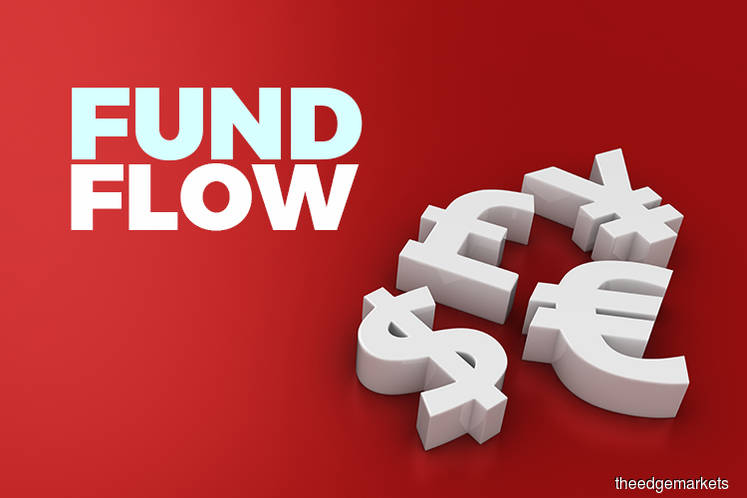 KUALA LUMPUR (Jan 13): Foreigners were net sellers of Malaysian shares last week at about RM10.9 million after they bought and sold some RM1.943 billion and RM1.953 billion worth of equities respectively, according to MIDF Amanah Investment Bank Bhd.
MIDF analyst Adam M Rahim wrote in MIDF's fund flow report today that after three consecutive weeks of foreign net inflow into Malaysian stocks, these investors became net sellers last week but at a moderate level as they closely watched US-Iran geopolitical tension and looked ahead to the first phase of the US-China trade deal.
"The month January 2020 [has] so far seen a foreign net inflow of RM171 million. In comparison to the other three ASEAN markets we track, Malaysia has the smallest foreign net inflow on a year-to-date basis. In terms of participation, foreign investors had the smallest decline in average daily traded value amongst the other investor groups, decreasing by only 0.3% and still below the RM1.0 billion mark.
"Bursa Malaysia began the week on a sluggish note as foreign investors took out RM57.4 million net of local equities on Monday amidst the latest conflict in the Middle East between Iran and the US. Offshore investors later returned to Malaysia on Tuesday at a tune of RM81.8 million net, lifting the local stock barometer 0.8% higher to close above 1,600 points. Investors viewed that there will unlikely be additional armed clashes while uncertainties over global oil prices have been somewhat eased by a US decision to boost its oil production.
"Fears of an armed conflict spinning out of control came back to haunt markets on Wednesday after Iran fired rockets at US military bases in Iraq. As such, foreign investors disposed of RM35.2 million net of local equities. The pace at which foreign investors were selling [off] local equities slowed down on Thursday to RM17.5 million net as both Iran and Washington have appeared to shy away from an outright war," Adam said.
For Friday, he said foreign investors snapped up RM17.4 million net of local equities in anticipation of the signing of the US-China phase one trade deal on Wednesday (Jan 15).
"This was in conformity with regional peers, namely South Korea, Taiwan, the Philippines and Indonesia, which saw a foreign net inflow on the same day," he said.