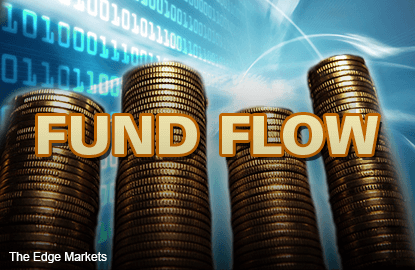 KUALA LUMPUR (Oct 10): Foreign investors' net purchase of Malaysian shares amounted to RM118.8 million last week after they bought and sold RM2.15 billion and RM2.03 billion worth of equities respectively.
Today, MIDF Amanah Investment Bank Bhd research head Zulkifli Hamzah said the net purchase followed a net sale of RM240.8 million a week earlier.
"Foreigners bought a small amount of RM118.8 million, after offloading RM240.8 million the week before. This is estimated based on transactions in the open market which excluded off-market deals.
"Bursa was closed on Monday for a public holiday. There was healthy buying activity on Tuesday when the market reopened as foreigners bought RM143 million worth of shares. However, the momentum was not sustained and the buying tapered off on Wednesday and Thursday. By Friday, foreigners turned net sellers, but the amount was low," Zulkifli wrote in MIDF's fund flow report today.
Malaysian investors were, however, net sellers of local shares last week. Today, he said retail investors' net sale amounted to RM87.9 million after they bought and sold RM887.2 and RM975.1 million worth of equities respectively.
Institutional investors' net sale amounted to RM30.9 million after they purchased and disposed of RM4.36 billion and RM4.39 billion worth of shares respectively.