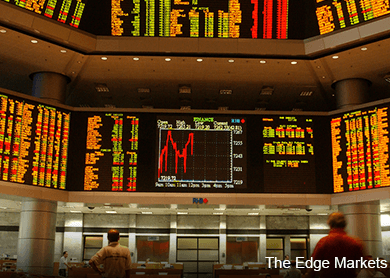 KUALA LUMPUR (Jan 29): Selling on Malaysian equities by foreign investors is mainly done with and the country remains very much on the radar of investors, according to Maybank IB Research.
In a strategy note today, the researh house said its take was that most of the funds it met had reasonably reduced their exposure to Malaysian equities since the roil on crude oil price began.
"They are presently either Underweight or Neutral on Malaysia," it said.
Maybank IB Research said this was to be expected since investors generally do not like uncertainties, adding that Malaysia's net oil exporting status weakened the investment case.
It said investors' reduced exposure was evident from the weak ringgit, down 13% versus the US Dollar from a high of 3.146 on Aug 27, 2014.
The research house explained that Bursa Malaysia's fund flow data showed that foreign investors had net sold RM2.4 billion of Malaysian equities since early this year until Jan 22, adding on to a net sale of RM6.9 billion in 2014.
"In the last fewtrading days, foreign investors have however turned net buyers.
"Foreigners' position is still of a net buy of RM7.1 billion since 2012, and RM24.9 billion since 2010," it said.
Maybank IB Research said Prime Minister Datuk Seri Najib Razak's announcement (on Jan 20) on the government's revenue enhancement and opex cut measures to support a revised 3.2% fiscal deficit target for 2015 (versus 3% previously), and a lower 4.5%-5.5% real GDP growth forecast for 2015 (5.0% 6.0% previously), was positive on sentiment as it shows attentiveness in dealing with the issues at hand.
"The prevailing concern, however, is of low crude oil price sustaining over an extended period, and thus,the impact on the fiscal deficit beyond 2015.
"In addition, near-term headwinds include the 6% GST implementation come April 1, 2015 and rating agencies' review of Malaysia's sovereign debtrating by mid-2015," it said.
Maybank IB Research said it continues to expect the volatility in FX, bonds and equities to stay high in 1Q15, and cautiousness to prevail in 2Q15 due to the GST implementation.
It said the 11th Malaysia Plan (2016-2020) to be unveiled in May, was critical in addressing rating agencies' concerns over Malaysia's "dependence on commodities" and it should offer insight intofiscal consolidation efforts in balancing a high-income economy target.
The research house continued to advocate a defensive strategy for equities -telco and power (Tenaga Nasional Bhd) offer less earnings downside risks.
"With all telco stocks being Shariah compliant, sector valuations should at least sustain. Tenaga is also Shariah compliant, trading at a lower PER.
"The glove and port sectors also offer earnings defensiveness," it said.
Maybank IB Research said that for dividends, Axiata Group Bhd, Telekom Malaysia Bhd and Tenaga had the capabilities to pay more, for Khazanah Nasional Bhd to distribute up to the government, as the Government expects to realise additional dividends of RM400 million from Government-Linked Companies (GLCs) and Government-LinkedFunds (GLFs) as well as other Government entities.
The research house said thematics in 2015 include (i) 11th Malaysia Plan (Gamuda Bhd), (ii) further strengthening of the US Dollar/weakening of the Japanese Yen (Inari Amertron Bhd, Vitrox Corporation Bhd, glove producers, Berjaya Auto Bhd), (iii) continued weakness in commodity prices (Tenaga), (iv) positioning for Sarawak's state elections (Cahya Mata Sarawak Bhd, Hock Seng Lee Bhd), and (v) M&As which unlock values(S P Setia Bhd, WCT Bhd, NCB Holdings Bhd, Sime Darby Bhd).