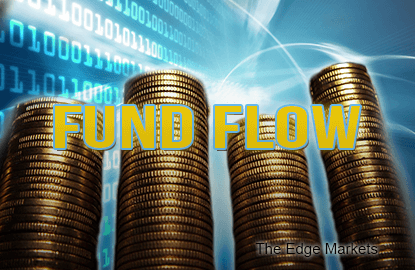 KUALA LUMPUR (Nov 28): Foreign money attrition from Bursa Malaysia slowed down last week, compared to the past three weeks, according to MIDF Research.
In his weekly fund flow report today, MIDF Research head Zulkifli Hamzah said the net amount sold by foreigners on Bursa of RM493.3 million was the lowest in November.
"It is noteworthy that the subsidence in the heavy tide out of Malaysian equity last week was also similarly apparent in other Asian markets," he said.
 
Zulkifli said throughout the week, foreign investors continued to be net sellers, following the trend from the prior week.
 
He said despite the slight buildup of RM1.3 million on Monday, the attrition continued to be persistent with the highest on Thursday (Nov 24) of RM168.7 miilion, and lowest on Friday (Nov 25) of RM73.6 million.
 
He said on a cumulative year-to-date basis, the amount of net-selling from foreigners has shrunk to RM1.37 billion, from a peak of RM6.47 billion in April.
 
However, he said compared with 2015, the outflow amount is still considered low, as only RM7.8 billion has been redeemed since April. There was net outflow of RM19.5 billion in 2015.
 
Zulkifli said retail investors continued to be positive at RM502.9 million, maintaining its levels in October.
 
"The buying on dips conviction was also stronger than last week, which increased to RM105.1 million," he said.