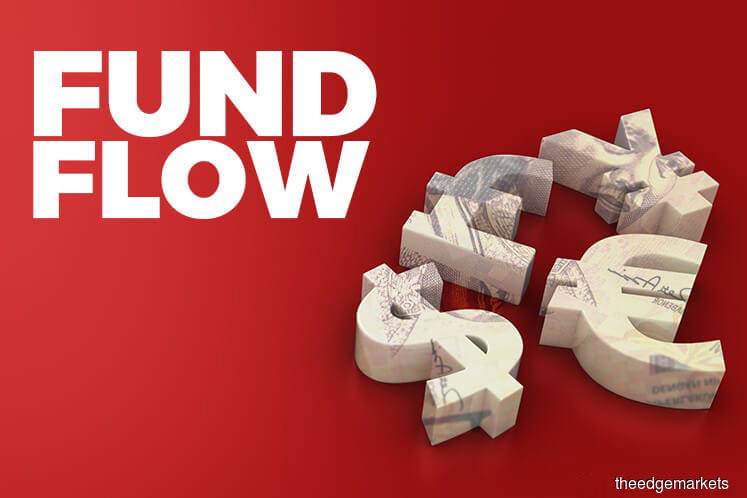 KUALA LUMPUR (Mar 19): Foreign funds acquired RM141.2 million of Malaysian equity last week, after having disposed RM299.1 million the prior week, according to MIDF Amanah Investment Bank Bhd Research.
In his weekly fund flow report today, MIDF Research's Adam M Rahim said foreign buying peaked on Monday at RM279.3 million net, the highest net inflow in a day since Jan 23 which led to FBM KLCI's biggest daily gain in 15 trading days of 0.94%.
He said sentiment on that day was buoyed by receding fears over quicker U.S rate hikes this year amid the increase in jobs coupled with a slowdown in wage growth.
"The FBM KLCI gained 0.15% to 1,864 points the next day with a smaller inflow of RM122.9 million.
"However, markets on Wednesday negatively affected by President Trump's decision to oust Rex Tillerson.
"The political turmoil in the U.S prompted investors to shift to safe-haven assets, resulting in a daily attrition of RM11.5 million. Foreigners then disposed RM22 million net on Thursday amid concerns of the US-China trade spat, coinciding with the FBM KLCI's settling at the lowest point during the week at 1,845 points," he said.
Adam said President Trump was urging China to reduce its trade surplus with U.S by RM100 billion.
He explained that foreign selling further intensified on Friday as foreign funds withdrew RM227.5 million net ahead of the Fed' monetary policy meeting this week.
"On a year-to-date basis, foreigners have accumulated RM2.05 billion worth of local equities.
"Meanwhile March has so far recorded a net outflow of RM207.4 million, a far cry from the RM4.37 billion net inflow in March 2017 amid the anticipation of the 14th General Election," he said.
Adam said foreign average daily trade value (ADTV) increased by 46% to RM1.64 billion, marking its 11th week of staying above RM1 billion.
He said retail participation rate remained vibrant too with its ADTV remaining above RM1 billion for the fourth consecutive week.