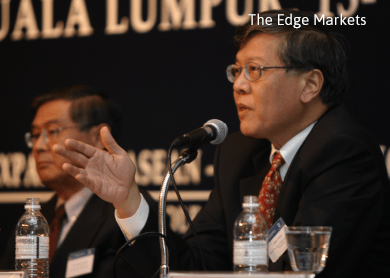 KUALA LUMPUR: Adopting foreign economic models may not be the best choice for Malaysia, former Malaysian and Hong Kong central banker Tan Sri Andrew Sheng said.
"Life is about diversity. It is better that we get many countries coming up with different ideas and maybe one of them would work. Sometimes the countries that you never imagined [to come up with an idea] can create something, and maybe Malaysia can be one of them," he said during a public lecture on Complexity Economics and New Economic Thinking at Universiti Malaya yesterday.
"We don't have to take everything from abroad because sometimes they don't fit us," he added. Sheng suggested that new economic points of view should include qualitative aspects and not merely quantitative numbers.
Sheng also said letting the ringgit float freely versus the US dollar is important in helping Malaysia cushion external shocks.
"If the ringgit today is [trading at] RM3 against the US dollar, what would be the price of palm oil? And how many people in this country can live off palm oil? So to a large extent, the flexibility of the ringgit is important in helping Malaysia cushion external shocks," he said. According to Reuters, the ringgit rose as much as 0.7% to 3.6110 per US dollar yesterday.
Drawing from lessons learnt from the previous financial crisis, Sheng also said Malaysia has learnt that the exchange rate is an important tool in helping to regulate the economy.
Comparing the situation to the eurozone, the former central banker pointed out that Europe has engaged in quantitative easing (QE) which by default depreciates the currency.
Sheng explained that this is why some are calling this a currency war.
"As a result of this (QE), the eurozone is starting to reflate and growth is beginning to recover," Sheng said.
Sheng added that currently the US is also facing the effects of a stronger greenback, but whether it will be negative for the US remains to be seen as it has a strong economy.
"If US exports suffer and imports increase [due to a strong US dollar], creating a current account deficit that is worse, there will be even more complex policy changes," he said.
This article first appeared in The Edge Financial Daily, on April 23, 2015.