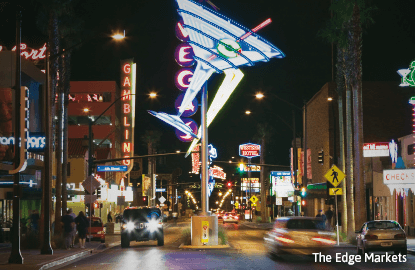 This article first appeared in The Edge Financial Daily, on September 30, 2015.
OF course there is more to do in Las Vegas than gamble — it's just that this city's epic casinos tend to outshine its vibrant food scene. The next time you're in the neighbourhood with some time to spare, try out Lip Smacking Foodie Tours for one of the most insightful and dynamic culinary walking tours on The Strip, as well as Downtown Las Vegas. With hundreds of restaurants to choose from in this city that never sleeps, this is one way to get an idea of some of the best — all in one afternoon or evening, and without the hassle of reservations or waiting in line. 
In recent years, the downtown area of Las Vegas has gone uptown in a big way. Pulsing with reinvigorated energy, it has been transformed into the city's most exciting food scene with chef-driven restaurants rich in personality and flavour.
The Downtown Lip Smacking Tour allows you to experience a side of Vegas that keeps it real, with distinctive urban character. The tour's expert guides will provide an insider's view of the downtown's past, present and future, as you take in significant landmarks, and enjoy signature dishes at the most exhilarating neighbourhood restaurants devoted to farm-to-table, artisanal-crafted fare.
Tour stops include the acclaimed Carson Kitchen, founded by the late great Kerry Simon, who was known as the celebrity "rock 'n' roll'' chef. It sports an open kitchen to catch all the action up close and personal, as you enjoy Americana dishes elevated with whimsy and garden-fresh, seasonal ingredients.
At Glutton, housed inside a striking industrial-chic, mid-century building, you'll enjoy chef-owner Bradley Manchester's cuisine, which is all about vibrant flavours and palate-pleasing textures. Manchester has created a place with a neighbourhood vibe that specialises in craft cocktails, along with a concise menu of small and large plates.
At Itsy Bitsy, don't let the name fool you. At this comfortably-sized 2,500 sq ft Japanese-style tavern, executive chef Ricardo Romo specialises in customisable ramen and Japanese street food that melds old-world artistry with new-world attitude.
Amble through the unique Container Park, a must-stop, where shipping containers have been converted into swanky boutiques, bustling restaurants and a spirited venue for free live music.
In between bites on tours, quench your thirst at Banger Brewing. See how small-batch, craft beer is made, and sample such outrageous brews as El Heffe (Jalapeno Hefeweizen) and Morning Joe (Kolsch with French caramel and hazelnut coffee). 
The Downtown Lip Smacking Tour is US$125 (RM556.25) a person. For more information or for reservations, visit vegasfoodietour.com.