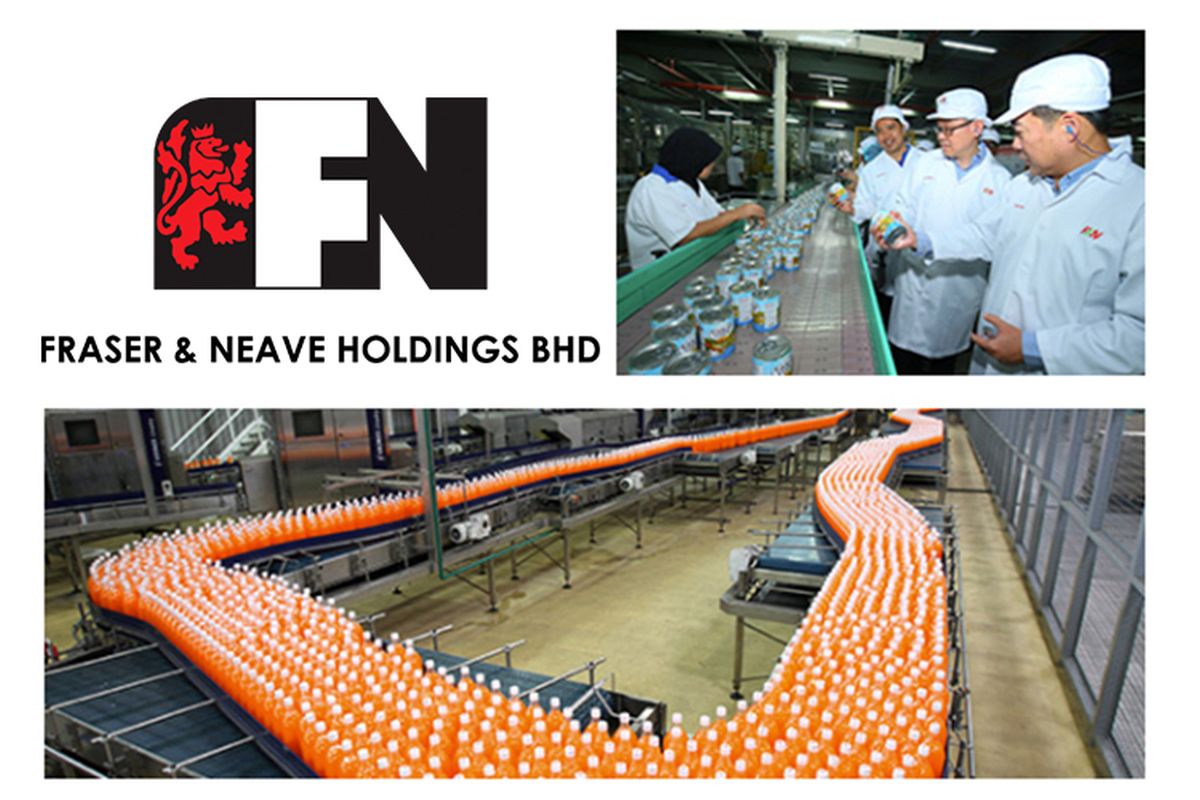 KUALA LUMPUR (Nov 3): Fraser & Neave Holdings Bhd's net profit dropped 31.7% to RM58.69 million from RM85.99 million a year ago following a sharp rise in commodity prices and the accounting of restructuring expenses, while revenue fell.
 
Its revenue declined 6% to RM896.26 million for its fourth quarter ended Sept 30, 2021 (4QFY21) from RM953.7 million in 4QFY20 amid the Covid-19 lockdowns in both Malaysia and Thailand, where it operates.
Its Malaysian business' revenue declined 7.5% to RM457.9 million, said F&N in a statement. While the lockdown in Thailand also impacted domestic sales, F&N said its operation there was able to sustain marginal growth of 0.6% in revenue (in Thai Baht terms), thanks to high double-digit growth in exports due to new customers and higher orders. However, unfavourable ringgit/Thai baht translation led to lower revenue in ringgit terms, which declined by 4.8% to RM436.2 million (4QFY20: RM458 million).
For the full FY21, the group's net profit dropped 3.7% to RM395.16 million from RM410.38 million, despite revenue rising to RM4.13 billion from RM3.99 billion, no thanks to higher commodity prices and lower export margin. It also had to contend with restructuring and Covid-related expenses as well as a lower share of profit from its associates.
The group proposed a final dividend of 33 sen per share for FY21, similar to the sum it paid out in the same period last year. If approved by shareholders, this will raise its FY21 payout to 60 sen per share, same as FY20's.
"FY2021 was undoubtedly difficult in both demand and cost aspects. However, we remained steadfast in our long-term priorities and launched a fourth business pillar — Halal Packaged Food — with the acquisition of Sri Nona Companies. During the year, we also aligned our business needs with opportunities presented by Covid-19 and digital technology while placing the well-being of our people and community above all else," F&N chief executive officer Lim Yew Hoe noted.
Lim added that the group's diversified products and geographical presence contributed to its resilience in FY21, while prudent cost management helped the group mitigate higher commodity prices, as well as freight and warehouse costs.
Moving forward, the group said it remains cautious of the challenging market conditions and ongoing global uncertainties due to the pandemic and will make exports a key focus for its operations in Malaysia and Thailand.
"We are prepared to ride on the encouraging return of economic activities in Malaysia and Thailand to drive sales, particularly for our beverages and ready-to-drink dairy business, and out-of-home channels. We will continue to offer products that meet consumers evolving needs and refine our product pricing to cushion our businesses against cost pressures including further increase in commodity prices and other input materials," Lim added.
F&N shares gained 10 sen or 0.37% to close at RM27 apiece on Wednesday, giving the food and beverage group a market capitalisation of RM9.9 billion.