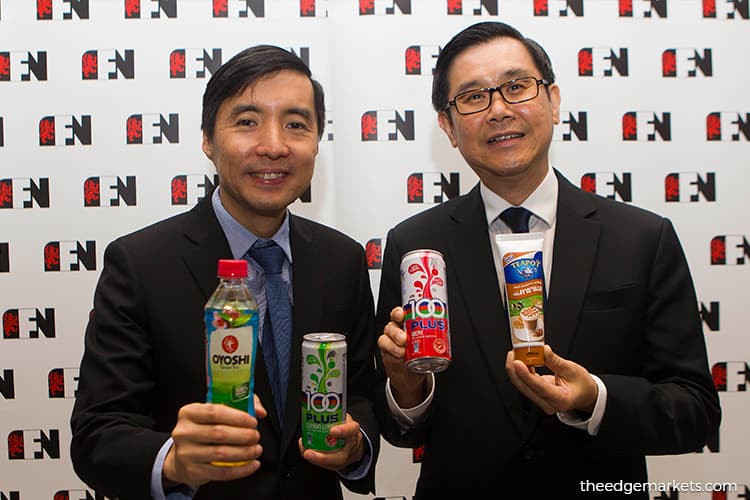 F&N CEO Lim Yew Hoe (right) holding some of the group's products. Photo by Patrick Goh
Lim: We will work on mitigating (the impact from) the sugar tax [on] our products in a few ways. Photo by Patrick Goh
PETALING JAYA (April 30): Fraser & Neave Holdings Bhd (F&N) said it is confident of mitigating the impact from the upcoming sugar tax on most of its beverages.
Its chief executive officer Lim Yew Hoe said the group has been making preparations and has come up with three strategies to take in light of these changes.
The sugar tax was expected to begin on April 1 but was extended to July 1 to give manufacturers and the Customs Department time to make preparations.
"We will work on mitigating (the impact from) the sugar tax [on] our products in a few ways. This includes producing original recipes in smaller pack sizes, as well as reducing sugar recipes. We are also going through a portfolio transformation to produce more healthy product categories. We are investing RM30 million in our Shah Alam plant to enable multiple new products to be produced from October 2019," Lim said at the group's results briefing here earlier.
He said 90% of the group's product portfolio are expected to be impacted by the sugar tax. From this, around 70% of F&N's products are expected to be reformulated, he said.
As for the group's outlook for the year ahead, Lim said the domestic market in Malaysia is expected to remain challenging given intensifying competition in the canned milk segment.
"We will focus on strengthening sales of our isotonic and carbonated soft drinks instead," he said.
Its Thailand, Cambodia and Laos market, however, is expected to do better following improvement in the sweetened and unsweetened condensed milk segments.
Lim added that the group will also be seeking new export markets, namely Nepal and France, though it is not expecting to recognise profit from these segments so soon.
At the midday break today, F&N gained 0.46% or 16 sen to RM34.88, with 21,600 shares traded.