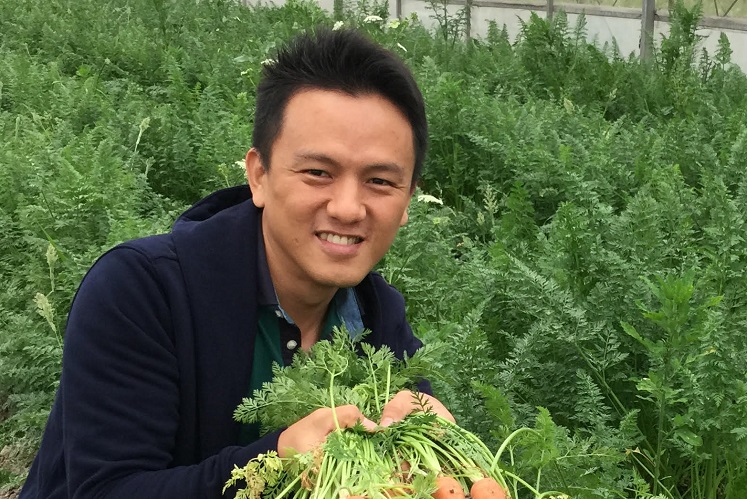 FMC Greenland Sdn Bhd, a company that owns BMS Organics, one of the largest organic retail chains locally, wants to open 100 outlets in the Klang Valley in the next three to five years. This would build the company up enough to be listed on the Main Market of the local bourse, says FMC Greenland's CEO Terry Lee.
Lee says the company has already identified about 500 office buildings in the Klang Valley with at least 20 floors. "We will pick a hundred high-rise buildings to open our new outlet."
In fact, it would have already opened the first two — including one at Menara Haw Par (in Jalan Sultan Ismail) — if not for the Covid-19 outbreak.
Each outlet will be roughly 500 sq feet with three employees each, serving customers 10 to 20 types of organic, vegetarian food and drinks. These outlets will also display and sell some products that been developed in-house. These products will also be available online.
Lee says the company is targetting office workers who are looking for healthy food at affordable prices.
"For instance, if you buy our promotion package, you can have a set meal of organic food and drink for as low as RM12.60 per person," says Lee.
He says these outlets have limited space for office workers who want to dine in; their main function is to let them enjoy healthy meals during rush hours.
"They can always drop by and order take-away," he says. 
Lee describes this as a "light concept". Basically, what this means, he says, is that while customers can enjoy light and healthy meals, the company can expand quickly by opening smaller outlets which are also "lighter" on the company's pocket.
"It costs about RM100,000 to launch one such outlet compared to our existing outlets which cost RM500,000 to RM1 million each to set up. This allows us to expand more quickly," he points out, adding that these smaller outlets should be able to break even in about 10 months.
Lee says it is obvious that the healthy living trend, which includes eating organic and vegetarian food, has been gaining traction with rapid urbanisation and rising incomes in the Klang Valley.
This trend has been borne out by the growth in the company's business. Since it started in 1997, FMC Greenland has opened 56 outlets (33 of which come with a kitchen that prepares organic food and drinks) in seven states across Malaysia. It expanded to China in 2017.
Lee says the company is qualified for a listing on the ACE Market. This means that it has experienced an uninterrupted after tax profit for three to five years of an aggregate of at least RM20 million.
To push forward more quickly, it has raised RM1.5 million from 288 investors funds through equity crowdfunding platform, Mystartr, says Lee. The investors were offered preference shares of a subsidiary of FMC Greenland that operates the BMS Organics Puchong Jaya branch.
Lee adds the company is also talking to banks, many of whom have expressed interest in the company's concept.
Right now, about 95% of its customers are Chinese but its number of Malay customers have been growing slowly in recent years.
"We are trying harder to reach out to the Malay community to let them know that we serve organic and vegetarian food. All our ingredients are plant-based even though we have not applied for halal certification. 
"We have also been organising cooking shows conducted in Bahasa Malaysia to attract more Malay customers," he adds. 
A sharp rise in online sales keeps the company afloat 
However, Lee says the virus outbreak that led to the implementation of the Movement Control Order (MCO) in March has disrupted its expansion plans. 
During the start of the MCO, FMC Greenland's revenue fell 70% as customers were unable to buy products and meals from the company's outlets. 
"The impact of the virus outbreak is huge. We cannot operate our business, but still have to pay salaries and rent," he says.
Fortunately, it quickly ramped up its online capability and was able to retain all 400 employees at present salaries. The online business, he adds, used to account for less than 5% of total revenue; it accounts for about 50% during MCO.
"The massive pick-up in our online business enabled us to recover our revenue to about 60% of the pre-MCO levels.  This is what keeps us afloat now," says Lee. 
Lee is paying the company's delivery partner a higher premium, sometimes up to 40% higher than others, to ensure its food and ingredients reach the doorsteps of their customers on time. 
Meanwhile, he has lowered the threshold for free deliveries from a minimum spend of RM150 to a minimum spend of RM100.
"Our aim is to enlarge our customer base during this period by providing them with good quality products and services. 
"After all, we are facing this hard time together. We do not mind earning less at the moment," says Lee.
The key is survival rather than profit. "During times like these, you are already a winner if you can survive."