This article first appeared in The Edge Malaysia Weekly, on January 10, 2022 - January 16, 2022.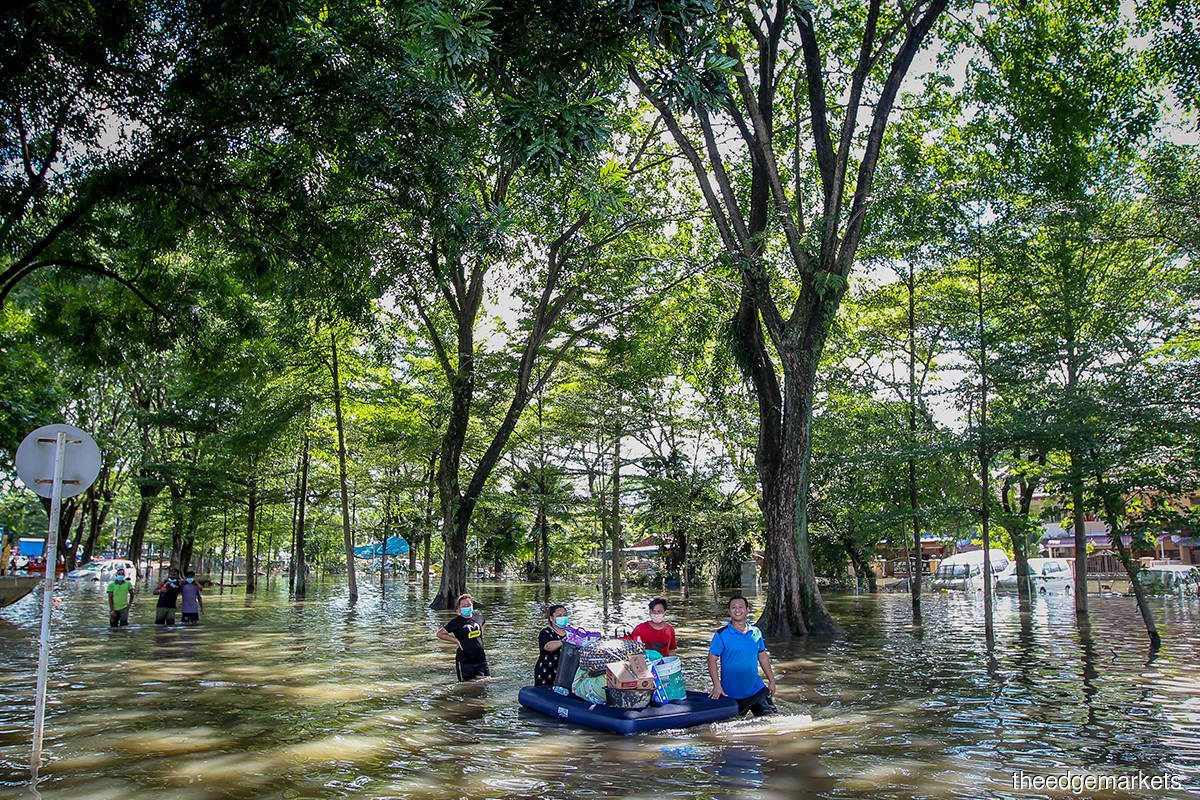 THE sporadic floods in several states across the country since early December 2021 have resulted in disruptions to logistics operations, but the providers of transport and warehousing services say their expansion plans remain intact and growth prospects are unaffected.
The logistics companies The Edge spoke to experienced disruptions such as manpower shortages, power outages and inaccessibility to some areas as a number of roads were closed due to the recent flooding that hit parts of Selangor, Pahang, Melaka, Negeri Sembilan, Johor, Terengganu, Kelantan and Sabah. However, the disruptions were brief and they managed to get things up and running fairly quickly.
"Overall, the financial and operational impact of these incidents was minimal," says Tiong Nam Logistics Holdings Bhd managing director Ong Yoong Nyock.
Of its 94 warehouses nationwide, the Johor-based logistics company experienced minor flooding at nine in Shah Alam, Selangor, which was one of the worst affected areas. "The goods in the affected warehouses were not damaged and the warehouses are back to normal operations," he says.
Fewer than 100 of Tiong Nam's trucks that were in transit were also caught in the floods. "But this represented only 3% of our total vehicle fleet nationwide and we were able to quickly mobilise the available trucks to continue serving our customers," says Ong.
"Tiong Nam is fortunate to have largely avoided a significant impact on our logistics and warehouse assets in the recent floods. We maintained consistent operational uptime for all clients."
He says the group's expansion plans remain on track. Its total warehousing capacity is expected to increase by 15% to 7.5 million sq ft by FY2024 ending March 31, from 6.5 million sq ft at end-September 2021.
Among the notable expansions will be a 1.1 million sq ft warehouse dedicated to serve as Mercedes-Benz's regional after-sales logistics centre, to be built at Senai Airport City in Johor. "We have completed 77% of the piling works and expect the new warehouse to be completed and operational in FY2024," says Ong.
Tiong Nam returned to the black in the six months ended Sept 30, 2021 (1HFY2022), posting a net profit of RM1.8 million, compared with a net loss of RM1.84 million a year earlier, on higher revenue.
Kok Poh Fui, executive director of Xin Hwa Holdings Bhd, says there were no major disruptions to its logistics and warehousing operations due to the recent extreme weather events.
"Our expansion plans are progressing as planned. Our new e-fulfilment centre in Shah Alam, which commenced operations in October 2021, is coming along very well with a healthy uptick in occupancy rate. We are currently in negotiations with interested parties to take up the remaining area, and expect to reach full utilisation in six months," he tells The Edge.
"Looking at the transport and logistics sector, there are optimistic signs of recovery in the demand for logistics services due to the resumption of economic activities on the local front stemming from the positive progress in the National Recovery Plan (NRP) and Covid-19 immunisation programme.
"Our land transport activities are certainly accelerating in pace compared with a few months ago. We expect this upward trend to persist over the next 12 to 24 months as trade normalises."
Apart from organic growth, Xin Hwa is on the lookout for potential merger and acquisition targets that are earnings accretive. "This is potentially in the area of liquid transport, cold chain logistics and the electrical and electronics industry to add value for our shareholders," says Kok.
Swift Haulage Bhd group CEO Loo Yong Hui says the group faced manpower disruptions because of the recent floods.
"All our warehouses and prime movers were unaffected by the floods. The only thing that was disrupted during this period was our manpower supply, as the homes of our staff and drivers were affected by the floods and thus, some couldn't make it to work. But the disruptions happened on Friday (Dec 17) and Saturday (Dec 18), and most of the staff were back to work the following week," he adds.
Swift Haulage, which was listed on Bursa Malaysia's Main Market on Dec 21, 2021, has warehousing facilities totalling 849,371 sq ft (both owned and leased) in capacity and container depots with a total capacity of 28,500 TEUs (20ft equivalent units). Its fleet operations in Malaysia and Thailand consist of 1,546 prime movers, 5,518 container trailers and 811 box/curtain-sider trailers, 53 trucks and 42 compressed natural gas tankers.
Tasco Bhd deputy group CEO Tan Kim Yong says the group also faced disruptions such as manpower shortages, power outages and inaccessibility to some areas during the recent flooding in Shah Alam. "But the disruptions only lasted a few days. In terms of impact, we have been able to catch up on the backlog.
"Most of our customers were unaffected by the floods as our warehouses are elevated, while the few who sustained some cargo damage have insurance to cover their losses. Warehouse operators do not cover losses caused by natural disasters, which are deemed as acts of God.
"We hope that the government will undertake mitigating measures to ensure that such flooding events do not happen again."
The current rainy season is forecast to last until March.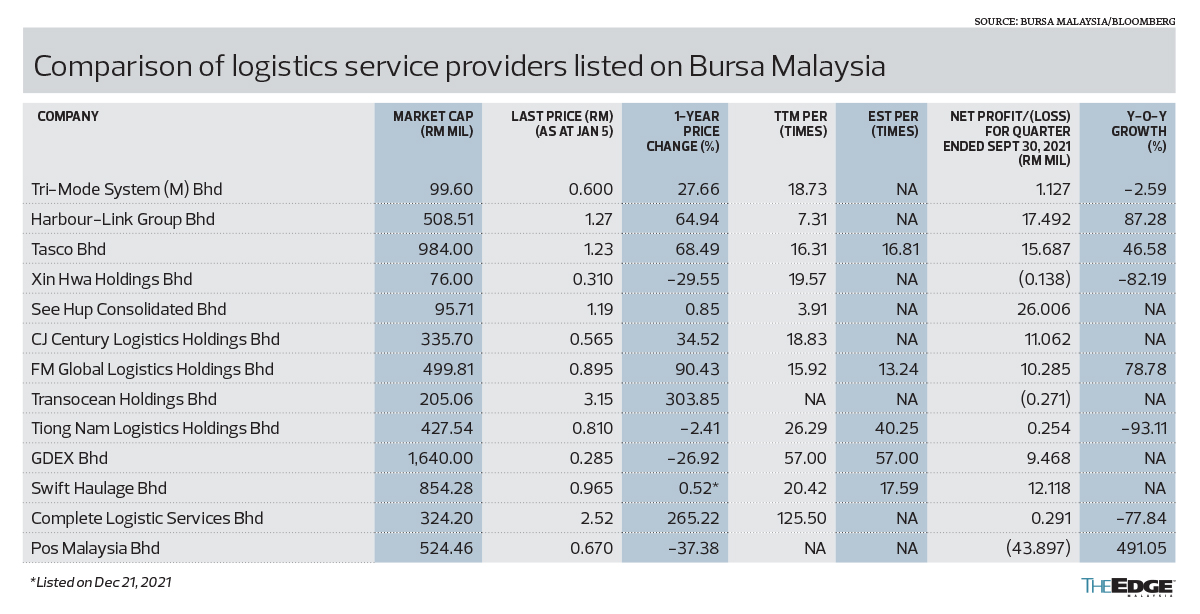 Warehouse rates to remain elevated
The changing behaviour of businesses looking to keep more inventory on hand due to the global supply chain uncertainty has led to growing demand for warehouse space since last year. According to the logistics service providers, the trend looks set to continue in 2022.
Tan expects warehouse rates to remain elevated for the next 12 months. "If at all, the rates are likely to increase further rather than decrease," he points out.
Rents for industrial warehouse space have surged 20% to 30% since 2019. According to Tan, the average cost per sq ft of warehouse space in the Shah Alam area, depending on its conditions, has increased to between RM2.20 and RM2.50 per sq ft, from RM1.80 to RM2 per sq ft in 2019.
Tasco has allocated the bulk of its RM400 million to RM500 million capital expenditure over the next five years to warehouse expansion in Shah Alam, including the construction of a four-storey facility — with its height equivalent to a 12-storey condominium block — which will lift its storage capacity by another 500,000 sq ft when completed in two years.
"In terms of financial performance, the group is expected to do better this financial year, underpinned by the demand we are experiencing so far. We are quite positive about the business going forward," he says.
For the six months ended Sept 30, 2021, Tasco's net profit jumped 135.8% year on year to RM31.45 million.
On the Omicron variant concerns, Tan notes that the industry has been living with the Covid-19 situation for two years. "Our business has proved to be resilient. In fact, volumes have gone back to pre-pandemic levels for both air freight and ocean freight," he adds.
"Also, air freight and ocean freight rates have surged by four to five times more than pre-pandemic levels due to the global container shortages and port congestion. Even if freight rates normalise moving forward, the reopening of the economy [since October last year] is expected to boost business volume, which will offset any reduction in rates."
Tiong Nam's Ong believes the current rates for logistics services will be maintained this year. These include transport, warehousing and door-to-door services.
"Our logistics service rates remained stable in 2021. However, we saw strong business growth from new and existing customers, which led to a 22% expansion in logistics and warehousing services revenue for 1HFY2022. The increase was mainly in response to greater demand from work-from-home and e-commerce trends resulting from the Movement Control Order (MCO)," he says.
This year, the group is expecting its warehouse utilisation rate to remain in the 80% to 85% range, underpinned by increasing e-commerce activity, which Ong says is a trend that is here to stay, citing a recent study by Bain & Co and Facebook that shows 75% of online purchases will continue even post-pandemic.
"We are seeing improvements in activity across various industries under the NRP, and procurement activities have been ramped up to meet consumer and business needs. Additionally, we note an accelerating trend among domestic businesses and multinational corporations outsourcing their needs to logistics specialists like ourselves, in order to achieve greater efficiency and reliability," he notes.
Swift Haulage's Loo says the group's expansion in warehouse capacity and vehicle fleet is still on track for 2022. The logistics service provider, which raised RM161.9 million from its recent initial public offering, expects warehouse demand and rates to continue holding strong this year, as disruptions in the global supply chains persist.
The utilisation rates of Swift Haulage's warehouses are currently over 90%. "Because most of our warehouses are already contracted out for two to three years, we don't fully enjoy the surge in warehouse rates. But yes, as and when the warehouse's lease expires, there will be an increase," says Loo, adding that warehouse rates have gone up about 20% from 2019 levels.
Loo believes the growth in warehouse demand is not just a short-term phenomenon because manufacturers have a change in mindset. "Previously, it was all Just-in-Time when goods came to the warehouses, now it is Just-in-Case as they store more goods," he says.
Xin Hwa's Kok concurs, noting that due to the prevailing worldwide logistics bottlenecks and supply chain disruptions, many businesses have adopted the Just-In-Case approach to inventory management, from Just-in-Time previously, to minimise delivery risk.
"What this means is businesses now tend to build in some buffer and stock up inventory just in case issues crop up in the supply chain. This translates into sustained increase in demand for warehousing space to store materials and goods," he explains.
"In addition, consumers' shift to digital channels for online shopping is set to stay even in the post-pandemic era as they discover the convenience and wide range of options available online during the pandemic. These factors have prompted businesses to store their inventory in warehouses to facilitate the movement of goods easily. This, similarly, results in higher demand for warehousing space."
Xin Hwa has been a beneficiary of the elevated warehousing rates and anticipates that rates will remain elevated in 2022. "Demand for warehousing space has been so robust that the majority of our warehouses are operating at full capacity, including our newly added warehouses in Shah Alam, Klang and Kuantan last year," says Kok.
These additions boosted the group's warehousing space by 66.1% to 1.12 million sq ft from 672,000 sq ft.
In the six months ended Sept 30, 2021, Xin Hwa saw its net loss narrow to RM324,000 from RM751,000. Revenue was lower 7.2% year on year to RM43.07 million due to lower revenue generated from the land transport operation. The group is anticipating its financial performance to show noticeable improvement in the near term.