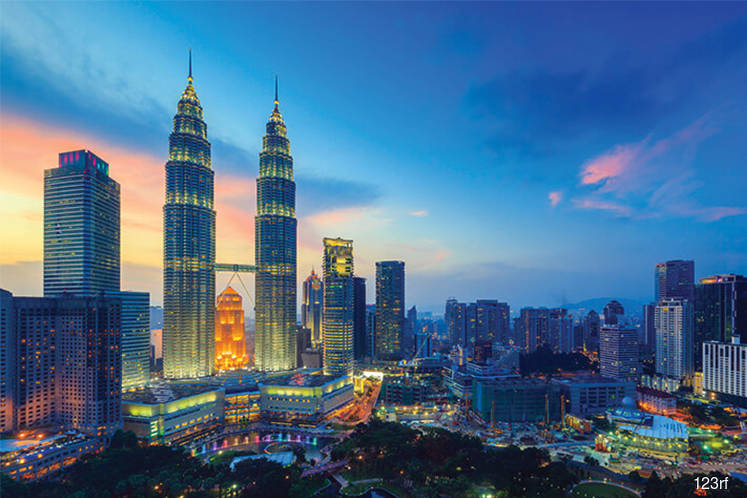 KUALA LUMPUR (March 28): Fitch Ratings, which believes Malaysia's positive growth momentum will continue this year amid a strong external environment after 2017's growth exceeded its expectations, has affirmed Malaysia's long-term foreign-currency issuer default rating at 'A-', with a stable outlook.
In a statement today, Fitch said the rating reflects positive growth trends for the country and its position as a net external creditor that is supported by sustained current account surpluses and the large external assets of its private sector, besides falling government debt and deficit levels.
"Central government debt declined to 50.8% of GDP by end-2017 from 52.7% of GDP at end-2016. However, the rating is constrained by weaker governance standards and lower levels of income per capita and human development compared to the median for sovereigns rated in the 'A' category," it noted.
Referencing World Bank governance indices, Fitch said governance in the country has also deteriorated since 2015, except in the areas of regulatory quality and rule of law.
Nevertheless, Fitch forecast that Malaysia's gross domestic product (GDP) will grow 5.4% in 2018 and 2019, supported by domestic and external demand.
"Along with favourable labour market conditions, the income tax cut and large support package for the rural sector announced in the 2018 government budget are likely to support private consumption," the ratings agency said in a statement today.
Meanwhile, investment spending would be supported by the implementation of infrastructure projects and growth in both the manufacturing and services sectors, Fitch said.
"A general election is due by August 2018, but it is unlikely in our view to lead to a significant shift in the direction of economic policy. Downside risks to the economy stem from threats of trade protectionism and tighter global monetary conditions," it added.
Fitch also sees any deterioration in political stability or governance as a factor that could lead to negative rating action, besides deterioration in fiscal discipline and broader public finances, and external financing pressures.
On the external front, Fitch cautioned that the country would be vulnerable to negative external developments given its high degree of openness and large foreign holdings of government debt. The ratings agency took the view that a flexible exchange rate is an important mitigant against possible external shocks.
As for the government's 2018 fiscal deficit target of 2.8% of GDP, Fitch said this is likely to be met despite an increase in expenditure ahead of the general election. "Nevertheless, we continue to view sizeable contingent liabilities as a risk to broader public finances," it added.