This article first appeared in Personal Wealth, The Edge Malaysia Weekly, on April 29, 2019 - May 05, 2019.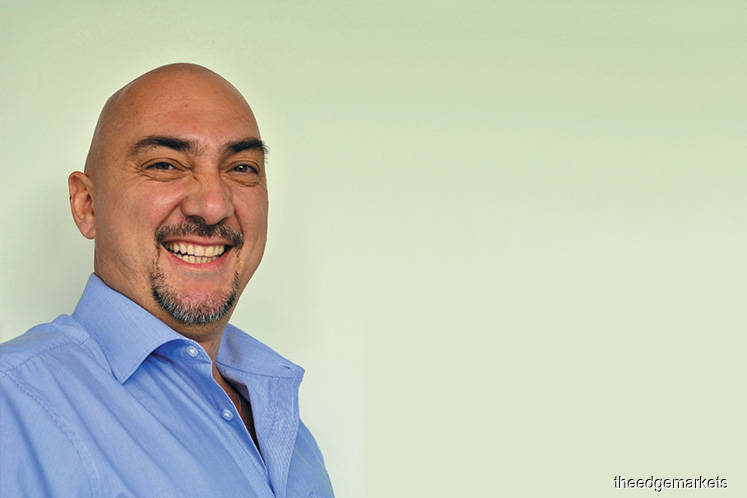 But in terms of investment success, it is much more difficult to make money in the payments space now because of overcrowding, whereas in the lending space, there will be many winners. - Krasnov
Financial technology (fintech) is a crowded market for investors in Southeast Asia. But Gregory Krasnov, founder and CEO of Singapore-based Forum Capital, is still bullish on opportunities in the sector, particularly along the lending value chain.
Rather than looking at the payments space, where many start-ups are in competition, Krasnov has his eyes on fintech start-ups involved in the origination, underwriting, servicing and financing of loans. "I would not say there is more potential in lending. But if you look at it in terms of market size, I think both are extremely exciting. This is a trend driven by the lack of banking services in the region," he says.
"But in terms of investment success, it is much more difficult to make money in the payments space now because of overcrowding, whereas in the lending space, there will be many winners."
Even if there are a lot of players in the lending space, the companies can still be profitable because no one dominates the market. This is not the case for payments, which is a space Krasnov is staying away from due to high liquidity.
"There will be only a couple of payment winners per market. Naturally, this market will migrate to an oligopoly structure. If you cannot scale [your company], you will not be able to achieve positive contribution. So far, people have backed half a dozen start-ups in this space per market and most of them will get wiped out," he says.
"You cannot make money for the time being because people are willing to subsidise customer acquisition with investors' money to such an extent that basically, you will never make money on this customer. You are just doing this for market share. In the short term, market share is the right thing to do. But not everyone can win the market share game."
Forum is a Singapore-based venture builder in Southeast Asia's fintech space, where it builds and provides seed funding for its start-ups. The company also brings in investors for the start-ups in its portfolio.
Krasnov built the companies based on trends he had observed globally. He hails from Ukraine and has a background in private equity and banking.
"The first trend we noticed here was a no-brainer for us, which is in risk management and [debt] collection. When the consumer finance sector grows rapidly, risk is the biggest pain point from the front and back-end," says Krasnov.
"The front-end refers to underwriting and how you make credit decisions. On the back-end, once the customer goes delinquent, how do you normalise the customer and bring him back to schedule? What do you do if he stays delinquent? How do you process or clean your balance sheet? Those are the trends we have seen in central Eastern Europe, where a lot of value has been created."
One method to address the pain point in underwriting is by using big data to provide alternative data scoring. This technology scores a person not just based on historical financial performance but also on mobile usage and social media behaviour.
Krasnov co-founded CredoLab to implement this innovation. Last October, CredoLab partnered comparison website GoBear to offer its services in a couple of countries, targeting underbanked consumers.
"Another trend we saw was in non-performing loans. In the early days, banks basically did everything in-house because the only people who do collections are mafia-type guys and banks do not want to be associated with them," says Krasnov.
"But over time, there was the entrance of professional credit management services firms that do collections in a remote fashion through a contact centre. They do it with a lot of robotised actions and with a high degree of reputational control to make sure the agents are not threatening clients or misbehaving."
Based this trend, Forum seeded AsiaCollect, a consumer debt collection company.
Another area that Krasnov sees potential is digital lending. Traditional banks may struggle to reach out to the unbanked and new-to-bank customers, who may prefer more digitalised solutions. He set up AsiaKredit in the Philippines to provide unsecured small-ticket, short-term consumer loans through mobile phones to the unbanked and underbanked population. It also uses alternative credit-scoring tools.
A less usual lending start-up launched by Forum is SolarHome, which is its micro-lending company in Myanmar that provides "rent-to-own" schemes for solar energy and appliance units. It is a very popular model in Africa and has attracted huge amounts of funding from investors and corporates.
Of course, Forum is not the only one looking at the lending vertical. Many venture capital firms have also latched on to it. A recent KPMG report highlighted that lending was one of the sectors receiving strong investor interest. But there are execution challenges in the consumer finance area that investors have to pay heed to, says Krasnov.
"This has to do with the fact that consumer finance is a small-ticket business. The average ticket size will be between US$100 and a few hundred dollars. So, if you are not quantitative and automated, you cannot make it in this business. You need to build highly structured operations with a huge degree of automation and a very run-by-numbers type of mentality," he adds.
Krasnov's latest focus is on digital banks. That is because consumers in Asia are looking for digital deposit solutions. A McKinsey survey in April last year found that between 30% and 60% of existing banking customers in the region said they would switch their deposits if someone gave them a digital bank proposition.
"On top of that, 70% of those in the Philippines do not have bank accounts to begin with. So, all of these things will drive huge growth in the retail deposit side of things, especially in digital solutions. So, one of the new things we are doing now is putting together a digital bank proposition," says Krasnov.
So far, only established banks such as CIMB Bank, DBS Bank and Vietnam Prosperity Bank have set up digital banks in the region. UK-based digital bank Revolut recently announced its entry into Singapore and Japan, but only some of its features were approved by the authorities.
"Nobody has really come up with a bank that has its own banking licence but does pure-play digital banking," says Krasnov. "Players such as DBS Bank or CIMB are just offering another form of product from the regular banking universe. They are not doing anything revolutionary in terms of customer experience and because of that, their market access is limited. For customers who are not banked, they need a different kind of experience and technology allows you to do that in new and exciting ways."
Background in private equity and banking
Krasnov spent 10 years working in private equity for Bank of America in the UK and Innova Capital in Poland. He then founded Platinum Bank in Ukraine in 2006, which focused on serving the emerging middle class by providing smaller loans.
"At that time, Ukrainian banks were very conservative. They had mortgage books, corporate books and a small credit card portfolio for rich clients. No one was going for financial inclusion [retail consumers]. So, we saw a big opportunity there. We thought we could make this a very profitable bank because it was a space you could automate and make a good margin. I think we did quite well," says Krasnov.
He sold Platinum Bank to a local business group in 2014. But in 2017, the bank was declared insolvent by the National Bank of Ukraine due to capital shortages. This saddened Krasnov and his founding team.
"The new investors' strategy was to collect more deposits and make more corporate loans. That was an entirely different proposition than what we thought the bank should be doing. My team left upon completing the six-month transition period. Unfortunately, they crashed our Lamborghini into the wall," he says.
Krasnov moved to Singapore a year later and founded Forum. This decision was driven by the potential he saw in Southeast Asia. The rise of the middle class is expected to fuel a demand for consumer finance products, a trend he has already observed elsewhere.
"We observed that trend in my private equity days and played it for multiple investments. A lot of private equity guys made a lot of money on that. When I sold the bank, I did my sabbatical in Asia and saw the same phenomenon repeating itself," says Krasnov.
He established Forum as a venture builder instead of a typical venture capital fund. That is because he believes start-ups in the region should obtain guidance from experts rather than just funding.
"We are bridging the gap by creating investable propositions for venture capital firms. Ultimately, we will bring each company to venture capital investors to go to the next level of growth. We just provide them with seed funding and set them off in the right direction," says Krasnov.
The first two companies that Forum set up were helmed by Krasnov's former colleagues at Platinum Bank. "They understand the space very well and we have known each other for a very long time," he says.
In total, Forum's portfolio companies have raised more than US$18 million in equity and debt from institutional and private investors, according to Krasnov. CredoLab's investors include regional fintech venture capital firm Fintonia Group and US-based Walden International. AsiaCollect raised funds from Dymon Asia Ventures while SIG Ventures invested in AsiaKredit.
Krasnov is looking for investors who can help Forum's portfolio companies find strategic partners and clients. He is also currently in discussions to set up a fund vehicle for Forum.
"Some of our early companies have become market leaders in their niches. CredoLab has more than 40 clients in 15 countries while AsiaCollect has 35 clients in three countries," says Krasnov.
They aim for a strategic takeout once the companies are mature enough. The buyers could be legacy players such as banks and credit bureaus, he adds.
"For legacy players, over time their market share will begin to dwindle because they will be capturing less and less of the market. They will become more acquisitive to survive and keep buying digital expertise. We have seen this in other parts of the world. The other kind of buyer would be international players looking at Asia," says Krasnov.
Lessons learnt in investing
One issue Krasnov did not foresee when he started Forum was the pre-A funding gap in Southeast Asia. "We ended up spending too much time fundraising at Forum and too little time helping the companies do other things. The amount of work that was required to get the funding was extremely distracting, not only to us but also the CEOs, who had to pitch for huge amounts of time to very fragmented investors with their own early-stage funds," he says.
It is a sentiment echoed by a few others in the industry. For example, in the past few months, Sequoia Capital and Venturra Capital set up an accelerator and seed fund respectively specifically to fill this gap. According to data by Cento Ventures from 2018, early-stage funding had been declining since 2015.
"Our experience here has been unlike in the US, China and to some extent Europe, for example. In China, there are some billion-dollar pre-A funds. In Southeast Asia, there is relatively little professionally managed pre-A capital in the venture capital market. So, you are mainly dealing with angel money. It is very labour-intensive for companies [to raise funds]," says Krasnov.
Some important lessons were learnt by start-ups and venture capitalists (VCs) in the region in the last couple of years, one of which occurred in Indonesia's digital lending space, says Krasnov. There was a big inflow of money into the space, which eventually resulted in runaway valuations.
"The big runaway was related to deficiencies on both sides of the equation. On the one hand, there were management teams in the fintech start-ups who did not focus on the right value drivers, especially in risk and servicing [of loans]," he says.
"On the other hand, there were VCs who were valuing these companies at price-to-disbursement multiples. If the market values me by how much I disburse, this will create a distortion because people will ignore the risk, collections, servicing and other cost drivers. They will just hand out money and at some point, will not be able to get this money back.
"I think the Indonesian digital lending story was a big learning experience for many people. I am glad to see that people are now taking a much more careful approach to see the real know-how of the start-up teams. But it is a learning curve that both start-ups and the VC community are going through."