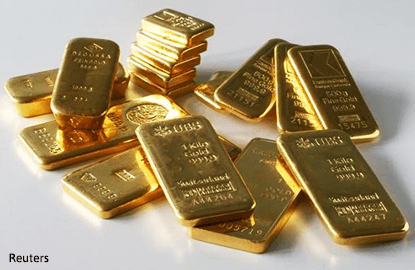 LONDON (March 23): Gold was barely changed on Thursday, weighed down by a firmer US dollar, while palladium hit its highest price in 22 months, helped by economic data.
Spot gold was flat at US$1,248.91 an ounce at 1339 GMT, retreating from an intraday peak of US$1,253.12, its highest since Feb 28.
US gold futures was also barely changed, up 0.03% to US$1,250.20.    
"The most important reason is that the dollar is stronger and yields in the US are edging a little higher. Later in the year I expect prices to move higher, but for the moment US$1,250 is the top end of the range," said ABN Amro commodities strategist Georgette Boele in Amsterdam.
The dollar index, which measures the greenback against a basket of currencies, was slightly firmer at 99.716. It had dropped to its lowest in nearly seven weeks at 99.547 on Wednesday.  
The US dollar briefly slipped after US jobless claims unexpectedly rose, sending gold temporarily higher.
But with jobless levels still below a level associated with a strengthening labor market, the US dollar and gold largely returned to previous levels.             
OCBC analyst Barnabas Gan pointed to the impact of sustained political stresses in Europe and the United States.
"This kind of uncertainty does lift gold prices," he said.
The immediate focus is on whether US President Donald Trump can gather enough support to pass a bill to roll back Obamacare, representing a major test of his legislative ability and whether he can keep his promises to business.            
A rough ride for the healthcare plan could affect Trump's efforts to cut taxes and boost infrastructure, with the potential to drive more investors to gold as a safe haven if stock markets fall, analysts and traders said.
"A sustained break and close above US$1,250 will be the key for a test of the 200-day moving average at US$1,259.50, while support initially sits at US$1,244-US$1,245," said MKS PAMP Group trader Sam Laughlin.
Palladium, meanwhile, climbed to a peak of US$806.80 — its highest since March 11, 2015 — before paring gains to US$801.50 for a rise of 1.9%.
"Palladium has a completely different dynamic (to other precious metals)," Boele said. "It is far more related to economic data releases, the expectations for the economy, both emerging and developed."
The European Central Bank said on Thursday that economic recovery in the euro zone was gaining ground while data last week indicated strong US factory output, a rebound in US consumer sentiment and a rise in European car sales in February.
Palladium is mainly used in catalytic converters that curb pollution from vehicle exhausts.
Spot silver rose 0.6% to US$17.61 while platinum advanced 0.5% to US$963.60.