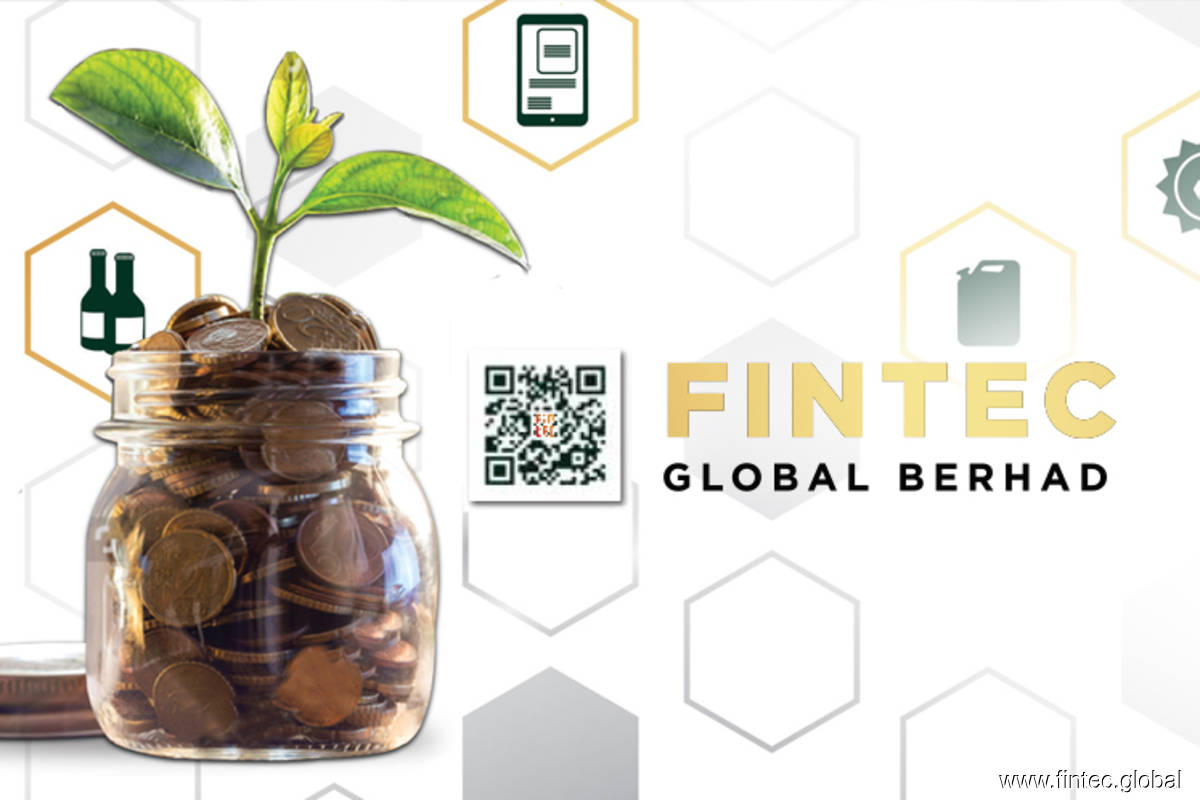 KUALA LUMPUR (Dec 1): Fintec Global Bhd (FGB) is probably one of the best performing companies, in terms of earnings, not only among the penny stocks but the big cap companies as well.
The company, whose share price closed at 10 sen yesterday, reported a 905% year-on-year surge in net profit for its second quarter of financial year 2021 (2QFY21) ended Sept 30, 2020 to RM720.5 million from RM71.7 million in the previous corresponding quarter.
The quarterly profit is certainly envious in the current tough economic conditions caused by the Covid-19 pandemic.
Putting things in perspective, Fintec's quarterly profit of RM720.5 million exceeded performances of the small cap rubber glove players as well as those of a majority of the companies listed on Bursa Malaysia.
For instance, Careplus Group Bhd posted a net profit of RM42.9 million and revenue of RM122.7 million, for its 3QFY20 ended Sept 30, 2020, while Comfort Gloves Bhd posted a net profit of RM42.8 million on the back of RM198 million in revenue for its 2QFY21 ended July 31, 2020. Rubberex Corp (M) Bhd posted RM39.5 million of net profit for its 3QFY20 ended Sept 30, 2020 with a revenue of RM109 million.
These are record breaking earnings among the glove makers.
These rubber glove manufacturers saw revenue growth in line with the surging demand for personal protective equipment amid the Covid-19 pandemic, which translated into improvements in their bottom lines.
Fintec's quarterly revenue also made a quantum leap to RM4.2 million for 2QFY21 from RM339,000 a year ago. However, the company's quarterly revenue appeared to be meagre compared to its net profit.
Given the relatively small revenue, how did Fintec generate the handsome profit?
Almost all of its business segments — green technology, oil and gas (O&G) and trading — posted pre-tax losses during the quarter, with the exception of its portfolio investment division, according to the company's filing with Bursa.
In the filing, Fintec said its portfolio investment division saw a RM625.9 million increase in pre-tax profit, due to the positive performance of its strategic investments in Malaysia, the sale of marketable securities as well as mark-to-market gain in its long-term marketable securities, without further elaboration.
A closer look at its financial statements for 2QFY21 showed that Fintec recorded RM714.2 million in "fair value gain on investment securities", which is equivalent to almost all of its quarterly profit. The fair value gain was nearly 10 times more than RM73.6 million, the amount it recorded a year ago in 2QFY20.
On its balance sheet as at Sept 30, 2020, Fintec stated that it had RM1.23 billion in investment securities, almost four times the RM358.1 million of investment securities recorded six months ago as at March 31.
Fintec did not reveal the details of the investment portfolio as it is not required under the listing rules.
However, based on the disclosure of companies' shareholding, Fintec holds shares in a list of listed companies on Bursa. Its investments are housed under its wholly-owned subsidiary Asiabio Capital Sdn Bhd. One of the companies it has invested in is AT Systematization Bhd, which is in the midst of setting up its rubber glove manufacturing plant — a move to diversify its income source.
When commenting on its prospects, Fintec said it has diversified into the glove business in stages to achieve up to a total of 20 glove-dipping lines for a total production capacity of approximately 3.3 billion pieces per annum, although the expansion will depend on the performance of the glove business based on the initial 12 glove-dipping lines.
While Fintec did not mention AT Systematization specifically, it is understood that the latter plans to have one single-former glove dipping line and 12 double-former dipping lines by mid-2021 with future plans of increasing the number of lines to a total of 20.
Given the craze for rubber glove stocks over the past months, AT Systematization spiked to a four-year high of 27 sen on Nov 11. Year-to-date, its share price has quintupled since its closing price of four sen on Dec 31, 2019, to close at 20 sen yesterday, for a market capitalisation of RM662.58 million.
Asiabio also holds shares in Saudee Group Bhd (21.55% stake), Vsolar Group Bhd (14.12% stake), Komarkcorp Bhd (19.89% stake), Focus Dynamics Group Bhd (25.05%) and Seacera Group Bhd (19.17% stake).
It previously owned shares in DGB Asia Bhd, GPA Holdings Bhd and NetX Holdings Bhd before it ceased to be classified as substantial shareholders of these counters.
Most of these companies are loss-making, but that did not pose a hindrance to the rise in some of their share prices.
Saudee, which reported a net loss of RM2.8 million for 4QFY20 ended July 31, 2020, has gained over 60% year-to-date to its closing price of 52.5 sen yesterday.
Likewise, Komarkcorp, which has been reporting losses since its FY17 ended April 30, 2017, has gained 292% year-to-date.
Meanwhile, Focus Dynamics, whose market capitalisation ballooned to RM4.1 billion, has gained 415% since the start of the year. The company's earnings fared better, turning profitable in recent quarters after making losses in its FY19.
The appreciation in the share prices of these companies may explain the handsome profit that Fintec achieved in 2QFY21. Fintec's share price has also doubled year-to-date.