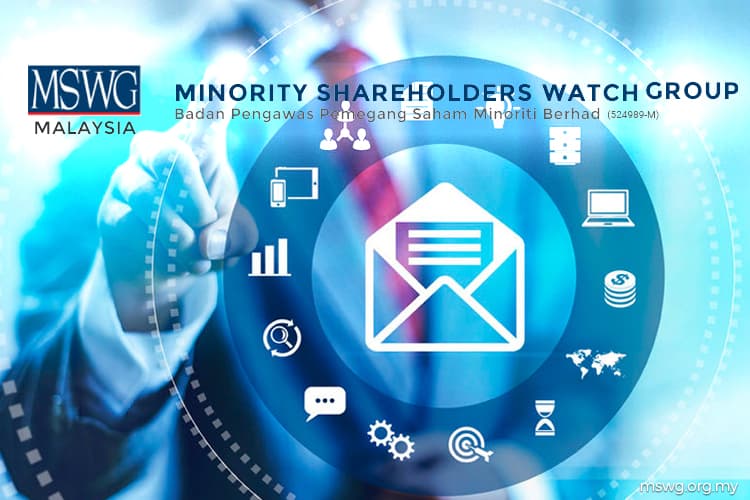 KUALA LUMPUR (Aug 27): The Minority Shareholder Watch Group (MSWG) will include financially distressed companies and China-based companies listed on Bursa Malaysia on its radar by June next year, from 300 listed firms currently.
Its chief executive officer Devanesan Evanson said the watchdog will cover all the companies classified as Practice Note 17 (PN17) and China-based listed companies as he sees a lack of investor protection in that area.
"Once a company is classified as a PN17 company, you (the company) are already a risk as shareholders have a greater risk of losing, while for China-based listed companies, they have a history of accounting frauds and problems. At the moment, we cover six China-based listed companies," he told reporters after the launch of MSWG-Asean Corporate Governance Report 2017 here today.
"We think that we can play and create the greatest impact by addressing shareholders' problems in PN17 and China-based listed companies," he added.
Devanesan said MSWG will monitor the companies' annual reports, announcements and attend the companies' annual general meetings (AGMs).
"We will start monitoring the companies by next year around June because most companies that have their financial year end in December this year, will hold their AGMs around April, May and June next year," he said.
Meanwhile, the MSWG-Asean Corporate Governance Report 2017 identified the top 100 Malaysian public-listed companies (PLCs) based on disclosures from some 880 companies the group assessed this year, using a scorecard methodology based on the Organisation for Economic Cooperation and Development's (OECD) principles of corporate governance as a benchmark.
According to MSWG, its assessment of the top 100 PLCs showed that the average corporate governance score (CG Score) has trended upwards consistently, from 75.99 points in 2013 to 85.02 in 2016, and 86.18 as of last year.
This, it said, portrays the consistent and greater efforts by top 100 PLCs in improving their corporate governance practices, policies and disclosures.
However, Devanesan said the overall CG Score has decreased to 62.20 points in 2017, from 66.52 points in 2016 as the assessment requirements has become increasingly stringent.
"We expect this to be a transient situation as companies become familiar with the expectations of the new scorecard, adopt and disclose corporate governance practices accordingly," he said.
There were 17 companies that achieved CG Score of more than 100 points, while 113 companies scored less than 50 points. The remaining 750 companies attained between 50 points and 100 points.
"A strategy to focused engagement and education on good governance may be needed to bring these (113) companies to the next level," he explained.
The 17 companies are AMMB Holdings Bhd, Petronas Dagangan Bhd, Astro Malaysia Holdings Bhd, Petronas Gas Bhd, Axiata Group Bhd, RHB Bank Bhd, Bursa Malaysia Bhd, Sime Darby Bhd, CIMB Group Holdings Bhd, Telekom Malaysia Bhd, IJM Corp Bhd, Tenaga Nasional Bhd, LPI Capital Bhd, Top Glove Corp Bhd, Malayan Banking Bhd, UMW Holdings Bhd and Petronas Chemicals Group Bhd.
Devanesan said the leading sectors where the sectoral CG Score was higher than the overall CG Score of 62.20 points were finance (78.94 points), infrastructure project PLCs (67.24 points), trading and services (64.60 points), hotels (63.69 points), construction (63.58 points) and plantations (62.63 points).
"Meanwhile, the sectors posting CG Score below the overall CG Score were properties (61.88 points), consumer products (60.18 points), industrial products (59.67 points) and technology (58.15 points)," he added.
Going forward, MSWG is looking for other listed companies emulating the top 100 companies on disclosure and practices.
"An overall emphasis on better governance practices will help the Malaysian market to better integrate with other markets in the region and around the world, thus improving our competitive edge," he said.