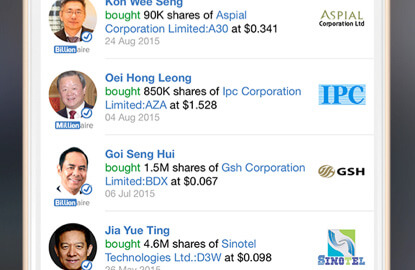 SINGAPORE (Sept 19): Spiking, a financial technology (fintech) mobile application which helps average traders to follow the stock market activity of big investors, on Monday announced it has exceeded its Series Seed Funding target of S$1 million.
Developed by startup Aly, Spiking itself is attracting the attention of some of the very same big fish the app tracks.
Among its investors are top entrepreneurs in the capital markets with companies listed on the Singapore Exchange, Bursa Malaysia, Australian Securities Exchange, and NASDAQ, according to Aly.
These include Douglas Foo, chairman of SGX-listed Sakae Holdings; Loo Cheng Guan, independent director of SGX-listed Valuetronics Holdings; Lim Ah Hock, executive chairman of KLSE-listed Pestech International; and James Tan, co-founder of NASDAQ-listed 55tuan.
"We were impressed by Spiking's unique concept for creating a verified (as opposed to a rumour-based) trading platform for the millennials, and the founders' entrepreneurial zeal and passion for building it in such a short time," says Loo.
Other prominent investors in the first-round seed funding for the app include Andrew Chen, managing director of Raffles Asia Capital, angel investor Koh Boon Hwee; Ong Chu Poh, Group executive chairman & Group CEO of Econ Healthcare Group; Toh Soon Huat, chairman of Novena Foundation; and Kazumasa Tomita, CEO & founder of ZUU Co.
"With the funding secured, we will ramp up product development to introduce new features and a higher level of functionality, with insights from big data analysis," says Clemen Chiang, founder and CEO of Aly.
"We are also scaling up and have expanded our data coverage to include 10 stock exchanges in 8 countries in the region," Chiang adds.
These are the Australian Securities Exchange (ASX); Hong Kong Exchange (HKEx); Bombay Stock Exchange (BSE) and National Stock Exchange (NSE) in India; Bursa Malaysia; Philippine Stock Exchange (PSE); Singapore Exchange (SGX); Stock Exchange of Thailand (SET); and Vietnam's Hanoi Stock Exchange (HNX) and HoChiMinh Stock Exchange (HOSE).
Aly was supported by the Singapore National Research Foundation (NRF) under the Interactive & Digital Media Strategic Research Programme's i.JAM Reload initiative.
It is a finalist in the SiTF Awards 2016, for Best Innovative Start-up (Early Stage), by the Singapore infocomm Technology Federation, which will be announced in October.