This article first appeared in Enterprise, The Edge Malaysia Weekly, on July 8, 2019 - July 14, 2019.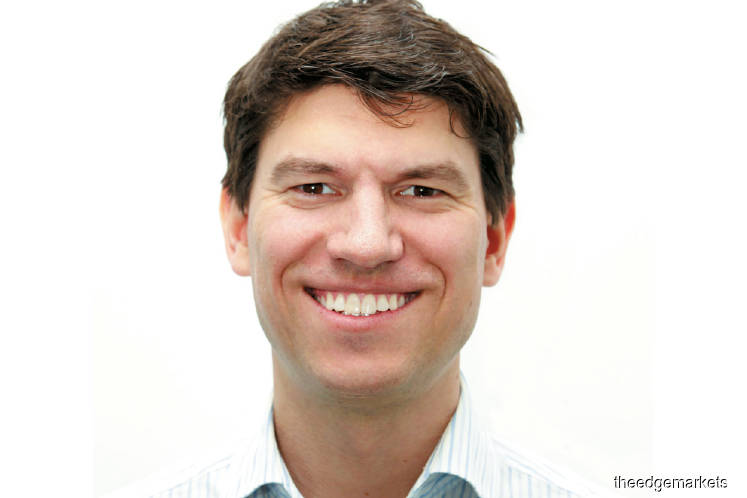 The e-commerce landscape in Asia has been booming in recent years. While increasing access to internet and smartphone penetration have made online entrepreneurship easier, many still find it challenging to get started, especially when it comes to raising seed capital. Many, in fact, use their life savings to kick off their businesses.
This is the gap that blockchain-powered lending platform Bitbond aims to fill. The company, which has funded borrowers in 80 countries, recently announced that it has commenced a security token to fund small businesses in Asia and is targeting to raise €3.5 million (RM16.38 million) for the initiative.
Bitbond founder and CEO Radoslav Albrecht says the platform has already funded many businesses in Asia, particularly in India, Indonesia, the Philippines and Malaysia. However, more work needs to be done to expand its footprint here, including establishing partnerships with e-commerce platforms in the region.
"The majority of our customers are online vendors ... those selling fashion, electronic and cosmetic products. The others are freelancers and gig-economy workers. That's why we need to establish partnerships with Asian e-commerce platforms. Lazada, a large player in multiple markets, is an example of e-commerce platforms we typically work with," says Albrecht.
"When sellers have access to our e-commerce loans, they are able to offer more products to the market. This will, in turn, increase the platforms' gross merchandise value. In many cases, they are very happy to work with us."
He adds that there are other verticals in Asia that he would like to establish partnerships with. One such vertical is food delivery services, as food delivery riders are usually paid according to the amount of food delivered. Currently, the loans provided to Asian entrepreneurs typically range from US$1,000 (RM4,150) to US$3,000. These loans are paid back over a period of three months, six months or a year.
Heavily automated back-end
Launched in 2013, Bitbond is the first global lending platform for small businesses. As it leverages the blockchain technology to connect its lenders (investors) and borrowers, the company is able to operate around the world without the need for banks.
Regulated by the German Federal Financial Supervisory Authority — one of the strictest regulators in the world — Bitbond targets to finance global businesses with annual revenues ranging from US$20,000 to US$2 million. So far, it has given out more than 3,300 loans worth over US$15 million.
According to statistics on its website, the loans Bitbond disbursed in the emerging markets only account for 8% (US$1.2 million) of the total amount. The majority of the loans are used as working capital (82.8%), followed by investment (12%), for renovation (1.9%), refinancing (1.6%), education (0.8%) and others (0.9%).
Bitbond's credit decisions are made a lot quicker than its competitors, with a benchmark of 24 hours. "In most cases, if an applicant already has all the data that we ask for, our credit decision is made within half an hour. This is because our evaluation process is highly automated."
Primarily, the creditworthiness of a business is determined by the history of its bank account transactions. From there, Bitbond will calculate the size of the loan the business can afford to take and the credit quality of the company.
The interest rate, ranging from 1% to 35%, is determined by the borrower's creditworthiness.
"We automate the data extraction and evaluation. Although we have a tool that makes an automated recommendation of the credit quality of each applicant, our credit analyst still checks all the data to ensure that everything is consistent. Very rarely does the credit analyst deviate from what our tool has suggested," says Albrecht.
Bitbond charges 2% to 3% origination fee to funded loans, deducted from the loan amount prior to disbursement. Albrecht says there are no hidden or upfront fees to be paid in case the loans do not get funded.
When Bitbond just opened shop, its scoring method was done based on industry best practices without the back-up of any data. Hence, the company faced a relatively high default rate. Gradually, by continuously calibrating its credit scoring model, it managed to improve its credit model, bringing the default rate down to about 8%.
What if a company fails to pay back? Albrecht says it depends on which country the company is in. In some countries, failing to make payments would result in a relatively strong repercussions. In other cases — companies located further away from Germany and in Europe where Bitbond has a strong legal experience — the company will work together with its partners to get the money back.
"For example, sellers on Jumia (a pan-African e-commerce platform) who fail to make payments within 10 days or more will not get their earnings reimbursed by the platform. This is something we want to do with our Asian partners as well," says Albrecht.