This article first appeared in The Edge Financial Daily, on October 18, 2019.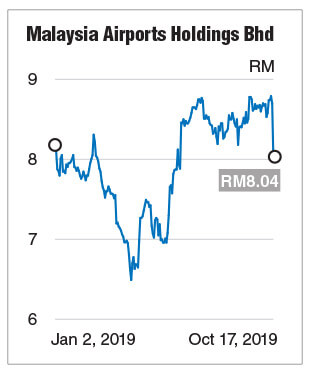 KUALA LUMPUR: The ministry of transport (MoT) is looking at alternatives, besides the regulated asset base (RAB) framework, for the future development of domestic airports, Transport Minister Anthony Loke told an investor forum yesterday.
He said the government intends to adopt the public-private partnership model for airport operations and developments moving forward. This means there could be new players, including foreign parties, to partner with Malaysia Airports Holdings Bhd (MAHB) on operating the domestic airports. In short, MAHB will have to share its pie.
The government is also considering the restructuring of regulatory bodies in the aviation sector, Loke said.
Currently, there are two regulatory bodies, namely the Civil Aviation Authority of Malaysia (CAAM) and the Malaysia Aviation Commission (Mavcom), according to fund managers who attended the forum.
The minister's remarks, which raised uncertainties for MAHB, sent the airport operator's share price on a slide yesterday. It tumblied 7.6% or 66 sen to RM8.04, the biggest fall since November last year.
The fierce selldown wiped out RM1.09 billion in market capitalisation from MAHB, whose share price had been climbing steadily since April, when it traded at RM6.60.
Some analysts noted that investors also took the opportunity to take profit since MAHB's share price had  rallied for seven months.
The MoT declined to comment when contacted, saying Loke's remarks were made at a closed-door briefing.
This is seen as another bombshell on MAHB from Loke, after the minister announced in August that the passenger service charges (PSC) would be cut. MoT said at the time that the PSC imposed on international travellers — excluding those travelling in Asean — at all airports besides the Kuala Lumpur International Airport (KLIA) will be reduced by RM23 to RM50 from October.
The investing fraternity had been bullish on MAHB's prospects in recent months, mainly on expectations that the implementation of the RAB framework will augur well for MAHB as it offers a reasonable rate of return on the capital expenditures (capex) the airport operator incurs to upgrade and expand airports.
This follows Mavcom's release of a consultation paper on the aeronautical charges framework in late June. This shed more light on MAHB's RAB framework, which includes a nominal pre-tax weighted average cost of capital of 10.88%, new transfer PSC, and three PSC model options that were proposed by the airport operator.
MAHB will not face capacity constraints under the RAB framework, unlike the current situation where decisions on the expansion and upgrading of facilities lie in the government's hand.
Under the proposed RAB framework, the government will share the capital expenditure burden with MAHB. This is expected to enable MAHB to plan its growth more efficiently, while letting it pass down its capex costs via regulated rates to airport users.
Still, the regulated rate of return depends on MAHB achieving its passenger count target. As a result, the airport operator will be encouraged to be more efficient and deliver better services.
The MoT plans to divide domestic airports into four clusters — one for KLIA, including klia2, another for designated airports in Peninsular Malaysia and one each for airports in Sabah and Sarawak.
This is to pave the way for new operators to join the game.
"There are 39 airports in the country but not all are making money for MAHB. If you unbundle them right now, if you cluster them now, it is actually good for MAHB in the long term. It can focus on airports that are already money-making," Loke told The Edge Weekly in an interview in May.
"We broke it into four, for example, if MAHB wants to have one new partner for Sabah, then it can create a new joint-venture company. The benefit for MAHB is that it will not have to come up with [a large] capital [expenditure]. Because, number one, it wants to focus on KLIA, but we need expansion at all other airports, not just KLIA. We need expansion at Sandakan, Tawau, Kota Kinabalu, Kuching, Miri, Sibu and so on. MAHB by itself cannot focus on so many airports," he explained.
That said, Loke reiterated that the changes will not be at the expense of MAHB. "I don't want the market to react negatively ... MAHB will [continue to] be a good counter. It will not be at the expense of MAHB."