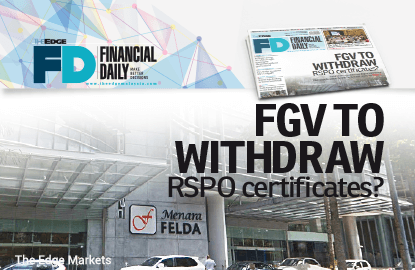 This article first appeared in The Edge Financial Daily, on May 3, 2016.
KUALA LUMPUR: Felda Global Ventures Holdings Bhd (FGV) is said to be considering a withdrawal of its Roundtable on Sustainable Palm Oil (RSPO) principles and criteria certificates, according to sources. 
"FGV can only comment on this matter officially at a later time," a company spokesman said, when asked if it was true that the group has requested for a withdrawal of RSPO principles and criteria (P&C) certificates. 
According to a document sighted by The Edge Financial Daily, Felda Group made the request for withdrawal of RSPO certificates for "58 complexes located throughout Malaysia."
The 58 complexes refer to the 58 palm oil mills within the group that have been RSPO certified. Typically between five and eight estates supply fresh fruit bunch (FFB) to each mill. FGV has 71 mills, its latest annual report stated. 
"Felda Group is currently addressing all sustainability issues along the supply chain. This exercise allows a more inclusive certification between commercially managed plantations by FGV and Felda smallholders," the document stated. 
It also noted that the withdrawal would take effect today. The reason for the request was not stated. 
However, a person familiar with the group said that the request for withdrawal of RSPO P&C certificates could relate to peat soil within the group's marginal hectarage.
FGV has a land bank of around 431,622ha, which includes 353,260ha under land lease agreement with Felda. It also buys FFB from Felda smallholders with 475,000ha of land. 
Felda Group is the first smallholder organisation to achieve RSPO certification in 2010. FGV is a founding member of the RSPO. 
Sustainability is a perennial issue for palm oil players but of late, major producers have been making headlines for breaching RSPO P&Cs. 
On April 4, IOI Corp Bhd had its RSPO certificates suspended following a complaint from Aidenvironment, a sustainability consultancy. 
IOI Corp was found to be in breach of Principles 2 and 7 of the RSPO P&C and susbsequently, RSPO certification of the entire IOI Group was suspended. 
Following that, Unilever, Kellogg's, Colgate-Palmolive, Johnson & Johnson, Procter & Gamble, SC Johnson, Yum! Brands and Nestle announced that they would stop sourcing for palm oil from the group.