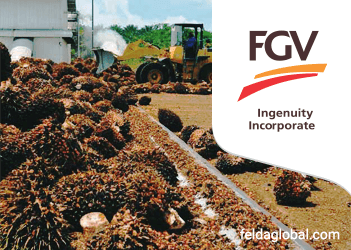 KUALA LUMPUR: State-controlled Felda Global Ventures Holdings Bhd (FGV) has assured shareholders that it will not be pursuing any more acquisitions, but will instead look into the whole value chain from downstream to upstream.
The country's largest listed plantation company said this in a statement yesterday in which it again defended its controversial proposed acquisition of Eagle High Plantations (EHP) from Indonesian tycoon Tan Sri Peter Sondakh's Rajawali Group.
"Political innuendos and references to other GLCs (government-linked companies) and personal relationships are unnecessary and take away from the fact that this transaction will be a game changer for the palm oil industry globally and FGV will be firmly on its way achieving the goals as set out in its five-year transformation plan, driven by three thrusts of revenue enhancement, cost optimisation and operational excellence," it said.
"FGV will also focus on integrating and extracting efficiencies of recent acquisitions. Our goal is to empower management teams, guided by unifying vision and culture of performance and sustainability. Lastly, FGV will not be pursuing more acquisitions," it added.
It also said that it will "consolidate all our investments and drive growth".
FGV had previously said the acquisition of Eagle High was part of its plan to ensure long-term sustainability and viability of its plantation business.
Last month, it was reported that FGV's purchase of EHP had been panned by portfolio investors and bankers as hugely expensive for the company. Under the transaction, FGV plans to pay US$679 million (RM2.59 billion) for a 37% stake in EHP, which investment analysts too had criticised as too steep a price tag.
In the last three years, FGV spent over RM4 billion on mergers and acquisitions, mostly on brownfield plantations to fast-track its expansion and improve crop-age profile.
Last month, apart from the proposed Eagle High buy, the group also proposed to buy Golden Land Bhd's plantations in Sabah for RM655 million cash. In the past one year, FGV's share price has fallen by about 60%. Yesterday, it closed down 2 sen or 1.2% to RM1.63, with a market capitalisation of RM5.95 billion.
This article first appeared in The Edge Financial Daily, on July 7, 2015.