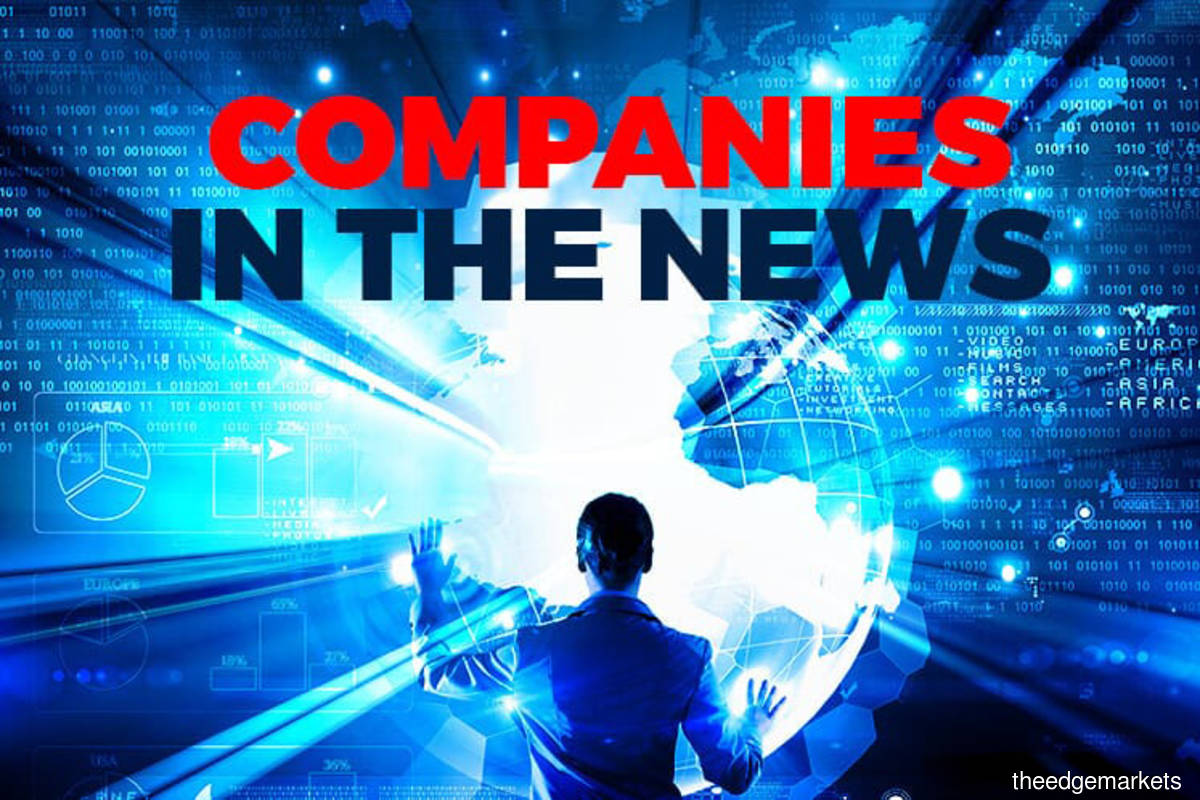 KUALA LUMPUR (Nov 2): Based on corporate announcements and news flow today, stocks that are likely to be in focus tomorrow are as follows: FGV Holdings Bhd, DRB-Hicom Bhd, Tomei Consolidated Bhd, Cycle and Carriage Bintang Bhd, Kerjaya Prospek Property Bhd, Dufu Technology Corp Bhd, Kronologi Asia Bhd, Hibiscus Petroleum Bhd, Tadmax Resources Bhd and Pintaras Jaya Bhd.
 
FGV Holdings Bhd says it has yet to receive a termination letter for the land-lease agreement (LLA) from the Federal Land Development Authority (Felda). It said that its non-independent and non-executive chairman Azhar Abdul Hamid has written to Felda chairman Datuk Seri Idris Jusoh on the matter. 
Separately, it said the asset injection proposal from tycoon Tan Sri Syed Mokhtar Albukhary controlled Perspective Lane (M) Sdn Bhd did not say whether the plantation assets that the tycoon wants to inject into are under Tradewinds Plantations Bhd or not, nor if Central Sugar Refinery Sdn Bhd would also be injected. 
 
DRB-Hicom Bhd's 50.1% unit Proton Holdings Bhd saw its October sales rise by 20% to 11,392 units, from 9,503 units in October 2019 — constituting the fifth month of y-o-y growth. On a monthly basis, sales declined 4.6% from 11,935 units in September. Year to date, sales were up by 6.2% at 84,999 units. It has an estimated market share of 21.3%. As of end-October, Proton saw 27,400 bookings for its X50 SUV, with 447 units already delivered to customers. 
 
Tomei Consolidated Bhd's net profit for the third quarter ended Sept 30, 2020 jumped by more than six times to RM13.6 million, from RM2.08 million a year prior, on better profit margins. Revenue shot up 52.14% to RM180.63 million, from RM118.72 million. The higher revenue was due to higher sales volume and selling prices in its retail, manufacturing and wholesale operating segments. Nine-month net profit increased three-fold to RM19.5 million from RM6.06 million, while revenue slipped 3.27% to RM384.56 million from RM397.57 million. 
 
Cycle and Carriage Bintang Bhd was back in the black in 3QFY20 with a net profit of RM7.2 million, from a net loss of RM12.24 million a year ago, following better car sales as a result of the sales tax exemption under the Penjana stimulus package and cost-saving. Quarterly revenue was up 58.01% to RM409.05 million, from RM258.87 million. Cumulative losses for the nine-month period narrowed to RM11.89 million from 16.96 million a year ago, as revenue declined 11.39% to RM764.3 million from RM862.54 million. 
 
Kerjaya Prospek Property Bhd bought a piece of freehold land near its Bloomsvale mixed development project in Old Klang Road for RM15.13 million. It said the land will be used to complement the Bloomsvale project. The acquisition is expected to be completed by January 2021 and will be funded via internally-generated funds and bank borrowings. 
 
Dufu Technology Corp Bhd's 3QFY20 net profit rose 29.9% quarter-on-quarter to RM12.86 million from RM9.9 million, due to higher revenue, and the absence of the operation impacts from Covid-19 seen in 2QFY20. Revenue rose 3.46% q-o-q to RM75.95 million, from RM73.41 million. On a year-on-year basis, Dufu's net profit contracted 13.01% from RM14,78 million in 3QFY19, while revenue increased 12.3% from RM67.63 million. The lower net profit was due to forex losses of RM1.94 million, while the higher revenue was due to higher volume loading by its hard disk drive component customers. 
 
Cumulative nine-month net profit increased 25.44% to RM36.9 million, from RM29.41 million a year ago, while revenue was 24.67% higher at RM212. 32 million from RM170.3 million. 
 
Kronologi Asia Bhd won an exabyte-size cloud hyper-scale supply and managed services contract in China. The contract was awarded by a market-leading web search, online community and artificial intelligence services provider. It however did not disclose the identity of the Chinese entity. 
 
Hibiscus Petroleum Bhd's unit SEA Hibiscus Sdn Bhd completed the St Joseph Minor Sands Infill and Major Sands Redevelopment Infill Drilling Campaign in September under the 2011 North Sabah Enhanced Oil Recovery Production Sharing Contract (North Sabah PSC). The campaign entailed the drilling and completion of four infill oil producers on the St Joseph Jacket-F (SJJT-F) platform. This now added 2,200 barrels per day of crude oil production, as well as some four million stock tank barrels of incremental life of field gross reserves. The North Sabah PSC's daily gross production capacity exceeds 20,000 barrels per day in September, up from the 14,000 barrels per day first registered when SEA Hibiscus first started operating it in 2018. 
Tadmax Resources Bhd's 55%-owned unit Builtamont Development Sdn Bhd is acquiring a piece of land in Cheras for RM37.4 million, in order to replenish its land bank for development activities. The land measures 2.60 acres and is located in Taman Desa Aman.The purchase will be funded through a combination of bank borrowings and internally-generated funds and is expected to be completed within six months. 
 
Pintaras Jaya Bhd won RM163 million in piling contracts in Singapore. The contracts will start between October 2020 to February 2021. Their contract periods range between two- to 12 months.