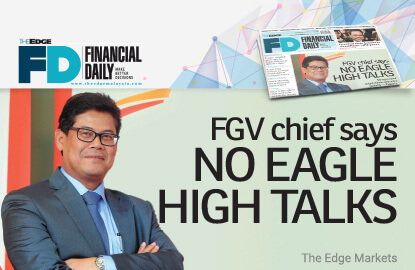 This article first appeared in
The Edge Financial Daily
, on October 26, 2016.
KUALA LUMPUR: Felda Global Ventures Holdings Bhd (FGV) has not resumed any talk to buy into PT Eagle High Plantations Tbk — Indonesia's third-largest plantation group listed in Jakarta, said its president and chief executive officer Datuk Zakaria Arshad.
"Mergers and acquisitions (M&A) are not a priority. At the moment, FGV is focusing on its core business by maximising returns from the existing assets, reducing the administrative costs and building internal capabilities," he told The Edge Financial Daily via a text message. He was abroad and did not elaborate.
On Oct 20, Deputy Minister in the Prime Minister's Department Datuk Razali Ibrahim was reported as saying that FGV was still in the process of negotiating the purchase of a 37% stake in Eagle High from the Rajawali Group, which owns 65.5% of Eagle High shares. Razali had said this via a written parliamentary reply to opposition lawmaker Tony Pua.
In a July interview, Zakaria had told The Edge weekly that FGV was no longer eyeing Eagle High as the group was no longer in M&A mode.
"That is the best I can say for the moment. So for now, it (the Eagle High acquisition) is put aside," he had said.
Cash-rich FGV had been on the acquisition trail since its listing on Bursa Malaysia in June 2012. Among the major acquisitions were the takeover of Pontian United Plantations Bhd for RM1.2 billion and Asia Plantation Ltd for RM628 million. It also spent RM2.2 billion to buy the remaining 51% stake in Felda Holdings Bhd from its substantial shareholder Koperasi Permodalan Felda Malaysia Bhd in October 2013. The latest purchase was 836.1ha of oil palm land from Golden Land Bhd for RM655 million cash.
FGV's cash coffers have shrunk as a result of the purchases to RM2.26 billion as at June 30, 2016 from RM5.68 billion as at Dec 31, 2012. Its long-term borrowings have swelled to RM1.69 billion from RM509,000, while its short-term borrowings leapt to RM4.2 billion from RM599.16 million during the same period.
To recap, FGV, a 20% unit of the Federal Land Development Authority, had in June last year announced plans to purchase a 30% interest in Eagle High for US$632 million in cash and a further 7% stake via an issue of 95 million new FGV shares worth US$48 million, which gave the deal a total valuation of US$680 million or RM2.89 billion then.
When the deal was first announced, Eagle High shares were trading at a high of 450 rupiah (14 sen), but the stock has since fallen by 57% to close at 194 rupiah yesterday.
While there has been talk of a 30% discount being sought from Rajawali, there is nothing concrete as yet on this.
It is understood that FGV had been advised by its bankers, JPMorgan and Bank of America, to opt out of the deal as the price tag of US$680 million was too high for a 37% stake in Eagle High.
After the merchant bankers had counselled FGV against the acquisition due to the high price tag on Eagle High, it is understood that Felda's wholly-owned Felda Investment Corp Sdn Bhd (FIC) had been roped in to look at Eagle High, and conclude the deal. This had raised eyebrows as FIC's initial mandate was to look at non-plantation related assets.
Eagle High reportedly operates 419,006ha of plantation land in Indonesia, of which 147,000ha are planted and spread over Sulawesi, Kalimantan, Papua and Sumatra provinces, and with an average tree profile of below seven years.
The market has taken FGV's opting out of the Eagle High deal positively. When FGV announced the deal to acquire the 37% stake in Eagle High, the group's shares shed 21 sen or 11.29% to end trading at RM1.57.
FGV shares closed down 11 sen or 4.85% at RM2.16 yesterday, giving it a market capitalisation of RM7.88 billion.
Zakaria took over the reins at FGV in end-March this year. Under Zakaria's stewardship, FGV has turned the corner. For its second quarter ended June 30, 2016, FGV registered a net profit of RM62.21 million on revenue of RM4.14 billion. For the six-month period, however, FGV remained in the red, posting a net loss of RM3.33 million on revenue of RM7.9 billion.
Much of FGV's problems stem from its ageing trees. Of FGV's 373,000ha, about half of its trees are 20 years old or more. The group also has some 7,200ha of unplanted land in Malaysia and 12,800ha of unplanted land in Indonesia. To overcome this problem, the group has come up with a replanting programme targeting some 15,000ha per year, which will reduce the average age of FGV's trees to about 12 years by 2020.