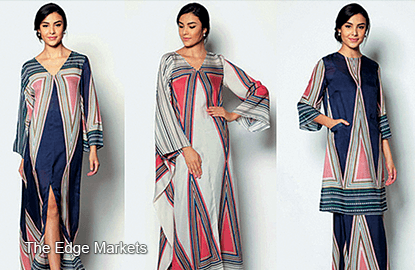 With just about a week to go until Hari Raya Aidilfitri, the final preparations of the festivities have begun. Be it preparing to balik kampung, organising the Raya menu or getting your wardrobe ready, festive frenzy is in the air. If you're one of those who have yet to organise your Raya outfits, here are several ideas to rescue you from your wardrobe emergency. With a variety of brands to choose from, this year's collections reinterpret the classic baju kurung or kebaya with pieces that can be worn together or separately. 
Modern and classic 
Tsyahmi  
[email protected]
Known for combining high fashion with timeless simplicity, Tsyahmi's Raya 2015 collection has great picks for those who dislike the over-the-top glamour but still want to be stylish. The collection fuses comfort and function with its modern fusion collection. The award-winning designer has smartly tailored pieces that can be worn together or as separates. The collection also infuses functionality with the Teja kurung which features an adjustable side layer satin scarf panel. 
Alia B 
www.fashionvalet.com/brands/442/alia-b
As part of the diffusion line under the Alia Bastamam label, Alia B offers affordable and modern pieces with a street-style edge. Tailored for the urban and stylish individuals, this collection takes inspiration from international runways and fashion capitals. Her monochrome collection features beautiful, simplistic pieces that ooze elegance and flexibility. The collection incorporates traditional elements, such as the Kedah-style baju kurung and kurta-style dress.
Uniqlo x Hana Tajima Collection 
www.uniqlo.com.my
Versatility is the first word that comes to mind when you think of Uniqlo's collaboration with UK designer Hana Tajima. The collection is inspired by diversity and features an extensive range of stylish hijabs, rayon blouses, long dresses and kebayas. The kebaya is given a contemporary twist and can be worn three ways. The hidden zipper on the kebaya allows the skirt to be removed and worn as a simple wrap or cardigan. Synonymous to the Uniqlo brand, functionality is the way to go with its AIRism range. The inner clothing range featuring a headband, inner hijab and sleeveless tee is created from smooth and lightweight material that is also heat-releasing and odour-minimising.
Ethnic luxe 
S Baharim for Zalora 
www.zalora.com.my/s-baharim/
If you are a fan of print and pattern, then look no further than S Baharim's Raya 2015 collection. A few key pieces from the collection take inspiration from African tribal patterns, with its use of geometric prints and finely-tailored silhouettes. Both the kaftan and baju kurung get the tribal treatment in this collection and manage to successfully incorporate bright shades without being excessively loud or gaudy. The collection also features a range of baju kurungs that come in pastel shades and give the traditional style a contemporary touch. The collection is available exclusively online on Zalora. 
BritishIndia 
www.britishindia.com.my
Take a page out of BritishIndia's book and go the ethnic route this Raya. This collection takes inspiration from traditional Malay design, combining it with premium fabric. The ladies collection showcases new cuts and silhouettes that accentuate the female body, together with watercolour prints and motifs. Featuring pure silk kaftans with batik and ethnic prints, it will be hard to go wrong with this collection. The collection also includes something for men, with its Classic Black Label range influenced by songket and batik. 
Glamour 
NH by Nurita Harith 'flow' 
www.nuritaharith.com/nh-collection 
For anyone who likes a bit of glamour in their lives, Nurita Harith's latest collection is a mixture of art and fashion. The designer, has teamed up with painter/artist DURA, who has added artwork into the collection. The collection focuses on clean silhouettes that are given a bit of edge, thanks to the creative brush strokes. The limited-edition range combines together lilac, mauve and neutral shades.
Zalia 
www.zalora.com.my/women/zalia
Zalora's in-house brand is the go-to collection if you want a bit of glamour in your life at affordable prices. The modestly attired collection features a range of maxi dresses, sequin skirts, peplum tops and colourful kaftans that are also perfect for special occasions, such as weddings and formal dinners. The peplum tops in this collection come in a variety of embellishments, such as sequins and lace, strongly exuding femininity and sensuality. If you are thinking of wearing something different this festive season, Zalia's collection of chiffon maxi dresses are a good replacement for baju kurungs or kebayas with their striking silhouettes. 
Whimsical and fun 
Samantha Sherina by Thian 
www.fashionvalet.com/brands/413/samantha-sherina-by-thian
If you love all things romantic and whimsical, Samantha Sherina by Thian is where you can find all things dreamy and quirky this Raya. The range infuses floral motifs and flowing silhouettes that translate into a bold and individualistic collection. Inspired by Audrey Hepburn, the fun collection breathes fresh air into the baju kurung by allowing girls to live out their fantasies. It incorporates details such as scalloped hemlines, sequin embroidery and cape-like sleeves.  The tops and kurung skirts can be worn separately, making it easy to mix and match with everyday pieces. 
This article first appeared in The Edge Financial Daily, on July 8, 2015.