This article first appeared in The Edge Financial Daily, on March 4, 2019.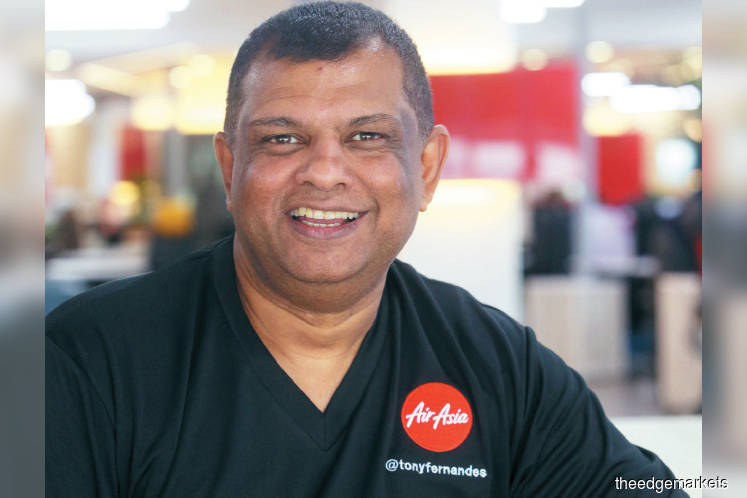 Fernandes: Shareholders who have faith in the airline will be rewarded with earnings growth and dividends. Photo by Sam Fong
KUALA LUMPUR: After he tweeted that AirAsia Group Bhd has made all the right moves in the financial year ended Dec 31, 2018 (FY18), co-founder Tan Sri Tony Fernandes then tweeted another message saying he stood by his remark that 2019 will be the best-ever year for the low-cost carrier.
In the tweet message, Fernandes, whom he and his partner, Datuk Kamarudin Meranun, are the largest controlling shareholders, told the investing public that shareholders who have faith in the airline will be rewarded with earnings growth and dividends.
"Look out for results in the first quarter (ending March 31, 2019)," he tweeted last Friday.
The duo's investment vehicles — Tune Live Sdn Bhd and Tune Air Sdn Bhd — own 32.5% stake in AirAsia.
In fact, AirAsia shareholders were already rewarded with bumper dividend of 64 sen per share (including a special dividend of 40 sen) in FY18. This translates into a payout ratio of 108%.
The record high dividend, however, did not seem to lend much support to the carrier's share price which has been on the decline since a year ago. Probably more attention has been drawn to its largest ever quarterly net loss.
AirAsia last week announced that due to higher fuel costs and operating lease expenses, it posted a net loss of RM394.97 million in the fourth quarter ended Dec 31, 2018 (4QFY18), compared to a net profit of RM372.6 million a year ago, although its quarterly revenue had grown 6.2% at RM2.82 billion.
Bloomberg data shows a quarter of the 20 research houses that cover AirAsia have downgraded their ratings the day after the quarterly results announcement, leaving the airline with eight "buy" calls, and six each for "hold" and "sell" calls.
Some RM6.21 billion market capitalisation has evaporated since March 1 last year, when its price was at an all-time high of RM3.85 apiece, valuing AirAsia at RM15.37 billion. Last Friday, it ended at RM2.74, giving it a market capitalisation of RM9.16 billion.
AirAsia, despite the large quarterly losses, was profitable for FY18 with an annual profit of RM1.97 billion or 59.2 sen per share, compared with RM1.62 billion, or 49.3 sen per share.
Excluding a laundry list of one-off items, for example foreign exchange gain of RM130.8 million, fair value loss on derivatives of RM200.2 million, one-off expenses relating to BBAM (Ltd Partnership) of RM146 million, and provision for doubtful third-party charter debts of RM60 million, AirAsia recorded a FY18 core net profit of RM838.6 million, according to Public Invest Research, which has an "outperform" call on the airline.
The research outfit pegs its target price (TP) at RM3.70, which is 35% above against last Friday's closing of RM2.74.
To recap, in March last year, AirAsia announced the US$1.185 billion sales and leaseback deal to divest wholly-owned aircraft leasing unit Asia Aviation Capital Ltd (AACL) to BBAM.
Fernandes also commented in the tweet massage that the divestment of AACL was "fantastic", as it locked in the aircraft's residual value and beef up AirAsia's balance sheet, while enabling it to pay out generous dividend.
Nomura analyst, Ahmad Maghfur Usman, is upbeat on AirAsia's earnings outlook "on the back of lower fuel costs coupled with the turnaround from its Asean affiliates, while losses from India are expected to narrow on improved scalability as passenger volumes increase".
Maghfur's TP of RM5.20 is the highest among analysts polled by Bloomberg.
He noticed that AirAsia has been more disciplined in terms of capacity management for Malaysia and Indonesia to drive up yield and boost load factor.
Higher yield and load factor are what all airlines looking for simply because these will help widen profit margin.
However, CIMB Research analyst Raymond Yap holds a contrast view on Asia's biggest low-cost carrier, whose share price has declined nearly 29% from the peak.
In the financial result review dated Feb 28, Yap wrote that AirAsia is likely to incur higher provisions for aircraft maintenance charges compared to the time before the sale and leaseback model take place.
"All else being equal, the squeeze on AirAsia's profitability will continue to get tighter since a substantial number of AirAsia's order book with Airbus has been committed for subsequent sale and leaseback with BBAM.
"With lower profitability, AirAsia will be less resilient to the unexpected changes in the business environment," Yap commented, adding that competition may intensify as Malaysia Airlines Bhd and Malindo Airways Sdn Bhd are expected to increase capacity.
Yap, who has a "reduce" call and a TP of RM1.82 on AirAsia, also cautioned that the new airport departure levy and the potential passenger service charge increase are expected to hurt travel demand in Malaysia, which might resulting AirAsia to subsidise these rate increases.
When contacted, Maybank Investment Bank aviation analyst, Mohshin Aziz, told The Edge Financial Daily that as competition intensify, AirAsia's pricing power would be substantially lower.
"Beyond that, a lot of their costs have increased. The aircraft operating lease cost, in particular, was quite painful to the company, it had increased more than what we have led to believe," he said.
Although Mohshin said AirAsia management has said that the worst may have been over and the Malaysian airline industry is seeing a slow recovery, but his own observation seems to suggest that airfares are still in a cheap environment.
Mohshin has a "sell" call on AirAsia, with a fair value of RM2.28. He does not rule out that selling pressure may persist for a while longer.
Analysts have various views on the prospects of AirAsia. Some are paying attention on dark clouds on the horizon, while others see the silver lining behind the dark clouds.
All said, Fernandes reiterated that "time will tell" that AirAsia is on the right path to greater height.