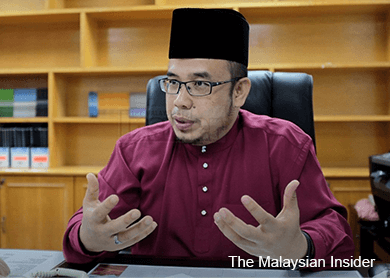 (May 11): Perlis mufti Datuk Dr Mohd Asri Zainul Abidin has said the National Fatwa Council did not discuss issues related to debt-ridden 1Malaysia Development Berhad (1MDB) since he was appointed to the religious body last February.
In his Facebook page, he posted: "Sejak saya memegang jawatan Mufti Negeri Perlis dan ahli jawatankuasa Majlis Fatwa Kebangsaan bermula pada 1 Februari lepas, saya tidak pernah hadir dan tiada apa-apa mesyuarat Majlis Fatwa Kebangsaan tentang pelaburan 1MDB. Itu sahaja yang dapat saya beritahu kepada pihak-pihak yang email saya tentang hal ini."
(Since I was appointed Perlis mufti and became a member of the National Fatwa Council on February 1, I have not attended any meeting on 1MDB investments nor has there been any National Fatwa Council meetings on the subject. This is all I can say to those who emailed me on the matter).
He also appended a picture of a news report on the matter, which featured the face of Lembaga Tabung Haji chairman Datuk Seri Abdul Azeez Abdul Rahim and with the quote Jawatankuasa Fatwa National sahkan transaksi pembelian daripada 1MDB mengikut syariah. (The National Fatwa Council confirms the purchase from 1MDB is in accordance with shariah law).
This was in reference to the land purchase by Lembaga Tabung Haji from 1MDB's Tun Razak Exchange project which caused a storm of protest after it was revealed last week.
However, a check by The Malaysian Insider showed that it was Fatwa Council chairman professor emeritus Tan Sri Dr Abd Shukor Husi who declared the transaction as shariah compliant.
He was quoted as saying by Utusan Online yesterday that the purchase of the land for development was legal and in accordance with Islamic principles as well as without any gharar or questionable elements.
Tabung Haji's purchase of the plot of land from 1MDB for the purpose of building a residential tower has created uproar among its depositors, some of whom withdrew their savings at its branch in Shah Alam on Thursday.
Opposition politicians were quick to note that Tabung Haji was paying far more per square feet (psf) than what 1MDB had paid at RM64 psf when it first bought the land from the government, causing some to call the deal a "bailout" given 1MDB's massive debts.
On Saturday, the fund announced that it was selling the land it had purchased from 1MDB, following public outcry over the transaction.
Azeez said Prime Minister Datuk Seri Najib Razak had advised him to dispose of the land so that the fund's reputation was not "tarnished" due to its business transaction with 1MDB, and in order to respect the "sensitivity" of the depositors. – The Malaysian Insider