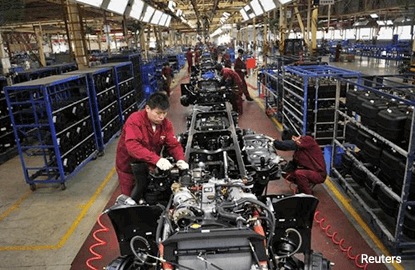 BEIJING (Aug 28): Profits at Chinese industrial companies in July slid 2.9% from a year earlier as falling prices eroded earnings, official data showed on Friday, underlining weakness in the world's second-largest economy.
Growth in Chinese manufacturing has been stagnating slowly but inexorably due to nearly four years of price deflation, with wholesale prices sliding continuously as legions of small companies compete desperately to stay above water.
Companies in July suffered their second-biggest drop in industrial profits this year since a total 4.2% decrease in January-February, data showed. Profits were down 1.0% in the first seven months of the year to 3.3 trillion yuan ($516.4 billion), compared with the same period a year ago.
In July alone, profits stood at 471.6 billion yuan.
Although sliding prices tempered the cost of raw materials for companies, firms were squeezed by a faster drop in earnings due to sluggish demand and sales.
Earnings fell 512.5 billion yuan ($80.2 billion) in July, the National Bureau of Statistics said, outstripping a 376.1 billion decline in costs. As a result, profits fell more quickly in July from June, and were down 136.4 billion yuan.
STATE FIRMS, MINERS
State-owned firms fared the worst among all companies. Their profits slumped 22.1% in the first seven months of the year on an annual basis, compared with private firms which saw profits rise 6.5%.
Between sectors, the mining industry was the laggard, due partly to a supply glut and falling global commodity prices. Miners' profits dived 57.4% between January and July, compared to water and energy suppliers which posted a 15.2% climb in earnings.
But some analysts suggested the data wasn't as dire as predicted.
"The 1.0% year-ago decline in industrial profits in the first seven months of 2015 is probably less awful than expected," Bill Adams, senior international economist at PNC Financial Services Group, wrote in a research note.
"China's mining and steel industries are undergoing a very deep correction: the rest of China's industrial sector looks weak but not terrible."
Indeed, high-tech and consumer goods manufacturing both grew relatively quickly, with profits in high-tech manufacturing increasing by 8.4% and profits growing 7.5% in consumer goods manufacturing.
China's five interest rate cuts since November to lift a cooling Chinese economy had also benefited firms. Interest rate repayments shrank 3.1% in July and financial expenditure dropped 3.0%, the data showed.
($1 = 6.3900 Chinese yuan)