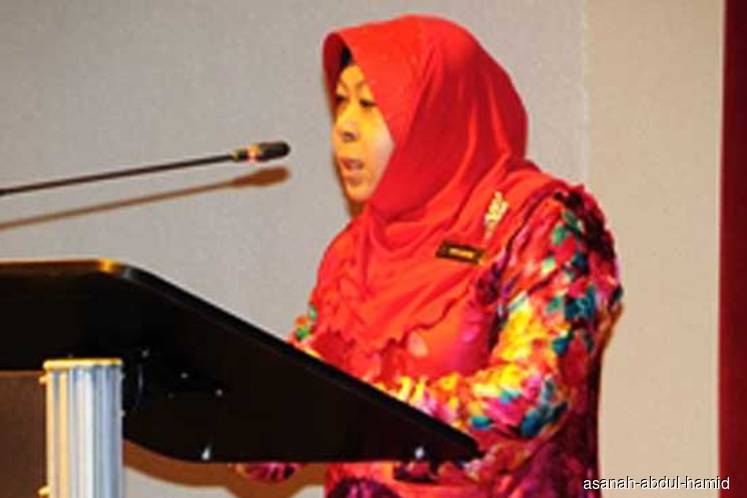 KUALA LUMPUR (Jan 8): Former director-general of the Malaysian External Intelligence Organisation Datuk Hasanah Abdul Hamid, who has been charged with criminal breach of trust involving RM50 million, will oppose a motion to transfer the case to the High Court.
Hasanah's defence lawyer Datuk Shaharudin Ali said the public prosecutor has filed a notice to transfer the case from the Sessions Court using provisions in the Criminal Procedure Code (CPC).
"Hasanah's defence team is expected to oppose the motion," Shahrudin said in a brief media statement today. The case will be heard at the Kuala Lumpur Court Complex tomorrow before Justice Mohd Nazlan Mohd Ghazali.
Currently, Hasanah's case is being heard before Sessions Court judge Azman Ahmad.
Under Section 417 of the CPC, the High Court can transfer the case from a subordinate court on various grounds such as to ensure a fair and impartial trial, as well as taking into account questions of law of unusual difficulty that could likely arise.
On Oct 25, the prosecutors had charged Hasanah with criminal breach of trust and misappropriation of US$12.1 million (about RM50 million).
Hasanah was alleged to have committed the offence between April 30, 2018 and May 9, 2018 at her office in the Prime Minister's Department Complex in Putrajaya.
She was charged under Section 409 of the Penal Code, which deals with criminal breach of trust and carries a sentence of up to 20 years' imprisonment, whipping and fine upon conviction.