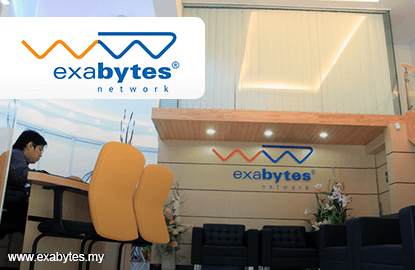 KUALA LUMPUR (April 3): Web hosting services and e-commerce solutions provider Exabytes Group today announced the launch of its 'Cockroach Startup Program' on April 1 as its first ever technology-funding programme to help develop and grow a strong startup community across Malaysia.
In a statement today, Exabytes founder cum executive director Chan Kee Siak said a cockroach startup is one that keeps struggling and moves forward in spite of changing environments, market conditions and investment scenarios, just like a cockroach.
He explained that Exabytes' motivation is to provide a platform that continues to see success in promoting high potential Malaysian startups in 2017.
"The introduction of the Cockroach Startup Program is part of Exabytes' continual commitments in nurturing startups by providing a sustainable platform to help drive the set-up of aspiring startups in Malaysia," said Chan.
He said Malaysia is the third largest market for startups.
Chan said Grab, iflix and HappyFresh were just a few top Malaysian-founded startup companies with great innovations and fascinating technologies that have established themselves in the Southeast Asia region.
"The Malaysian government is always supportive of startups and tech innovation. There is also a passionate group of startup advocates comprising actual business owners or successful entrepreneurs, who are willing to help other entrepreneurs succeed by way of investment funding, providing mentorship and access to global network.
"To complement these startup advocates, we have designed Cockroach Startup Program to support pre-seed to seed high potential startup from all industry categories by way of technology funding to build and grow their business," he said.
Chan said Exabytes' support comes in two stages.
At Stage 1, the company will offer RM3,000 worth of credit for 1,000 qualified startups who have joined incubator or accelerator programme to use Exabytes services for one year, including services such as Domains to Hosting, Servers and Online Marketing.
Stage 2 sees 20 shortlisted startups that have successfully developed their products continue receiving Exabytes' support worth RM30,000 in credit for their production use. These 20 startups will also be given RM20,000 in cash in exchange for Exabytes gaining 5% equity shareholding in their business.
"I truly believe that with our Cockroach Startup Program, local startups would be able to benefit from the right technology support to grow their businesses," said Chan.
According to Chan, over the years, Malaysia's startup ecosystem has seen more and more entrepreneurs with innovative products coming into the market.
"However, many startup founders in Malaysia lack insights on how to go beyond their borders to scale up their business including bringing their products to the global market," he said.