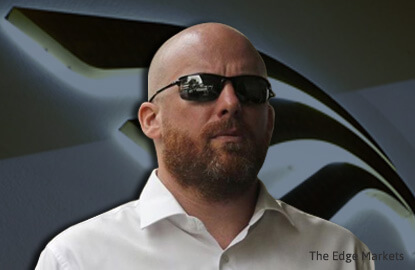 SINGAPORE (Jan 11): Jens Fred Sturzenegger, the former branch manager of Falcon Private Bank in Singapore, was sentenced to 28 weeks' jail and fined S$128,000 for offences related to the illegal movement of money involving 1Malaysia Development Bhd (1MDB).
Sturzenegger was convicted on six charges. Two were for failing to report suspicious financial transactions and four for lying to investigators and regulators. The additional 10 other charges he was accused of last week were taken into consideration in the sentencing.
Sturzenegger's sentence, mete out in court this afternoon, is the fourth guilty verdict to be handed down thus far of the five individuals charged by Singapore authorities for their involvement in the 1MDB case.
The 42-year-old Swiss will start serving his sentence from today but has been given two weeks' grace to pay the fine.
According to Court documents, Sturzenegger was the branch manager at Falcon when the bank was asked by alleged 1MDB mastermind Low Taek Jho, better known as Jho Low, to handle fund transfers of more than US$1 billion (S$1.4 billion).
And when the Monetary Authority of Singapore (MAS) and the Commercial Affairs Department (CAD) started their investigations, Sturzenegger lied to them repeatedly.
In his sentencing, district judge Ow Yong Tuck Leong noted the "staggering sums" of money involved and "wastage of public resources" the accused had caused with his lies.
However, the judge noted that Sturzenegger was a first-time offender who in the end cooperated fully with the authorities.
Sturzenegger's lawyer Tan Hee Joek of Tan See Swan & Co said his client is "unlikely" to appeal.
'Eric Tan'
Back in Jan 30, 2012, Falcon Bank's chairman, Mohamed Al-Husseiny was contacted by a person purporting to be "Eric Tan" via the email account [email protected], with a request for the bank to set up an account for a friend. 
Al-Husseiny replied to Tan and copied in Falcon's CEO Eduardo Leemann, who in turn assigned Sturzenegger to travel up to Kuala Lumpur to meet Tan.
In Kuala Lumpur, Sturzenegger was taken to a residence by Tan who then reintroduced himself as Jho Low. But Sturzenegger was told by Low to continue addressing him as "Eric" or "Eric Tan" for security reasons.
It was only during the account opening process that Sturzenegger realised that Tan and Low were not the same person after he saw a copy of the passport and curriculum vitae of the real Eric Tan Kim Loong.
By Oct 2012, four accounts were opened with Falcon under Tan's name. They would remain inactive until March 2013.
In another telephone conversation between Low and Sturzenegger, they briefly discussed adding Jasmine Loo, known to be a former counsel with 1MDB, as a signatory for the accounts.
On March 18 2013, via an emailed instruction from [email protected], Falcon was told to expect an inflow of more than US$1 billion from three funds: Cistenique Investment Fund, Enterprise Emerging Markets Fund and Devonshire Funds Limited.
The same email account also sent instructions to both Falcon's head office and Singapore branch to remit the funds to various other parties.
'It's a joke'
According to the deputy public prosecutor, Sturzenegger became "extremely apprehensive" about the movement of large sums of money and had doubts that the funds were indeed capital raised by various funds which were then invested with Tan.
"In conversations on 21 March 2013 with his colleagues, the accused expressed concerns that the inflow of funds could be related to money laundering," said deputy public prosecutor Leong Weng Tat.
"He also observed that Eric Tan's declared net worth was only a small fraction of the US$1.265 billion inflows. The accused knew that the inflows were clearly inconsistent with Eric Tan's profile, which in any event was a sham profile as the accused also knew that the latter was merely a proxy for Jho Low," added Leong.
According to the prosecution, Sturzenegger knew the bank was used to facilitate the pass-through of the US$1.265 billion. "Such pass-through transactions with no apparent economic purpose ought to have raised a red flag," said Leong.
On March 25, Sturzenegger complained to CEO Leemann, who in turn complained to Al-Husseiny, now known to be also a close associate of Low and is also a "person of interest" to the CAD.
According to the prosecution, as Sturzenegger was on an open line with Leemann, he could hear what Leemann said to Al-Husseiny.
"But between you and me, Mohammed, the rest of the documentation, which our friend in Malaysia has delivered, is absolutely ridiculous."
"This is exactly that kind of issue which is gonna get everybody in trouble. This is done not professionally, unprepared, amateurish at best. The documentation they're sending me is a joke..."
"How can you send hundreds of millions of dollars with documentation, you know, nine million here, 20 million there, no signatures on the bill, it's kind of cut and paste, and, and… I mean it's ridiculous!"
According to the prosecution, Leemann also called Low to make a similar complaint. "The documentation which we have received, Jho, it's a joke," Leemann said.
"What I try to do here is protect Eric and anybody in the room because if this gets reported, we're gonna have a huge problem."
No personal gain
In his mitigation plea, Sturzenegger's lawyer Tan pointed out that his client did not gain personally from his activities.
Three other former private bankers from BSI have already been convicted. They were Yak Yew Chee, his deputy Yvonne Seah, and wealth planner Yeo Jiawei.
Tan pointed out that Sturzenegger's annual pay between 2012 and 2015 as branch manager earned him just S$400,000 a year including bonuses. In contrast, Yak, Seah and Yeo had received millions for servicing 1MDB mastermind Low and his associates.
Yak was jailed for 18 weeks and fined S$24,000, Seah was jailed for two weeks and fined S$10,000. Yeo, meanwhile, has been sentenced to 30 months' jail for tampering with witnesses and is appealing. His money-laundering charges will be heard in April.
The fifth person to be charged is Kelvin Ang, a former broker with Maybank Kim Eng.