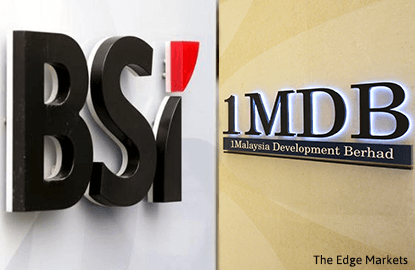 SINGAPORE (Aug 18): Yeo Jiawei, the former wealth planner at BSI, has been hit with two additional charges in court on Thursday for perverting the course of justice.
This means Yeo currently faces four charges of perverting the course of justice, out of a total of 11 charges.
The 33-year-old has been described by prosecutors as having played a central role in facilitating the transfer of money defrauded from state-owned fund 1Malaysia Development Bhd (1MDB). The prosecution is alleging that Yeo has on many occasions tampered with witnesses.
In the first of the two new charges, Yeo was alleged to have on March 20 told one Pinto Jose Renato Carvalho to dispose his notebook computer which likely contained evidence of Yeo's dealings with an entity called Amicorp Group, which provides administrative services to companies.
Yeo also told Carvalho not to travel to Singapore so as to avoid being interviewed by the Commercial Affairs Department, which was already on the trail of Yeo.
The second new charge alleged that Yeo instigated Carvalho to tell one Mun Enci Aloysius to inform the CAD that he wasn't aware of Yeo's dealings with Amicorp Group in the event of questioning by the investigators.
Trial dates for these four charges has been scheduled for Oct 31 to Nov 11.
Held in remand since April, the 33-year-old was again denied bail.
Yeo's former employer, Swiss private bank BSI, was ordered shut by regulator Monetary Authority of Singapore on May 24 for serious lapses in controls and processes.
Five other individuals are being investigated in relation to the case. They are Hans Peter Brunner, former Asia head of operations at BSI; Raj Sriram, Brunner's deputy; Kevin Michael Swampillai, head of wealth management services (who has been suspended by the bank); Yvonne Seah Yew Foong, a former senior private banker; and senior private banker Yak Yew Chee.