This article first appeared in The Edge Malaysia Weekly, on August 26, 2019 - September 01, 2019.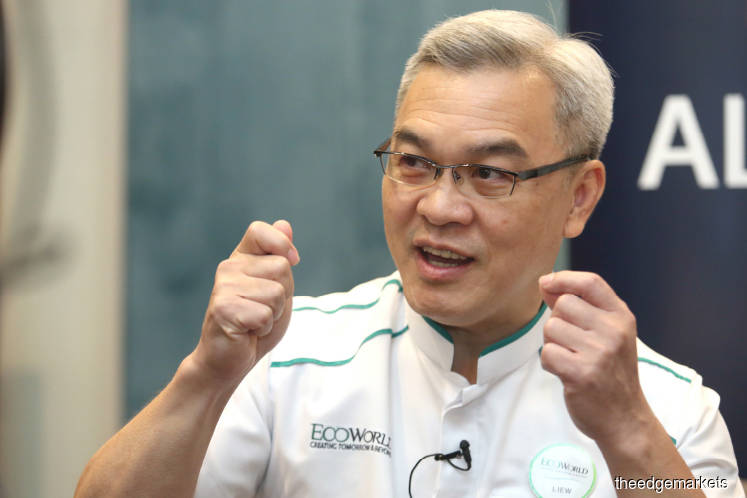 Liew: What Brexit is doing is scaring foreigners away, that's it. Locals are still buying. Photo by Sam Fong/The Edge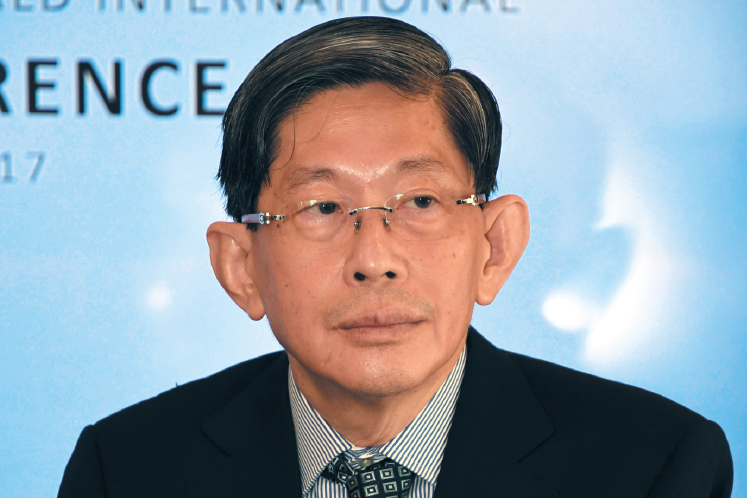 Teow says the forecast is for BtR investment to rocket to £550 billion as the market matures. Photo by Low Yen Yeing/EdgeProp.my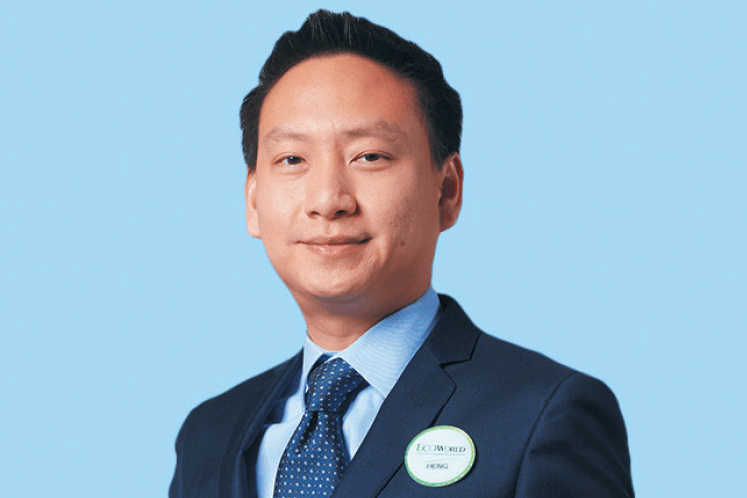 Cheong says the BtR model can be a counter-cyclical business to supplement EWI's other businesses.
IN a few months, or FY2020 at the latest, shareholders of Eco World International Bhd (EWI) can expect to receive dividends. The developer is already profitable and confident of its earnings trajectory, says executive vice-chairman Tan Sri Liew Kee Sin.
"If we do not declare dividends (by the end of this year), by 2020 we must. We are handing over units and our cash flow will improve. Our profit will be substantial by the end of this year and the profit momentum is there."
The targeted handover of several additional residential blocks in the UK in the next few months — mainly London City Island and Embassy Gardens — will allow profits to be recognised in the upcoming quarters of FY2019. Under British accounting standards, proceeds from sales are only recognised upon the handover of properties.
"We have 3,641 private units sold and we have delivered close to 900 units, which means we have over RM6 billion in unbilled progress billing to claim. EWI should have RM2 billion cash by 2021," Liew says.
As at May, EWI's effective stake in the future revenue of total properties sold was RM6.6 billion.
In the second quarter ended April, EWI continued to be in a net loss position due to the UK's earnings recognition method. However, its net loss narrowed to RM12 million from RM26 million a year earlier. For the cumulative six months, the group registered a net profit of RM10.77 million against a loss of RM36.6 million in the previous corresponding period.
Carving out an unrealised foreign exchange loss of RM1.6 million, EWI reported a 2QFY2019 core net loss of RM10 million, taking 1HFY2019 core net profit to RM11 million.
Maybank Research says in a June report that the 2QFY2019 loss was due to fewer units being handed over in the quarter. The local research house expects earnings to pick up strongly in 2HFY2019, with the completion and handover of residential blocks at London City Island, Embassy Gardens, Millbrook Park, Kensal Rise, Nantly House and Aberfeldy Village.
Eco World Development Group has a 27% stake in EWI, a company set up to focus on real estate development outside Malaysia and listed two years ago on Bursa Malaysia at an initial public offering price of RM1.20 a share. As at last Friday, its shares were trading at 62 sen, valuing the company at RM1.46 billion. EWI's other substantial shareholders include Liew (10.3%) and GLL EWI (HK) Ltd (27%), a company linked to tycoon Tan Sri Quek Leng Chan.
The total gross development value of EWI's projects now amounts to RM25 billion. Of its 11 active projects, nine are in London and two in Australia. It also has three upcoming projects in both countries and plans in the pipeline to acquire another two sites in London, underlining its confidence in the city.
Unfazed by Brexit, 'We are here to stay'
London will be EWI's biggest market for a long time as it is "here to stay", Liew declares.
"We are a tiny developer in London right now, but give us 5 to 10 years, we are going to grow. We have put in so much effort to build a strong team — a mixture of young and old blood, trying to fuse a team together. With this team, subject to Prime Minister Boris Johnson settling Brexit, we want to move ahead strongly," he tells Malaysian journalists on a media visit to EWI's London office.
Liew believes in the potential of the British property market, Brexit uncertainties notwithstanding. "Whoever is in government, they cannot ignore the fact that a certain level of society does not have a home. Whether to buy or rent, whichever comes into play, they must take care of this part of society.
"We see this year's sales in the UK doubling for the segment below £800 psf. There is a big shortage of homes in London. What Brexit is doing is scaring foreigners away, that's it. Locals are still buying."
Datuk Teow Leong Seng, EWI president and CEO says data show a projected shortfall in residential property supply in the UK compared to occupier demand in the lower and mid mainstream segments between 2017 and 2021. Statistics show that the average annual demand for housing in London stood at 14,500 units versus the average supply of 13,250 in the five-year period.
There is also demand for properties in the lower and mid-mainstream segments that benefit from the government's help-to-buy scheme for properties below £600,000, Teow points out.
With the Oct 31 deadline looming, Liew admits that Brexit is presently EWI's "biggest challenge" in London. "We need to make sure cash flow is strong ... Make sure we have enough cash for the next two years, assuming there is no deal. If there is a deal, the bank will throw money at us. If there is no deal, banks will pull back. It's as simple as that," Liew says.
On the group's gearing, EcoWorld London CEO Cheong Heng Leong says EWI's gearing, including joint ventures with Ballymore Group and Willmott Dixon, is 50% to 60%. (EcoWorld London is EWI's 70%-owned JV).
"The gearing levels are at project level and it depends on the individual project. Once we hand over the units and complete the transactions, all the cash will come back," Liew says.
From a business perspective, if a deal comes through and Brexit can be resolved amicably, the property developer will focus on open-market sales in London's Zones 2 and 3.
"It will take some time to recoup for the market segment in the £1,500 psf range as that market is slow to recover," says Liew, adding that, henceforth, EWI will venture deeper into the mid-market range.
Should there not be a Brexit deal, EWI plans to dive deeper into the build-to-rent (BtR) market. "We must make sure that we prepare for it (Brexit), so, whatever the outcome, we are there," says Liew. "Our margins for BtR are much lower than open-market sales … less than 10%, but the risk is also lower. Our job is to create an asset management company that does all the letting, and that is where the gravy will be for us in the future. To get that gravy we need 10,000 units to manage … it's recurring income."
EWI targets 10,000 BtR units in five years. In December last year, EcoWorld London signed a deal to let and manage over 1,000 BtR units with Investco Real Estate for £389 million, which includes 487 apartments at EWI's latest project Verdo @ Kew Bridge.
Cheong believes the BtR model can be a counter-cyclical business to supplement EWI's other businesses, noting there is no earnings lag from that segment compared with open-market sales.
"The statistics are good. Data show that 40% of people in London are renting right now and that is expected to increase to 60% by 2025," he says, adding that the average house price is over 12 times the average London income. At the same time, deposit levels have increased as well, to £200,000 on average for first-time buyers in popular places such as Camden. Consequently, renting has become the only option for many.
Teow points out that the forecast is for BtR investment to rocket from £10 billion to £550 billion as the market matures.
"The only constraint now is access to stock from developers. Although the segment is rapidly growing, institutional ownership is only 2% of total private rental stock. That is low compared with the US, where it is 37% of total rental stock," Teow says.
Liew believes BtR is a strategy for EWI to tap a new market segment, be aggressive and reduce its gearing at the same time.
"A lot depends on the balance sheet. If we can hold, we will do more open-market sales as the margins are better. If the balance sheet is weak, we have to be careful as we need to borrow for construction costs here in the UK. We want to be strong in BtR and open-market sales so, whatever the outcome of Brexit, we have a foothold in the UK."
CSG CIMB Research analyst Ngo Siew Teng believes EWI's balance sheet is sound and gearing remains manageable. "The move into the UK's domestic mainstream market is good given that prime areas like Zone 1 are not doing too well due to uncertainties arising from Brexit. Property demand and rents are still holding up pretty well in London as it is a vibrant city. I think EWI's exposure in the rapidly growing and less capital-intensive BtR market is positive, as this could grow its recurring income and improve its balance sheet."
EWI is not sitting still as it waits out the Brexit storm. "We always adapt to the market, we cannot be static. If we don't adapt, we will not survive," Liew says matter-of-factly.