This article first appeared in City & Country, The Edge Malaysia Weekly, on November 25, 2019 - December 01, 2019.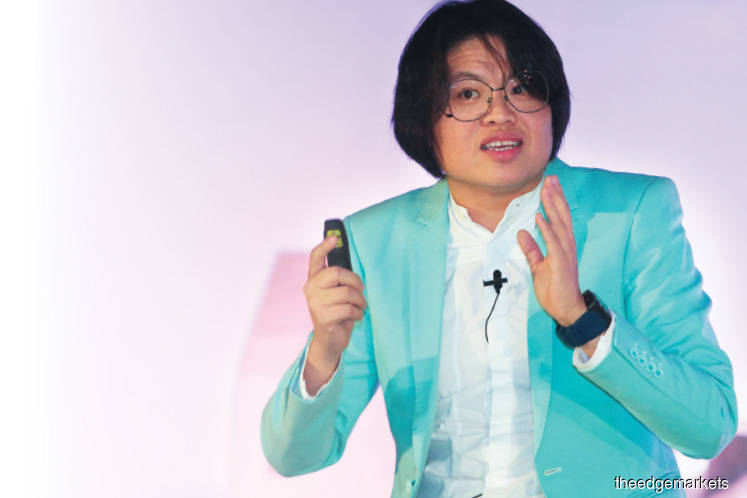 Get used to the mindset that your dream home right now is not your last home and your first home is not your dream home." — Tan

In a digitalised and globalised world, home ownership is changing from the traditional single-property ownership model to one of collective ownership, said Chur Associates founder and managing partner Chris Tan at The Edge Investment Forum on Real Estate 2019 themed, "To Buy or to Rent: What and Where?". His session was titled "The Evolution and Legal Aspects of Home Ownership".
The always-energetic Tan kicked off his session by asserting that the government is not responsible for one's home ownership. "There is no standardised definition for affordable housing because prices in Kota Baru are different from those in Kuala Lumpur. And there is no government agency to help you own property, they are set up to sell you property. You have the right to own a house but you are not guaranteed a house."
According to him, we live in the real world that is regulated by governments and politicians,  while there is the underworld that is ruled by gangs,
triads, Mafia and yazuka. And there is the third element, the seemingly unregulated virtual world that is dictated by creative entrepreneurs. "Home-
ownership is different today and it has evolved partly because of the existence of the third element. When a third party enters a marriage of two, everything changes. A lot of people say they want to buy affordable housing but there is no supply. I'll tell you to work on yourself first! We have to change the mentality here. What do you do when you cannot own a house? You need to know the changes and most importantly, that legality is at the heart of every meaningful technology disruption."
He noted that the digital world cannot be regulated most of the time. "Is Grab legal or illegal? What about Airbnb? Or bitcoin? Really, nobody knows. There's no prohibition, therefore it is permitted, but I ask you, just because something is regulated, does that mean it's legal?" asked Tan.
Noting the upcoming imposition of digital tax and the licensing of digital banks in Malaysia, he said with all these new possibilities, boundaries are being redefined.
Challenges of home ownership
Homes have also evolved since the Stone Age, from caves and rock shelters to the bungalows and condominiums we have today.
"Ownership itself has changed. A caveman would stay in a cave if there were no objections. Some would fight him for the cave and if he won all the time, he would go to another cave and do the same thing. Then everyone fought. That's when governments were formed and policies created.
"Then we moved on to lords, servants and slaves. We started to define personal belongings. We went one step up and you had some smart lawyers who said, let's define the boundaries. Let's do proper measurements and put them on this document called a title. With this title, we started this idea called real property. Ownership had, again, changed. Then we had intellectual property and, now, digital property," said Tan.
Home ownership is getting harder and harder, he added, citing globalisation as the No 1 reason. People today also have freedom of movement, meaning you could be in Kuala Lumpur today and tomorrow, you could be working in Kota Kinabalu. The next day, you could be in London, said Tan.
"Home is where you are staying that night. Home has a different concept now. And space is being redefined, we have co-living spaces, co-working and digital spaces. Then you have the online versus offline worlds — is it an integration or encroachment?" asked Tan.
Affordability versus feasibility is another challenge. Tan noted that what you can afford might not be feasible for your needs. Similarly, what is feasible for your needs might not be what you can afford.
"It's usage versus what you have in your pocket. Are we looking at a home as an asset or a burden? Ownership is good but you have to take the good and the bad. If you can't pay, it is not yours. In today's context, we don't really need to have everything. That's why we have things like Airbnb, we can share, right? That's why it's called the sharing economy," said Tan.
He believes that the problem is the silo mentality and he questioned whether getting a bank loan is the only option, noting that there are alternatives. He stressed that home ownership is a journey that changes through time, new requirements and circumstances. "When you get married, you will need a bigger home. Then, when all your children are grown and have left the house and you're retired, do you still need that big house? No. Get used to the mindset that your dream home right now is not your last home and your first home is not your dream home. In fact, your home may not be your home entirely, after all."
As investors can attest, property investment is not so liquid, added Tan. The agility to commit and decommission quickly is at a premium.
What is to come?
Some measures have been initiated to help home ownership. They include the rent-to-own scheme announced in Budget 2020, the rent-to-own schemes by private developers, property crowdfunding and transit housing offered by Kuala Lumpur City Hall (DBKL).
"Some people struggle to understand what rent-to-own is. Simply put, it's the hire purchase of a home. Transit housing is a transitional arrangement, offering a sleeping pod for RM100 a month. The government has also approved property crowdfunding, which means other than the bank, you can also move to this platform to get the money.
"One trend that is happening now is co-living ... It is really Pangsapuri Rakyat modernised," said Tan, drawing laughter from the crowd.
Other trends to look forward to are new public housing solutions, collective ownership, segregated home usage with specifications and improved liquidity in home ownership.
The new home ownership model will be collective ownership, meaning multiple users and a single property, said Tan.
He cautioned that the "next 10 years would be the last chance for individual property ownership". "Because after that you will no longer be able to afford it. Increasingly, there will be more tenants because of the affordability issue. It will drive you [to] the rental market and more management skills will be required. Going forward, it is not about selling a property but managing a property [collective ownership, and so on]," said Tan.
Finally, property investment will evolve into a financial investment that leverages organised and structured peers, not institutions, he said.
Questions from the floor
Tan took some questions after his session. In response to a question about fractional ownership and deed of trust and its implications, Tan said there is no framework on this.
"A contract is an agreement between two parties. If one party wants to challenge the agreement, it can do so at any time. So to me, this documentation is good enough only as evidence," Tan said.
On the legality of using bitcoin in a property sale, Tan said, "Willing buyer, willing seller. But transaction-wise, you still have regulations to comply with because this is the physical world. You pay money in the digital world but you do the transaction in the physical world because you're buying a property in the physical world."
One gentleman, Lim, asked whether one owned a property legally as a person as he has to pay quit rent every year. Tan noted that as far as the Federal Constitution is concerned, he does own the property. "You can transfer and assign the right of ownership. It is your right to transact it, your right to give it to someone … you have a right to full enjoyment of the said property. And the taxes, land assessment and such are paid for services granted to you.
"However, there is a risk. Your property is subject to compulsory land acquisition. There will be reasonable compensation paid to you by the government should the situation arise. But what is reasonable to you might be different from what is reasonable to the government," said Tan.
As for strata titled properties, he said, "You own the parcel but the moment you step out of the unit into the common areas, they are regulated by another set of documents."
In response to a question about the inability to transfer a property due to other owners defaulting on payments that resulted in the joint management body being unable to settle the quit rent, Tan said, "In a strata property, you can never run away from the common property. Your parcel is actually a subdivision of the original title being stratified. It is still attached to the master title and that is shaped by every owner."
However, he noted that there is now a provision that allows owners to individually pay their assessment and quit rents on a strata property.
Finally, Alan, who works in a law firm, asked about the future of conveyancing and shortening the process of selling and buying properties in Malaysia. Tan said he did not see a future in conveyancing, noting that a lawyer is not needed for a lot of public transactions these days.
"However, as a bit of consolation, conveyancing will not disappear immediately. It will take another 10 to 15 years. Knowing Malaysia, it's slowly but surely."
As for Alan's second question, Tan said due to the fact that the federal government does not regulate property transactions in each state, ironing out this issue is difficult. "The federal government needs to talk to the state governments to achieve the desired efficiencies. You pay your land taxes to the local authorities, your Real Property Gains Tax and stamp duty to the federal agency. If they don't talk to each other, we can never have a system that is efficient."