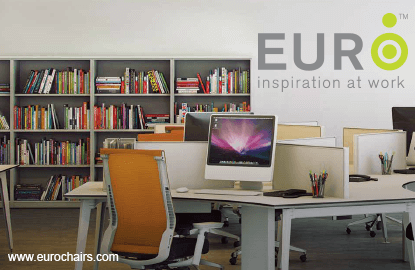 This article first appeared in The Edge Malaysia Weekly, on January 25 - 31, 2016.
AT a time most Malaysian furniture companies are benefiting from the strengthening US dollar, Euro Holdings Bhd (EHB), which specialises in office furniture, is awaiting its turn to shine.
Unlike the home furniture makers, whose profits are boosted by the strong greenback and low raw material prices, EHB has yet to see a significant jump in earnings.
According to the company's chief operating officer Thomas Tong Kah Hoe, new orders are starting to flow in now.
While Tong is of the view that corporate expenditure is expected to remain subdued, he remains optimistic about EHB's prospects, knowing that some companies are at the beginning of their five-year lifespan cycle for office furniture. "We have secured new orders from a bank in India and more fluid orders are coming from some major clients. Hopefully, this will be a better year," he says.
Tong adds that the company has also secured more projects in the Philippines and Indonesia, which are experiencing rapid growth,  one of the results of which is rising demand for office furniture.
"Normally, the average lifespan of office furniture is about five years, although some companies might hold back their expenses on office fittings and furniture during the bad times," he says.
The market trend for office furniture, Tong says, is different from the home furniture segment.
EHB's domestic clientele includes Citibank, Petroliam Nasional Bhd, JPMorgan Chase, AIA, Axiata Group Bhd and HSBC, while its international clientele consists of PT Indonesia AirAsia, Sony Ericsson India as well as Ricoh, New Creation Church and AT&T in Singapore.
"To be honest, last year was not fantastic for us. We saw a drop in turnover. But through our rationalisation and cost-cutting measures, the company was still able to make some money," Tong tells The Edge.
For the nine months ended Sept 30, 2015 (9MFY2015), EHB's net profit contracted 40% to RM1.4 million from a year ago. Group revenue shrank 20% to RM65.7 million. The weaker performance last year was attributed to lower sales in both the export and local markets amid continued market uncertainty.
EHB returned to the black in the financial year ended Dec 31, 2014 (FY2014),  after it slipped into the red the year before. It posted a net profit of RM2.4 million for FY2014, compared with a net loss of RM1.6 million the year before.
The company has not paid dividends since 2009, but it undertook a two-for-one bonus issue of 162 million shares last year. This lent some support to the share price, which has nearly doubled since January 2014, from 13 sen to 25 sen last Thursday.
The appreciation of the US dollar is a double-edged sword, says Tong. It has helped to improve EHB's profit margin but at the same time, weakened the buying power of its customers. Moreover, local demand has been lacklustre in the absence of high-value projects, and the implementation of the Goods and Services Tax (GST) in April last year made things worse.
In the office furniture market, EHB is competing with Herman Miller and AHB Holdings Bhd, which is also listed on Bursa Malaysia. AHB, which is in Practice Note 17 status, did not experience a huge jump in earnings either. On the back of higher revenue, AHB's net profit grew to RM763,000 in the six months ended Sept 30, 2015 (1HFY2016), up from RM636,000 a year ago.
EHB exports to more than 60 countries including India, Japan and Australia as well as in Southeast Asia, Europe and the Middle East. 
EHB currently has three integrated manufacturing facilities with about 500,000 sq ft, all situated in the Rawang Industrial Estate in  Selangor. At full capacity, the company produces 300 chairs a day or 7,000 chairs per month.
Founded by Lew Fatt Sin, EHB was listed on Bursa Malaysia in January 2005. The company was taken over by Datuk Seri Jeffrey Tong Yuen Keong and Datuk Tong Yun Mong in 2014. The Tong brothers are now the major shareholders of EHB with a 35.32% stake. Jeffrey, 55, was appointed a non-executive director of EHB in April 2007. He was re-designated as executive director in February 2012, before taking the helm as managing director in October 2014. 
To diversify its business, EHB has also ventured into property development. Its maiden project is in Cheras, comprising 322 residential units, and was launched early this month.
The three-year project, called Damai Vista, has a gross development value (GDV) of about RM100 million. It was undertaken by EHB's subsidiary Euroland & Development Sdn Bhd.
"We are looking at a very strong take-up rate. We have signed a lot of sale and purchase agreements. At the moment, it is fully booked but, of course, they are still subject to bank approvals," says Tong.
Given the right opportunity, Euroland & Development is looking at its second project in Ampang or Cheras.  "We are trying to secure a piece of land by the end of this year. The GDV for the second project will not be less than RM100 million," Tong says.
Its entry into property development will put EHB on a strong growth path for the future as the business will contribute positively to the group's earnings in the years to come.