This article first appeared in Capital, The Edge Malaysia Weekly, on September 19, 2022 - September 25, 2022.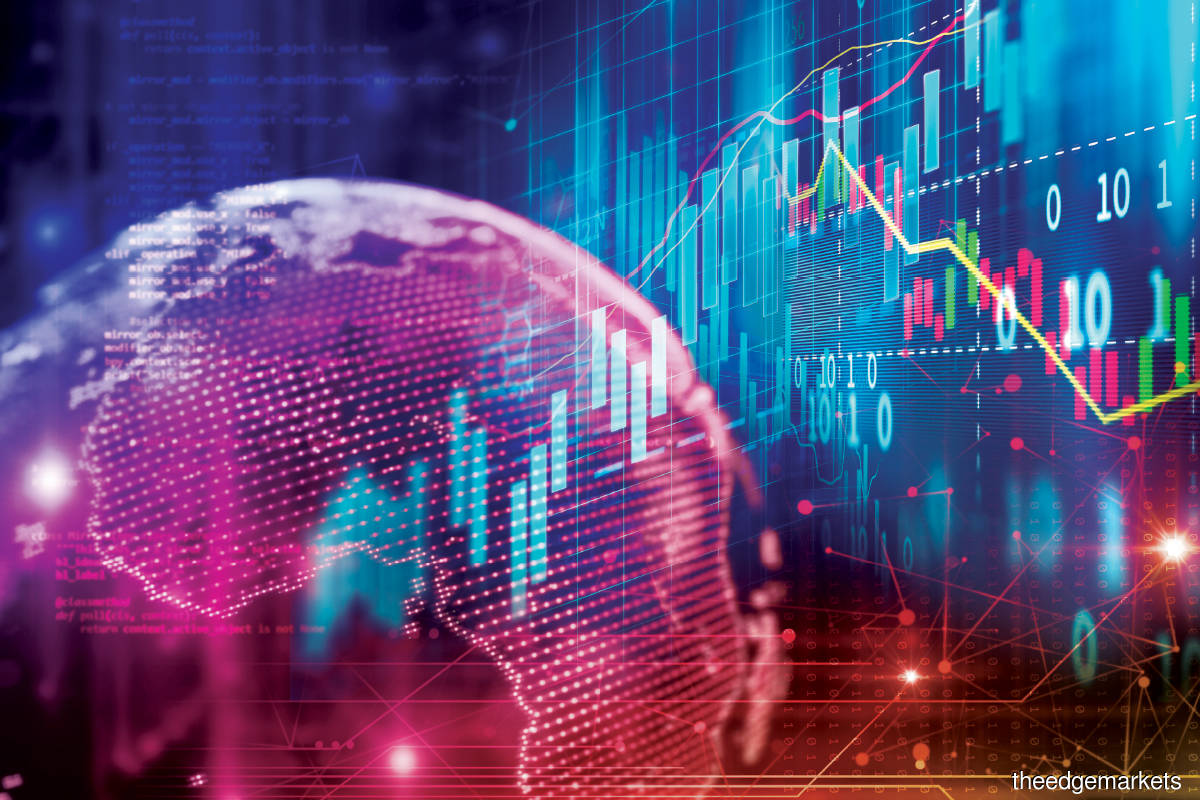 IT has been a fairly volatile year for capital markets around the world as geopolitics and high inflation rates that triggered aggressive rate hikes globally have spurred recession fears and dampened sentiment.
The local equity market is no exception. The FBM KLCI has shed about 6% since the start of the year, closing at 1,468.44 points last Wednesday, while the FBM Emas Index has lost slightly more than 7% over the same period to close at 10,475.2 points on the same day.
As the fourth quarter of this year draws closer, will the market continue to be bogged down by the same concerns or will there be fresh factors that prove powerful enough to sway it?
Inflation and rate hikes
Investors looking for a reprieve from rising interest rates or an end to the prolonged Russia-Ukraine war might be disappointed. At this juncture, market experts believe that these external factors will continue to influence the equity market.
"Rising global interest rates, high inflation and the Russia-Ukraine war continue to have significant influence on the equity market. The three mentioned key factors have not run their full course yet and remain as elevated concerns," say TA Investment Management Bhd chief investment officer Choo Swee Kee.
Last Tuesday, the US released inflation data for August, with headline inflation coming in at a higher-than-expected 8.3%. Core inflation also accelerated faster than expected to 6.3%.
Hopes for a dovish pivot by the US Federal Reserve on interest rate hikes were dashed. The market now expects the Fed to continue on its aggressive rate hike path, with at least a 75-basis-point hike on the cards at the Federal Open Market Committee (FOMC) meeting next week, while some have even suggested that a hike of 100bps might happen.
Wall Street plunged on news of higher-than-expected inflation, with the Dow Jones Industrial Average shedding 1,276.37 points, or 3.94% to close at 31,104.97. Meanwhile, the S&P 500 fell 4.32% to 3,932.69 points.
Malaysian equities were not spared. Last Wednesday, the FBM KLCI fell 6.8 points to close at the day's low of 1,468.4399 from the opening. For the week, it is down 30.65 points, or 2%.
"It looks like the hawkish stance will remain. There are two more FOMC meetings in 4Q and even if the rate hikes are softer, the US benchmark rate would also be above 4% by year end," says Areca Capital Sdn Bhd CEO Danny Wong.
"History has shown that a recession would likely take place in the US with aggressive rate hikes. The market is now pricing in a recession in the US and if the US falls into a recession, it will affect both sentiment and global trade," he adds.
MIDF Research head of research Imran Yassin Yussof concurs that the external factors, mainly the Fed's action and direction on interest rate hikes, will continue to dictate the equity market's movements.
He notes that the aggressive hike of 75bps in June rattled global markets as it came as a surprise and affected market valuations, leading to fears of a possible recession.
"Although Malaysia's economic fundamentals remain intact, it led to depression in the valuation of our equity market. Hence, it will be key to see whether the Fed will continue its aggressive stance or start to taper the pace of rate hike," Imran explains.
The next FOMC meeting will be held this week, on Sept 20 and 21.
It is worth noting that a more aggressive rate hike in the US compared to Malaysia will also affect the interest rate parity, says Wong.
"With the local currency affected, it will impact import cost and raise import inflation. That could force the central bank to reconsider the interest rate if inflation rises further," he says.
At the time of writing, the ringgit was trading at a 24-year low of 4.5305 against the US dollar, having fallen 8.7% this year.
China's economy
As one of the main economic engines of the world, China's gross domestic product (GDP) that fell by 2.6% quarter on quarter in 2Q2022 was not an encouraging sign. The decline was steeper than many had anticipated.
"Activity recovered in June after Shanghai lockdown restrictions were eased, but momentum dropped off sharply in July with retail sales, fixed-asset investment and industrial production all exhibiting surprising slowdowns," says Fitch Ratings in its September 2022 Global Economic Outlook report.
Consumer spending has fallen while the housing market slump has also deepened and looks like it could last longer than anticipated. Fitch Ratings is forecasting that China's GDP growth could remain well below 5% in 2023.
With China being Malaysia's top trading partner, slower growth there would have a significant impact on trade not just for this country but regionally as well. This would impact the equity market negatively.
However, one key event that could be a positive catalyst from China is the 20th congress of the Chinese Communist Party on Oct 16.
"It will be a key event to monitor to see if there will be any signals that there will be a change of stance [on China's zero-Covid policy and that the country will] start reopening to the world," says Wong.
Malaysia's 15th General Election
Looming over the equity market, some say, is the highly anticipated 15th General Election.
Speculation is rife on when this will happen. Some believe it could happen as early as November, although there is still time until mid-September 2023 before the next general election will have to be called.
"GE15 could be the key influencer for the market. If a stable government can be formed, it would be a positive catalyst for the market," says TA's Choo.
Malaysian politics have been a game of musical chairs since the historic 14th General Election, which saw Barisan Nasional defeated by the Pakatan Harapan coalition.
When a new government comes into power, the equity market would usually get the jitters, not knowing what policies might be put in place.
At the opening bell on the Monday after GE14, the equity market wavered for a brief 30 minutes before finding its foothold.
Nevertheless, selected stocks that were perceived to be linked to the Barisan Nasional coalition saw massive selldown. Construction stocks also suffered, as concern loomed that there could be fewer jobs with the then new government intending to review mega infrastructure projects. Some fell as much as 30%.
Companies such as George Kent (Malaysia) Bhd, MyEG Services Bhd, AwanBiru Technology Bhd, Malaysian Resources Corp Bhd and Gabungan AQRS Bhd saw frenzied selling.
In contrast, those believed to be linked to the new government coalition such as Opcom Holdings Bhd as well as companies like Eden Inc Bhd and Thriven Global Bhd saw their shares being traded higher.
It is noteworthy that the five recent GEs saw the FBM KLCI declining over the course of one year from the election date, with the exception of GE13, when the local benchmark index rose 6.19% over a period of one year, driven by the post-election rally.
A year after GE14, the FBM KLCI fell 11.53%. But it is worth noting that other regional indices were also in negative territory.
As is well known, the PH coalition government lasted for less than two years before the infamous "Sheraton Move" took place in February 2020 that ultimately led to the collapse of the PH coalition.
The nation was in uncharted territory with the many changes in leaders and ministers, all while trying to combat the Covid-19 pandemic that was also new to the world.
Following the Sheraton Move, the FBM KLCI tumbled 4.2% that week on heavy selling due to uncertainty about the government.
That said, stability in the government and a clear direction in policies are factors that could work as a positive catalyst for the equity market.
"If investors cut out stocks that are politically linked, the general election results should have a minimal impact on your portfolio. What investors should be focusing on are the fundamentals and how new policies might impact the company," says a fund manager.
Upcoming Budget 2023
The nation is inching closer to the tabling of Budget 2023, which is slated for Oct 7. With rumours of GE15 taking place soon, expectations are high that it will be an "election budget".
"It could be positive for retail and consumer sectors as consumption is expected to increase if the budget contains goodies for the people. Civil servants are also usually given some goodies during the budget as this will help with consumption," says Areca's Wong.
While some goodies are expected, they will be constrained by the government's ability to spend given the growing fiscal deficit and high debt level. As at end-June, the national debt level stood at about 60% while the country is forecasting to meet its fiscal deficit target of 6% this year.
"We could perhaps expect some goodies here and there but we're not expecting any large-scale infrastructure project announcements because of the constraints," adds Wong.
How is the 4Q outlook?
While headwinds are still present, market experts believe there is more upside for the equity market in 4Q, compared to downside.
"If you think about it, a lot of the negatives have been priced in. Investors have been too pessimistic this year. I believe the market will correct towards the end of the year, unless something really unexpected happens," notes Rakuten Trade head of equity sales Vincent Lau, who says he is "cautiously optimistic" about the equity market.
He adds that sentiment has seen some improvement, which can be observed through the trade volume in the equity market. On Bursa, data from the stock exchange showed that total volume traded on the local stock market had risen from 44.49 billion units in July to 57.94 billion units in August. As for September, the total volume traded amounted to 25.61 billion as at Sept 14.
"Many institutional investors are waiting to buy as valuations are starting to look attractive," says Lau, who is positive on the technology and banking sector.
The FBM KLCI price-to-earnings ratio (PER) for 2Q2022 is 15.87 times, which is lower than the PER of 17.72 times for 4Q2019 and also lower than the PER of 22.88 times for 4Q2020.
Similarly for the FBM Emas Index, the 2Q2022 PER is at 14.73 times, lower than the pre-pandemic PER of 20.75 times in 4Q2019.
MIDF's Imran shares a similar view, saying that he is also more bullish on the equity market towards the end of the year.
Areca's Wong, however, is taking a cautious approach and thinks that it could be time to go into the market in one or two months' time.
Meanwhile, TA's Choo believes that the equity market has bottomed out and thinks that it would probably stay flat while awaiting a positive catalyst. "We are neutral in the short term, but bullish for the longer term as all the negative issues will be ironed out given time."