This article first appeared in The Edge Financial Daily, on September 10, 2019.
Click / Tap image to enlarge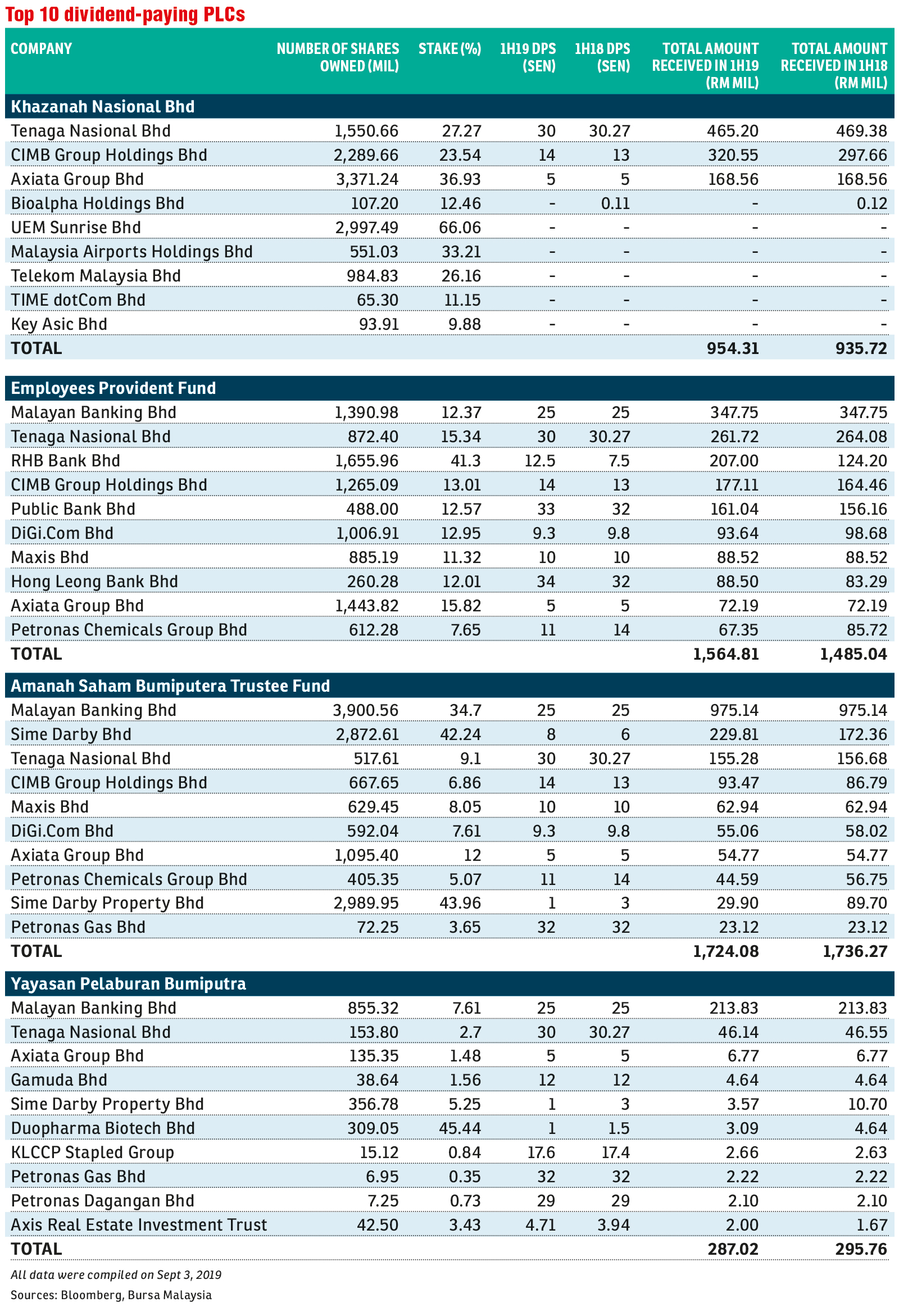 KUALA LUMPUR: Corporate earnings growth has been disappointing so far this year, but companies in which the Employees Provident Fund (EPF) holds substantial stakes have managed to sustain their dividend payments.
However, it is not quite the case for Khazanah Nasional Bhd and the two funds — Yayasan Pelaburan Bumiputra (YPB) and Amanah Saham Bumiputera Trustee Fund (ASBTF) — which are managed by Permodalan Nasional Bhd (PNB).
The EPF received dividends of RM1.56 billion from 10 companies that have paid the most dividends in its portfolio in the first half of 2019 (1H19). The sum received is 5.4% higher compared with RM1.49 billion a year ago, according to Bloomberg data compiled.
Banks and telecommunications companies dominate the list of 10 firms that paid the highest dividends in the EPF's portfolio, including DiGi.Com Bhd, Axiata Group Bhd, Public Bank Bhd and Hong Leong Bank Bhd (see chart).
And among these 10 public listed companies, CIMB Group Holdings Bhd, Public Bank, RHB Bank Bhd and Hong Leong Bank declared a higher dividend per share in 1H19 compared with a year ago.
On the other hand, dividends from its top 10 companies, in terms of shareholding, went up by nearly 35% to RM296.32 million in 1H19 compared with RM219.68 million a year ago.
The substantial rise is attributable to the bumper dividend declared by RHB Bank, in which the EPF holds a 41.3% stake.
RHB Bank declared 12.5 sen dividend per share in 1H19 compared with 7.5 sen a year ago. This translates into a total dividend income of RM207 million for the EPF from RHB Bank alone.
That said, among the top 10 companies, of which the EPF is the single-largest entity shareholder, Malaysia Building Society Bhd (64.48%-owned), Malaysian Resources Corp Bhd (35.85%-owned) and Mah Sing Group Bhd (8.72%-owned) did not declare any dividends in 1H19.
Last Friday, the EPF announced that equities contributed RM6.33 billion or 51.4% of its total investment income for the second quarter of 2019 (2Q19). Equities accounted for 39.2% of its investment assets, while fixed income instruments 50.6%.
The provident fund's total investment income stood at RM12.32 billion for 2Q19, versus RM12.39 billion in the same period last year. Given that equities contributed RM4.16 billion in 1Q19, this would mean that the EPF's investment income from equities stood at RM10.49 billion for 1H19.
Fixed-income instruments generated RM5.12 billion, or 41.6% of the provident fund's quarterly investment income. Income from Malaysian Government Securities and its equivalent in 2Q19 reached RM2.69 billion, while loans and bonds generated an investment income of RM2.43 billion, according to the EPF's announcement.
At Khazanah, the government-linked investment fund's portfolio appears to be less generous with its dividend payment (see chart).
For 1H19, among the nine companies in which Khazanah holds substantial stakes, only three of them — CIMB Group, Tenaga Nasional Bhd and Axiata Group Bhd — declared dividends. The three companies, which are also the heavyweight component stocks on the FBM KLCI, paid a combined total of RM954.31 million in dividends to Khazanah. This is 2% higher compared with RM935.6 million in 1H18, according to Bloomberg data.
Among the top 10 Khazanah-owned companies (in terms of shareholding), UEM Sunrise Bhd, Malaysia Airports Holdings Bhd, Telekom Malaysia Bhd, Time dotCom Bhd and Key Asic Bhd did not declared any dividends in 1H19. That said, this may not be an indication that they would not do so in 2H19.
YPB, which is under PNB, also received lower dividends in 1H19 compared with a year ago.
YPB is estimated to receive a total of RM287.02 million from its top 10 dividend paying companies that it has a substantial stake in 1H19. The dividends received from the same 10 companies were higher at RM295.76 million in 1H18.
YPB's list of top 10 dividend payers in 1H19 was different in 1H18. S P Setia Bhd, UMW Holdings Bhd and IJM Corp Bhd were on the list last year, while Petronas Gas Bhd, Petronas Dagangan Bhd and Axis REIT did not make the cut a year ago. Last year, the top 10 dividend-paying companies then paid a combined of RM337.65 million dividends to YPB.
YPB holds equity interest in 37 companies listed on Bursa Malaysia, of which it is the single-largest substantial stakeholder in four companies — Chemical Company of Malaysia Bhd, MNRB Holdings Bhd, S P Setia and Duopharma Biotech Bhd. Among the four, only its 45.44%-owned Duopharma Biotech declared dividend in 1H19. The chemical firm paid dividend of one sen per share.
For the first six months of 2018, Duopharma Biotech, with Chemical Company of Malaysia and S P Setia, paid a total of RM47.67 million in dividends.
Thus, according to the data compiled, when measuring the amount of dividends paid by companies the sovereign wealth funds have controlling stakes in, Khazanah and the EPF's portfolio seems to be performing better than in 1H18, while PNB's portfolio appears to be lacking behind in terms of performance.
ASBTF, another fund managed by PNB, is estimated to receive a total of RM1.72 billion in 1H19, versus RM1.74 billion in the previous year, from the top 10 companies that paid the most dividends in the investment portfolio.
If compared with the top 10 dividend payers in 1H18, which were different from 1H19, it would amount to a total of RM1.75 billion.
The total dividends that came short in 1H19 were due to the absence of the proposed four sen dividend by S P Setia, as well as lower dividends declared by Sime Darby Property Bhd, DiGi.Com as well as Petronas Chemicals Group Bhd. But the drop was slightly offset by higher dividends to be received from Sime Darby Bhd and CIMB Group.