This article first appeared in Enterprise, The Edge Malaysia Weekly, on August 13, 2018 - August 19, 2018.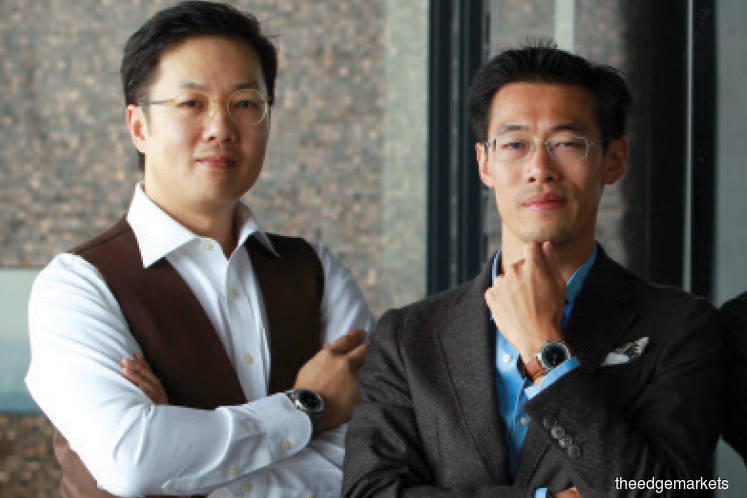 When you think about how successful homegrown watch brand MING has become, you may be surprised to learn that it only turns one this month. Its inaugural offering — the Ming 17.01 — sold out within minutes of its launch.
The brand, which was virtually unheard of in the watchmaking space, was featured in Hodinkee (a specialist online magazine on luxury timepieces). The article, written by its editor-in-chief Jack Foster, was picked up and featured by Bloomberg.
As if that were not enough, the flagship MING watch model in its present line-up is in contention for a prize at the 2018 Grand Prix d'Horlogerie de Geneve (GPHG) Awards — the equivalent to the Oscars in the world of watchmaking.
It is hard to believe that the idea of creating the company started out as a joke between the founders — all watch collectors — who were finding it more and more difficult to find watches that suited their budgets and discerning taste. What they found was that luxury watches were becoming more expensive and that in many cases, what used to be exclusive was being mass produced to cater for the mass affluent market. In short, the watches were not worth the price. Or at least, that was what the founders thought.
"We found that everybody got the same thing at the end of the day. Some models [that were supposed to be limited editions] were re-issued after making minor tweaks. And between the different models, a lot of recognisable parts were shared," says Ming Thein, co-founder and CEO of MING.watch.
Despite this, the prices of these watches could triple within five years, due to demand. "In theory, when you sell more of a product, the price should go down or at least be maintained," he points out.
Chan Kin-Meng, co-founder and director of MING.watch, says this trend of escalating prices coincides with the growing number of wealthy people around the world. According to the Boston Consulting Group's Global Wealth 2018 report, global wealth grew 12% last year to US$201.9 billion. From 2012 to 2016, global wealth increased an average of 3% a year, from US$159.3 trillion to US$180.7 trillion.
As a result, luxury watches — even though they may be less than unique and overpriced — continue to sell well in the market. "They are largely buying into the branding and marketing hype," says Chan.
He says luxury watches with unique designs and values still exist, but prices have skyrocketed to a level that is almost inaccessible to most people. "Prices can easily reach six figures."
This is bad news for seasoned watch collectors. Even those who can afford the watches are reluctant to buy them. And so, MING.watch stepped into the breach.
It started as a joke
The idea of setting up a watch company was born out of the frustration of the six co-founders, who were finding it a challenge to find affordable unique luxury watches that could hold their value over the years. In 2014, they started to joke among themselves that the only way to get such a watch would be to make it themselves.
"We were talking about some of the watches we had come across," says Ming, adding that they not been kind or sparing in their assessments. "We said, 'This is crap. That is also crap. Why not make our own?'"
Then, they immediately backpedalled, saying that making their own watch would never work. But the idea kept resurfacing. The eventual partners knocked holes in the idea, only to fill them up again. Gradually, they began to consider it seriously. After all, luxury watches were not entirely foreign to them.
For starters, Ming (whom the watch is named after) was already deeply entrenched in the watch industry. A prodigy, he had obtained his master's degree in theoretical physics from the University of Oxford at the tender age of 16. He researched luxury watches extensively when he began collecting them in 2003.
Two years before that, he was already participating in online forums such as PuristSPro and TimeZone, which connected him not only to other watch collectors but also specialist media outlets and major auction houses. Ming was a photographer and had been commissioned to take pictures for brands such as Jaeger-LeCoultre, Richemont and the Swatch Group. He was also chief of strategy at one of the world's renowned camera brands, Hasselblad.
Seeing the depth and breadth of his reach, it is small wonder that he was able to kick-start a watch company and make a success of it in such a short time. But he did not go it alone. He teamed up with Chan, Dr Magnus Bosse, Jacky Lim, Yeng Fook Chek and Praneeth Raj Singh
Chan, who is CEO of Beneton Properties Sdn Bhd, is a director of the start-up and in charge of corporate affairs. Bosse has extensive knowledge of the luxury watch industry. He had worked for 10 years with the United Nations Industrial Development Organisation on international project development and is now responsible for the production and marketing of MING.watch.
Yeng and Lim are corporate leaders. The former is managing director of a privately owned engineering and construction company while the latter is director of Miluxe Pte Ltd — a well-known watch distributor and retailer in Vietnam. Both of them are advisers to the company.  
Then, there is Praneeth, who used to be a student in Ming's photography classes. Young and passionate, he is currently in charge of the start-up's operation and finances.   
So, on more than just a wing and a prayer, MING.watch kicked off in August 2017.
Birth of its first baby
The start-up's first product — Ming 17.01 — designed in Malaysia by Ming, but manufactured and assembled in Switzerland, was sold online for US$900 (RM3,657) each. The first two customers were from different parts of the globe, Canada and New Zealand, and the watches sold out in a matter of minutes.
"We sold 300 in three rounds. All the watches were snapped up in just two to three minutes," says Ming.  
The Ming 17.01 was featured by various media. The comments about its design and selling price were mostly positive.
Apparently, the six founders were not the only ones who recognised the gap in the market. Other collectors were also keenly aware of it, but they were not enterprising enough to take the bull by the horns and build their own watch.
"In fact, we have seen people selling the watch on the secondary market for a much higher price, showing that the value has increased," says Ming.
MING.watch then launched its next product, the Ming 19.01. The unique part about the watch is its colour — deep blue opaque — which spreads out and softens from the sapphire dial to become fully transparent at the edges. The watch movement, where its execution and finishing is exclusive to the company, is displayed on the sapphire case when one turns the watch around.
The watch is a collaboration between the start-up and Schwarz Etienne, one of the best under-the-radar Swiss watch manufacturers. Monochrome, an online magazine that focuses on fine watches, gave the watch a positive review. It described the watch's design as "radical and simply unlike any other time-only watch on the market" and that it got the watch world talking.
Ming says the 17.01 is more of an entry-level watch while the 19.01, which sells for CHF7,900 each (RM32,213), is for seasoned watch collectors looking for something different and distinctive. "We put in a lot of effort and went through 50 to 60 designs for this particular model. We produced prototypes and wore it for three to four months before it was finalised. That is why when you look at the 19.01s we are wearing, they are all not the same."
There is a huge price gap between the 17.01 and 19.01 and collectors wanted something in between. So, MING.watch came up with its third product, the MING 17.03.
While there are identifiable features among the MING watches, Ming says the 17.01 and 17.03 are designed differently so the products remain unique and valuable. "The watches are very different. The 17.03 has a sapphire ring on it. The case is made of grade two titanium [which is of better quality] and the lugs [where the watch strap fits in] are longer.
"There are two sets of holes on the lugs. One is for the leather straps and another for grade two titanium bracelets. We design and produce our own straps and bracelets and the watch owners can buy these and change them as they like.
"There is also a second timezone on it. It is an automatic watch that you can wear every day and use for travel."
The battle has just begun
All three watches were a hit in the industry, but the battle is far from over for MING.watch. Chan says the aim is to be profitable so it can continue to exist.
"We are a start-up, but we don't see and run it that way. We want to be there for the long term. Many of us are from a corporate background and we have plans for how the company should move forward," he adds.
The path to profitability, however, is neither smooth nor straightforward. For one, it takes a lot of money and time to come out with a product. A single product requires an investment of about RM1 million. Then, it will take 24 to 36 months for it to be designed, manufactured and sold in the market.
The profit will be razor thin and there will be a cap on how many units are produced and sold. "The profit is thin because we use high-quality components to manufacture our watches. We also put a cap on the number of each product sold to retain their value. We made a promise to our customers and we are following through on it," says Ming.
For instance, there were only 300 pieces of the Ming 17.01 produced and sold in the market. "I am confident we can sell another 3,000 pieces. But we are keeping our promise. What would our customers think of us if we broke it?" says Ming.
After all, this is the start-up's value proposition: affordable unique watches that will appreciate in value.
It is a challenging business, but Ming and Chan believe that the company is on the right path. One encouraging sign is that it has managed to break even just one year into its journey.
Going forward is a matter of business strategy, Ming asserts. For one, they need to always plan ahead for new watch launches to keep the money flowing and create some momentum in the market.
The start-up is focusing on providing more value to its customers via product offerings, instead of building hype through marketing and advertising. For instance, a leather pouch and two pairs of straps are given to a customer when he buys the company's watches online. The pouch allows the owner to carry the watch and straps with them when traveling while the straps allow the owner to try new looks or match the watch with different clothes.
The start-up produces the straps with different designs so customers can buy them online. "We have about 14 straps and they are all very different. However, they work on different watches," says Ming.
These efforts are meant to enhance the customer experience. Ming and Chan have come away frustrated from luxury watch events and are determined not to repeat those mistakes with their own offerings. "We have been to events where the salespeople were hard-selling the products. We did not like the way we were approached. And then, they gave you useless things such as brochures and caps. I have about 400 caps that I do not use," says Ming.
"When you buy a watch, they give you a box, which is also useless. A collector friend of mine has a room just for the boxes. And when he was selling some watches, he had to dig out the boxes only to find that the fake letters on them had dropped off. That is why we give a leather pouch."
Chan concurs. "I have been invited to high-end watch events and they are just there to sell you stuff and giving you catalogues, little cardholders, caps and other useless things. It is a marketing-driven engagement [which can be too much]."  
Ming says the start-up has to find the sweet spot between providing value and profitability. "It is a delicate balance. If we go for profitability first, product quality will be compromised. If we focus on the product only, our business may not last."
A nod from the gods?
Chan says there is a shortcut to boost the start-up's reputation and profitability, but the result is anyone's guess — which is to win a prize at the GPHG. "It is like the Oscars in the world of watches. If you win, it means the gods of the watch world are saying they like what we are doing. It would be a tremendous validation."
The Ming 19.01 is currently competing at the GPHG. Ming says the list of finalists will be announced in the middle of this month and the winners in November. "We were invited by six jury members to submit our product. If we win something, it will be the first time a new, Asian micro-brand has done so."
The next four months will be critical to the start-up's success. The co-founders will need to chart a different path, one that involves quicker business expansion, if the 19.01 wins a prize at the GPHG. If it does not, the company will have to gradually build its brand and market momentum. "We have made a heavy investment in R&D and we will see what comes next," says Chan.
MING.watch is funded by its founders and there are currently no plans to seek external funding. That is because they want to be in full control of the company and stick to their original promise of design, quality and limited editions.
"External funding would dilute our control and the brand too. It may lead us down the path of chasing profitability [at the expense of quality]. We do not want to be forced to sell more products to boost profit. This would harm the value of our products and undermine our brand," says Ming.
One thing is for sure. The founders are confident of the company's future and plan to be here for the long haul. "We enjoy being in this group, building something from scratch. And it is something all of us love to do. This adds some fun and that is what entrepreneurship is all about," says Chan.