This article first appeared in Enterprise, The Edge Malaysia Weekly, on August 5, 2019 - August 11, 2019.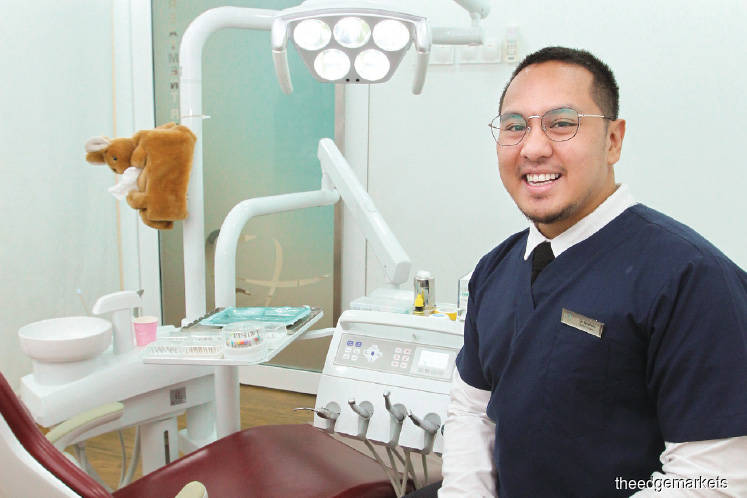 Dr Ibrahim Shahruddin, who is only in his early thirties, runs the Damansara Heights branch of iCare Dental Malaysia, one of the country's latest dentistry group practices. He and his four co-founders — Dr Lee Wayn Juen, Dr Beh Wee Ren, Dr Eng Lek Tuan and Dr Queck Kian Loke — have 20 other clinics under their stewardship, with another two planned for launch later this year.
"There used to be more of us in the early years of the business. But of course, people come and go. They understandably had varying levels of confidence in the trajectory of the business," Dr Ibrahim tells Enterprise.
Previously, he and his co-founders had to convince others to join their practice. Today, there is a veritable waiting list of dentists wanting to be part of their burgeoning group.
As for the five who have stuck it out so far, they pooled their resources and came up with about RM500,000 to set up the first iCare Dental clinic in Taman Connaught, Cheras. "We were lucky enough to avoid having to take up loans or government grants. The business was entirely funded by the five of us. And from our Taman Connaught clinic, we eventually expanded across the Klang Valley. We also have a clinic in Melaka," says Dr Ibrahim.
This is the group's fifth year in operation.
Freshies finding one another
Dr Ibrahim's journey with his co-founders started nearly 10 years ago, when they got to know each other as fresh-faced dentistry graduates embarking on their mandatory three years of government practice. Although they were working in various parts of Kuala Lumpur, they would meet up at continuing professional development talks and induction sessions.
Typically, dentists harbour the ambition of setting up their own private practice once they have completed government service. But the going can be tough as many of them do not fully grasp the enormity of running a business, according to Dr Ibrahim.
"We spent all our time in medical school just learning to be competent practitioners. There were no courses on the business side of dentistry. And it can be an expensive business to get into. So, there is a lot of risk involved," he says.
It was for precisely these reasons that Dr Ibrahim saw an opportunity to collaborate with his peers. The son of government servants who worked hard to put their children through medical school (two of his siblings are doctors and another two are accountants), he grew up in a middle-class environment.
"I was always so taken with this old African proverb: If you want to go fast, go alone. But if you want to go far, go together. It really described the supportive and loving environment we grew up in," says Dr Ibrahim.
"This was the philosophy I had in mind when it came time to think about going into private practice. Sure, I may have been able to open a clinic on my own, but I could only have come this far with my co-founders. It really appealed to me — the idea of spreading the risk and being able to rely on not just each other's money but also their experience and diverse skill sets."
The five co-founders saw a group practice strategy as the best way to stand out in a market that was littered with sole proprietors. Despite being such a highly sought after and lucrative vocation, there were only three or four dentistry group practices in the country when he graduated. At least one of those practices is an international operation set up in Malaysia a few years ago, says Dr Ibrahim.
"I looked at examples like the Mediviron Group of Clinics [a general practitioner's group practice] and realised that people tended to have more confidence in a common brand that they saw throughout the market. It was an indicator that perhaps there was a certain level of consistent service available, regardless of which location you visited," he says.
Staying the course
While people are generally comfortable visiting another general practitioner at a pinch, the same cannot be said of dentists, according to Dr Ibrahim. "People tend to be very reticent about switching dentists. I think it is because it is such a personal thing, having someone peer into your mouth."
For this reason, he and his co-founders intentionally set up the group with a very high entry level. For him, iCare Dental would be more than a loose collection of disparate clinics; they would gradually become institutions in their respective neighbourhoods.
Thus, the co-founders do not simply hire dentists. Instead, they co-invest in new clinics with the new dentists. They put up most of the investment capital and the incoming dentist comes up with the rest.
The new dentist is then declared a shareholder and director of a particular clinic and the business operates on a profit-sharing basis. For all intents and purposes, the dentist is the boss of that particular clinic.
Dr Ibrahim wants the group's dentists to be fully committed to the iCare Dental growth story. "Obviously, we place a very high emphasis on technical expertise. But really, when we choose new dentists to join our group, we want to know that they share our values," he says.
They must be willing to stay for the long haul and grow with the very communities they serve. The co-founders do not want a high turnover of dentists in their group practice. By giving the dentists a direct financial stake in the clinics, they are invested both financially and professionally.
Dr Ibrahim explains, "Typically, group practices provide their dentists with a certain percentage of the business as profit-sharing and take the rest as group profit. Our dentists get to keep a standard percentage of the profit their clinic makes. Much of the remainder is ploughed back into their clinics.
"We are still a young company and our focus right now is to grow the business and expand our presence. So, it would not make business sense for the co-founders to take profit from the business."
As at end-2018, the group practice made just over RM17 million in revenue. "We are projecting a revenue of RM23 million this year," he adds.
But the iCare Dental journey does not end once a new dentist has been onboarded and is running the clinic. The co-founders regularly organise talks and get togethers for all the dentists. In fact, they brought in specialists from Australia in May to conduct comprehensive technical skills workshops for the dentists.
"This idea of collaborating to go far has always resonated with me. So, we do what we can to grow and improve as a unit," says Dr Ibrahim.
"In fact, every now and again, one of us encounters a particularly exotic or troublesome case. We then post the details to our WhatsApp group, where everyone comments and discusses the best strategies and approaches to solve the case. This way, we all benefit from the case, even if only one or two of us were directly involved in it."
Talent troubles ahead?
Despite the rosy growth story, Dr Ibrahim is cognisant of certain challenges that lie ahead for the group. He is increasingly concerned about the quality of the fresh graduates entering the market.
"When I graduated about 10 years ago, there were only three public universities offering dentistry courses. Today, there are about 16. Back then, there was definitely a shortage of dentists. There were probably just a few hundred entering the market every year. But now, thousands are flooding the market," he says.
Also, the period of government service has been shortened over the years, thus limiting the exposure new graduates get to the industry. "When I graduated, we had to go through a mandatory three-year stint at government hospitals or clinics. At the time, we were onboarded as full-time government employees, with all the attendant expense claims and social security benefits," says Dr Ibrahim.
"But today's graduate dentists are not as lucky. They are employed as government contractors and thus, do not enjoy the kind of security we used to. More importantly, their contracts typically last only a year. So, we have a situation where thousands of graduates are entering the market, who are less secure in their early careers and less experienced, due to the lack of permanent positions."
But these early years in government service are an invaluable training ground as it exposes young dentists to a variety of cases, locations and stresses, he says. It is also in government service that young dentists get the opportunity to intern in various dental specialisations. The overall experience prepares them for the rigours and responsibilities of a career in dentistry.
Even so, Dr Ibrahim is optimistic about the future. The influx of new graduates is not going to force him to reduce the recruitment standards. He prefers to look at the scenario from a different perspective. Putting on his business owner's hat, he believes that it is an employer's market insofar as dentistry is concerned.
"Instead of asking for dentists with three years' experience, I am now in a position to ask for practitioners with five years' experience. After all, while there will undoubtedly be more competition in the market, the cream always rises to the top."
Taking a long-term view, Dr Ibrahim has plans to expand the group's presence and diversify its revenue streams. On the first count, he wants to set up clinics in more major cities in the country. Right now, the group is heavily concentrated in the Klang Valley and experience tells him that urban dwellers have a better appreciation of the importance of dental care and upkeep.
Dr Ibrahim would also like the group to derive more of its revenue from higher-end, elective procedures, as opposed to the more basic filling and scaling procedures. "Right now, I would say that we have a 60:40 split in favour of the more basic procedures. But really, the path to real profitability and long-term market recognition lies in aesthetic dentistry. Ideally, we would like to be known in the market for our dental implants, braces and veneer procedures."