This article first appeared in Enterprise, The Edge Malaysia Weekly, on December 31, 2018 - January 06, 2019.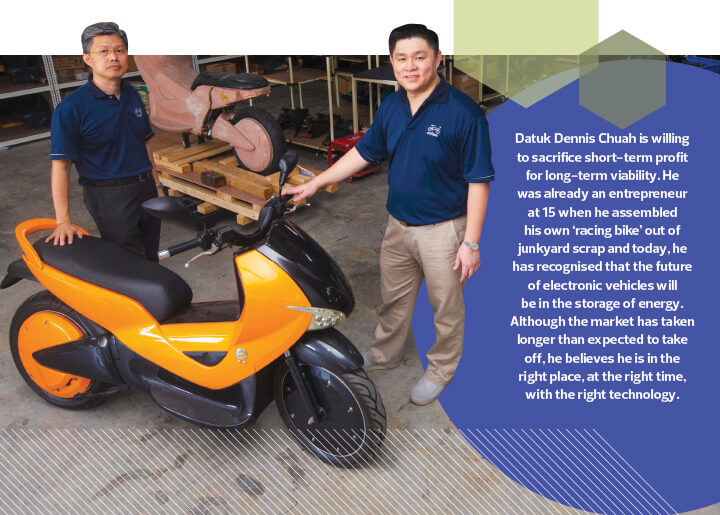 Datuk Dennis Chuah is well known in green technology circles as one of the two people behind Eclimo Sdn Bhd — the maker of Malaysia's first electric motorcycle, which uses patented lithium ion-based energy cells.
He was forward thinking enough to recognise that the focus should be on batteries that produced renewable energy for motorcycles (rather than cars, which is a saturated market). The fact that the motorcycles caught on so quickly is testament to the foresight of the two partners.
However, it was Chuah's enterprising past that would set the foundation for his ambitious venture. It started when he was in secondary school in the 1980s, when owning a racing bicycle was every child's dream.
Coming from a lower-middle-income family, Chuah (the second of three children) did not want to burden his mother — the family's sole breadwinner at that time. So, he scavenged at metal junkyards in search of discarded metal that he could use to construct his own version of a racing bicycle.
"Almost all of my friends had their own racers and I wanted my own. I found out that I could make my own with the scrap metal. I won't say it was a racer, but it sure did look like one," says Chuah.
His friends noticed his cool new wheels and asked him about it, which led to his first entrepreneurial venture. "That gave me the motivation to start collecting more parts to assemble bicycles," he says.
This experience taught him how to assemble a two-wheeler. Naturally, at the time, it was just something Chuah did to make some money to help his mother out. Little did he know that one day his major business venture would have something to do with two-wheelers.
A couple of years after completing his Form Five, he worked as a crew member at McDonald's, after which he took up a full-time sales technician
position at a company that made packaging for electronic and semiconductor parts. "I still remember that my starting salary was RM370. This was in 1992. When I left in 1995, my monthly salary was RM800," he chuckles.
At 23, Chuah set up his own packaging firm, Zapstat Sdn Bhd, a pioneer manufacturer of electronic antistatic packaging materials for the flourishing semiconductor industry in Penang. "We developed a flexible aluminium foil that made the layer that was wrapped around lithium polymer cells. This revolutionary foil was used by a leading lithium polymer cell manufacturer in Penang called Dyna Plastic Sdn Bhd."
Chuah's business did well despite the fact that he started it at the onset of the Asian financial crisis, when Southeast Asian currencies declined rapidly almost overnight and stocks markets crashed throughout the region. But the rising US dollar helped boost his company's export revenue. "That was how I managed to make some money during that period and since the company was making money, I managed to sell it in 1999."
Then, he went into dealing in recycling electronic scrap, particularly computer parts where the precious metals on circuit boards were collected and resold. In some instances, he refurbished used computers and sold them to internet cafés.
After a short hiatus, Chuah decided to revisit
lithium polymer cells, which he felt was a lucrative opportunity as battery technology was redefining how renewable energy could be stored. This motivated him to start ETI Tech (M) Sdn Bhd, which obtained Multimedia Super Corridor status for R&D on intelligent battery management systems for rechargeable energy storage solutions using polymer lithium ion-based energy cells.
"Battery technology is very outdated. For example, your car battery is still based on decades-old technology. But more products need batteries now, including electronic vehicles and power tools. And there are countless innovations for mobile phone batteries," says Chuah.
He observed that there were increasingly more EV manufacturers in the market and they needed good batteries. As he was gaining expertise in battery technology at ETI Tech, it gave him the confidence to create his own EV with partner Liew Chun Peng.
Liew was a mechanical engineer at Tamura Electronics Malaysia, an electronic components manufacturer. Tamura had sent Liew to Japan as an R&D engineer and he gained experience developing
prototypes for hybrid cars.
They met because Liew was promoting Tamura's products and Chuah was in the lithium battery business. "We soon became friends and after several years, we decided to be partners and develop Eclimo motorbikes, marrying our respective areas of expertise — his in electric cars and mine in lithium batteries."
They started Eclimo (short for Eco-Life Mobility) in 2008. The company manufactures EVs that operate like any other 125cc motorcycle, except that they run on lithium ion-based energy cells developed in-house by the duo. The EVs can travel 100km on a single charge.
The partners spent four years and RM20 million fine-tuning the design (partly aided by the RM3 million they received from the Malaysian Investment Development Authority) before Eclimo was issued certificates by the Road Transport Department and Sirim in 2012. Then, it leased its motorbikes to its first client, KFC Malaysia.
Apart from KFC, which has leased 300 EVs to make food deliveries in every state, another of Eclimo's early clients is the Royal Malaysian Police, which has leased 33 units.
Today, Eclimo has a fleet of 500 EVs, which are being leased to city councils in Melaka, Selangor and Penang. Chuah says a subsidiary of Sarawak Energy has also leased Eclimo's electric motorcycles for its maintenance staff. The motorbikes are also on trial as electric tuk-tuks to ferry tourists around Angkor Wat in Cambodia.
The Eclimo EV model can easily travel up to 100kph, minus the noise and gas pollution, matching the speed of a 125cc combustion motorcycle. It can run for 100km on a full charge. It can be hooked up to any AC wall outlet and it takes only four hours to fully charge the battery.
Why are the motorcycles leased instead of sold? Eclimo's bikes cost between RM10,000 and RM18,800, whereas the cost of locally made combustion engine motorcycles start from RM4,000. Chuah points out that it is not easy for consumers to justify the cost of the bike when there are much cheaper ones available, and leasing — although it will take longer for the company to make a profit — is one way around it.
Eclimo charges RM450 monthly for each vehicle and this covers the occasional maintenance of the vehicle as well as its battery pack.
Although development on the climate change front has improved awareness of the prospects of EVs, Chuah says the progress is still too slow in Malaysia. Since the 2015 United Nations Climate Change Conference in Paris, some of the world's largest countries and global energy giants have pledged to cut carbon emissions to limit the increase of global warming to less than 2°C.
"Because of the cost of manufacturing EVs, there needs to be incentives to get people on board. Also the infrastructure needs to be built," says Chuah.
"Right now, the EVs in Malaysia are all hybrid because the infrastructure is not in place. For example, most motorcycle users live in high-rise buildings, but how many high-rise buildings have charging points for EVs?"
Despite the hurdles, he remains in the business as he believes it has great long-term potential. "A lot of countries are making EVs part of their main agenda. Whether the market grows in the next three to five years, this business has great potential."
Now that Eclimo bikes have been on the road for more than five years and it is a proven technology so to speak, other EV manufacturers have started to express interest, not just in the country but also abroad. Countries such as Thailand are looking to convert auto rickshaws, commonly known as tuk-tuks, into greener vehicles. So, Eclimo has been conducting trials for the past year and hopes to secure orders soon.