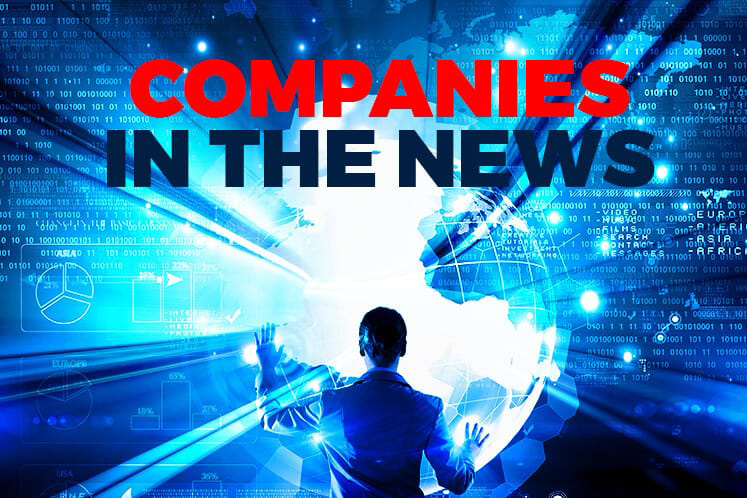 KUALA LUMPUR (March 30): Based on today's corporate announcements and news flow, companies in focus on Monday (April 2) may include: Enra Group Bhd, Chin Hin Group Bhd, KKB Engineering Bhd, Sumatec Resources Bhd, Berjaya Corp Bhd (BCorp), Kumpulan Perangsang Selangor Bhd (KPS), Tenaga Nasional Bhd (TNB), Minetech Resources Bhd, Nylex (M) Bhd and Sapura Industrial Bhd.
Enra Engineering and Fabrication Sdn Bhd (EEFab), a wholly-owned indirect subsidiary of Enra Group Bhd, yesterday served a payment claim of RM10.22 million against Gemula Sdn Bhd for outstanding amounts due and payable.
The claim was made pursuant to Section 5 of the Construction Industry Payment & Adjudication Act 2012 (CIPAA) and relates to outstanding amounts due and payable by Gemula for works completed in relation to two letters of award dated Jan 15 and May 9, 2016, whereby EEFab was appointed by Gemula to undertake construction of a main garage project in Kuantan, Pahang.
Chin Hin Group Bhd plans to dispose of its loss-making metal roof and structural steel system manufacturing unit for RM10.97 million.
Chin Hin said its wholly-owned Formino Metal Sdn Bhd is being sold to Frontscape Sdn Bhd, and that the disposal would reduce costs associated with maintaining the loss-making unit which would improve Chin Hin's balance sheet.
The proposed disposal is part of the group's portfolio rebalancing strategy and the proceeds are intended for general corporate purposes and the repayment of existing debt. It would enable Chin Hin to channel its resources into other business activities that are more promising.
The proposed disposal is expected to be completed by the second quarter of 2018.
Petronas Carigali Sdn Bhd has awarded an engineering, procurement, construction and commissioning of wellhead platforms contract to KKB Engineering Bhd.
KKB said the contract awarded to its unit Oceanmight Sdn Bhd would be for nine months, followed by a 12-month warranty period. Work starts in March.
The contract will have no effect on KKB's issued and paid-up capital but is expected to contribute positively towards the earnings and net assets of the company for the duration of the contract.
Sumatec Resources Bhd has won the right to build a condensate extractions plant for the Rakushechnoye oil and gas field in Kazakhstan.
It won the rights from Markmore Energy (Labuan) Ltd (MELL), which through its wholly-owned subsidiary Markmore Central Asia BV, holds the entire participatory interest in Caspi Oil Gas LLP. Caspi Oil, in turn, is the concession owner and operator of the Rakushechnoye oil and gas field.
The plant will have a capacity of 80 million standard cubic feet per day of natural gas supplied from the Rakushechnoye oil and gas field, which produces light crude oil.
Sumatec said the entry cost of US$155 million (RM620 million) will be paid to Markmore via a combination of cash, the issuance of redeemable convertible preference shares (totaling US$25 million) and new Sumatec shares (worth up to US$100 million).
Provisions for impairment related to the sale of the Great Mall of China (GMOC) project and loss from the partial disposal of an associate company dragged Berjaya Corp Bhd (BCorp) into losses for the third straight quarter.
For the third financial quarter ended Jan 31, 2018 (3QFY18), BCorp posted a net loss of RM92.5 million compared to RM22.89 million a year ago.
Quarterly revenue slipped 2.25% to RM2.17 billion from RM2.22 billion because of lower revenue by the property investment and development business segments.
For the cumulative nine-month period (9MFY18), BCorp showed a net loss of RM281.89 million compared to a net profit of RM136.71 million before, while its revenue dipped 5.03% to RM6.56 billion from RM6.9 billion in 9MFY17.
Kumpulan Perangsang Selangor Bhd (KPS) has proposed to undertake a one-for-13 bonus issue to reward shareholders and to improve the counter's trading liquidity.
KPS said the exercise entails the issuance of up to 38.38 million new shares at an entitlement date yet to be determined. It expects to complete the exercise by the second quarter of the year.
Separately, the group has proposed a final dividend of 4.25 sen per share for the financial year ended Dec 31, 2017, payable on July 20.
Tenaga Nasional Bhd (TNB) has signed a 21-year large-scale solar (LSS) photovoltaic power purchase agreement (PPA) with Redsol Sdn Bhd, pursuant to a bidding exercise organised by the Energy Commission in the first quarter of 2017.
TNB said Redsol will design, construct, own, operate and maintain a solar photovoltaic energy generating facility of 30MWac to be located in Kerian, Perak.
The PPA, which has an expected commercial operation date of Dec 31, 2019, will govern obligations of the parties involved to sell and purchase energy generated by the facility for a period of 21 years from then.
Minetech Resources Bhd's 70%-owned subsidiary has signed a 21-year power purchase agreement (PPA) with TNB.
Minetech said its unit, Coral Power Sdn Bhd, signed the PPA on Monday for the generation and sale of solar photovoltaic (PV) energy to TNB's grid system at PPU Pantai Remis.
The solar PV energy generating facility, which has a capacity of 9.99 MWac, is to be located in Manjung, Perak.
A total of RM62 million has been budgeted for the project, which will be financed through a combination of borrowings and shareholders' equity at a proportion yet to be finalised.
Nylex (M) Bhd is monetising its logistics subsidiary, NYL Logistics Sdn Bhd, for RM14.4 million, as the group does not foresee it delivering high returns.
Together with Bon Kok Meng, Nylex signed a share sale agreement to dispose of 2.2 million shares representing 100% of the issued and paid-up share capital in NYL to Astachem Holdings Sdn Bhd.
Cash proceeds raised via the proposed disposal will be used for Nylex's working capital.
Nylex expects the proposed disposal, which will contribute a gain of RM1 million, to be completed within 90 days.
Automotive manufacturer Sapura Industrial Bhd is buying a piece of vacant industrial land in Bandar Sri Sendayan, Negeri Sembilan for RM15.97 million.
Sapura Industrial said the freehold industrial land measuring 35,332 square metres is located in Sendayan Techvalley,
To facilitate the acquisition, Sapura Industrial's wholly owned subsidiary, Sapura Machining Corporation Sdn Bhd, has signed an agreement with landowner Menteri Besar Negeri Sembilan and property development firm BSS Development Sdn Bhd, a subsidiary of Matrix Concept Holdings Bhd.