This article first appeared in The Edge Malaysia Weekly, on August 6, 2018 - August 12, 2018.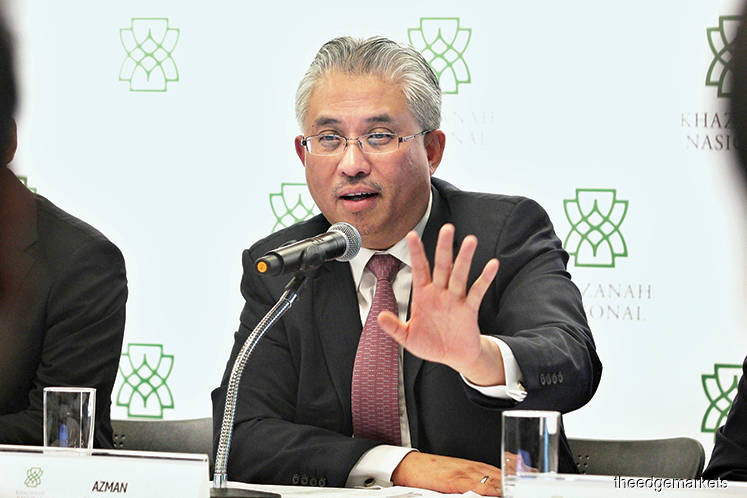 THE crowd accompanying Tan Sri Azman Mokhtar as he clocked off for one last time as Khazanah Nasional Bhd's managing director on July 31 is but one testimony of the goodwill he had accumulated over the past 14½ years.
Azman, who was only 43 when entrusted with the task of transforming Khazanah in 2004, took on the job of transforming not just one institution but also 20 government-linked corporations (GLCs) across different industries with challenges of their own.
Khazanah's net worth adjusted investment assets had trebled from RM33.3 billion as at May 14, 2004, to RM115.6 billion as at end-2017, an average 9.6% compound annual growth.
The institution's core investments like Axiata Group Bhd, CIMB Group Holdings Bhd and IHH Healthcare Bhd are regional champions while Tenaga Nasional Bhd, Telekom Malaysia Bhd and UEM Group are much stronger entities today than before.
They, along with other G20 companies under the GLC transformation programme, saw their market capitalisation tripling to RM386 billion from May 14, 2004, to July 28, 2015 (the last day of the programme), hitting an all-time high of RM431 billion on April 7, 2015. The G20 companies' total shareholder return grew 11.1% per annum over the same period. The success of the GLC transformation programme, the development of Iskandar Malaysia as well as the group's successful ventures abroad are among the reasons Azman was named The Edge Billion Ringgit Club's Value Creator: Outstanding CEO of Malaysia in 2016.
"One thing I will always remember is Tan Sri Azman's consistent advice to management to focus on creating long-term value for shareholders rather than focusing purely on short-term profits, which would have been easier to achieve. Hence, business sustainability and growth are as important as short-term financial performance. He certainly doesn't like shortcuts," Tan Sri Jamaludin Ibrahim, president and group CEO of Axiata, says in an Aug 3 statement. "Axiata could not have attained its leading position within the industry without [Azman's] guidance, support and encouragement."
In his farewell note to former Khazanah colleagues and friends last Thursday (Aug 2), Azman made fun of his poor time management and admitted some failings and failures under his watch. Malaysia Airlines and Silterra were among companies that had not been completely turned around. He also admitted that even the more successful core GLCs and regional champions were facing headwinds due to a variety of factors, including slower growth prospects and digital disruption. He called for the continuation of the Transformation 2.0 programme launched in January.
The naming of Datuk Shahril Ridza Ridzuan, CEO of the Employees Provident Fund, as Khazanah's new managing director from Aug 20 heralds a new chapter for the government's strategic investment fund. Shahril would likely be expected to unlock more value from Khazanah's investments to be able to pay more money to the government, which is burdened with RM1 trillion debt.
The road ahead will not be easy but Shahril would have the benefit of a strong team and an institution built to last beyond any one individual.
"The real test is beyond the incumbent. That's the real test of an institution. While strong leadership makes an impact, a strong institution makes a lasting impact," Azman had told The Edge in a previous interview when asked for his success formula. "It is about building an institution" and not individual glory.
"The senior leadership team members are very good and accomplished as individual professionals with solid backgrounds, and as a team, they complement each other. There's a good balance, a good mix and diversity. We have a beautiful team. Whatever success that Khazanah has achieved, the CEO is the front man but he is supported by a very strong team. I'm very proud of them."
Judging by the "extraordinary and most generous send-off" last Tuesday, he must have done enough things right — despite those notorious 24/7 BlackBerry messages. 
Save by subscribing to us for your print and/or digital copy.
P/S: The Edge is also available on Apple's AppStore and Androids' Google Play.