This article first appeared in The Edge Financial Daily, on August 13, 2019.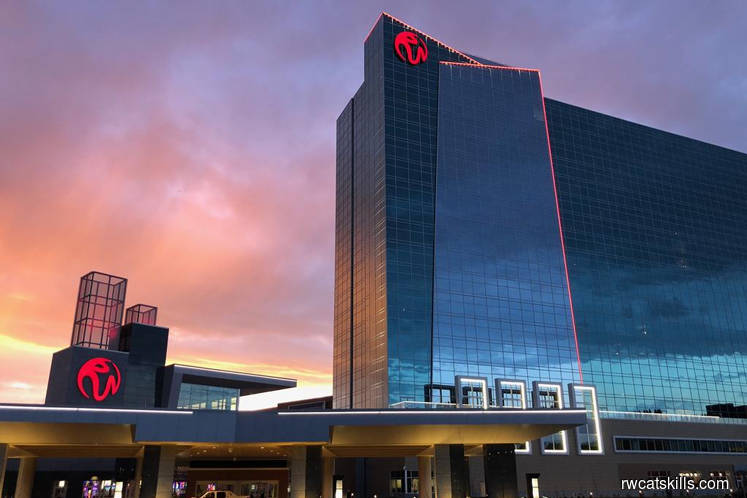 KUALA LUMPUR: Empire Resorts, Inc, in which Genting Malaysia Bhd (GenM) will buy a 46% stake from controlling shareholder Tan Sri Lim Kok Thay for US$128 million (RM538 million), is facing a liquidity problem so severe, it has prompted the US-based casino operator to consider filing for voluntary Chapter 11 bankruptcy.
To keep it going, Empire, in which Lim now controls 84% via Kien Huat Realty III Ltd, has revealed it is in dire need of fresh capital through a cash call, or a restructuring of its whopping debt of over US$400 million.
The news sent the Nasdaq-listed company's share price on a dive to as low as US$8.11 yesterday — down US$1.23 or over 13%. At the time of writing, it was trading at US$8.26 apiece, down US$1.08 or 11.56%.
Last Friday, debt-laden Empire highlighted to shareholders the option of filing for voluntary bankruptcy in the announcement of its second-quarter financials to the US Securities and Exchange Commission (SEC), noting the option would enable it to easier restructure its borrowings.
"We can offer no assurance that we will be in compliance with all obligations and covenants measured as of future quarterly periods within the next 12 months or that we will be able to obtain waivers or other relief from the lenders, if necessary.
"If the company determines to not make a specified equity contribution, or interest and principal payments as they become due, unless the lenders under the term loan facility and revolving credit facility waive or eliminate the financial covenants, or otherwise restructure our existing debt agreements, Montreign Operating [Company, LLC] will be in default under these agreements and the lenders under such agreements can immediately declare all loans due and payable," said the US casino operator, adding that Montreign Operating would likely be unable to pay all such obligations.
Montreign Operating, its indirect wholly-owned subsidiary, owns and operates Resorts World Catskills, a casino resort on a 1,700-acre (687.97ha) site of a four-season destination resort in Sullivan County, New York. It is approximately 90 miles (144.84km) from New York City.
The casino's revenues have not surpassed costs since its opening in February 2018. Hence, Empire is currently generating operating losses, with a net loss of US$73 million in the six months ended June 30.
Empire's long-term debt of US$533.68 million includes the Term A Loan amounting to US$60.4 million and Term B Loan totalling US$439.1 million. The Term A Loan will mature on Jan 24, 2022 and the Term B Loan on Jan 24, 2023, according to the filing with the SEC.
"Given our continuing negative cash flows from operations, and to meet our expected cash needs for the next 12 months and over the longer term, we will be required to obtain additional liquidity sources or possibly restructure our existing debt and other obligations.
"If acceptable terms of a restructuring cannot be accomplished, we may not have enough cash and working capital to fund operations, and satisfy the obligations of, Montreign Operating beyond the near term, which raises substantial doubt on our ability to continue as a going concern," said Empire in the filing.
"As a result, we may be required to seek to implement an in-court proceeding under Chapter 11 of the US Bankruptcy Code ... if we commence a voluntary Chapter 11 bankruptcy case, we will attempt to make arrangements with new and existing creditors for additional liquidity facilities and the restructuring of Montreign Operating's existing debt terms before presenting these arrangements to the bankruptcy court for approval.
"An in-court restructuring proceeding would cause a default on our debt with our current lenders," it explained.
Empire also said on July 25, the Special Committee of its board of directors received a letter from Kien Huat indicating Kien Huat did not intend to provide further equity or debt financing to the company beyond its obligations under the Kien Huat Preferred Stock Commitment while the company remains a public company. Subsequently on Aug 5, the Special Committee received a non-binding proposal letter from Kien Huat, GenM and an affiliate of Kien Huat to buy the shares they do not already own for US$9.74 per common share — which is now higher than Empire's current market price — according to the filing.
To recap, news of GenM buying the 46% stake in loss-making Empire from Kien Huat, Lim's investment vehicle, had sparked fierce selling of its shares as well as those of its parent, Genting Bhd.
Some RM2.6 billion was wiped from GenM's market capitalisation last Wednesday, and Genting saw RM1.8 billion evaporated following news of the related party transaction.
Judging by Empire's latest announcement, it is likely its shareholders, including GenM, will have to inject more capital to sustain Resorts World Catskills' operations moving forward.
In short, the substantial stake in Empire will cost GenM more than RM538.8 million in cash. Further, it is uncertain how long the casino outside of New York City will take to earn enough revenue to at least cover operating costs.