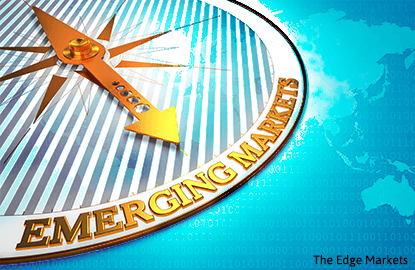 LONDON (Feb 13): The Russian rouble surged to 19-month highs versus the US dollar on Monday, supported by oil prices and leading other emerging assets, while emerging equities tracked world stocks higher, also hitting the highest level since July 2015.
Sentiment towards equities and emerging markets was lifted after US President Donald Trump made no mention of currency policy or protectionist measures during his weekend meetings with Japanese Prime Minister Shinzo Abe.
The rouble rose around half a percent to the US dollar, leading other emerging currencies, shrugging off recent jitters around Russian authorities' decision to buy US dollars to replenish reserves. The purchases started on Feb 1.
The unit is also benefiting from oil prices holding around US$56 a barrel following OPEC production cuts.
"(Rouble strength) is mostly because of oil, which continues to be well-supported, but also now many people are coming to realise that the (US) dollar purchases in the grand scheme of things won't make a huge difference," Unicredit strategist Kiran Kowshik said.
"Many people thought there would be 5–10% upside on dollar-rouble due to the purchases, probably many short rouble positions were built, and those may be getting unwound."
Russian 10-year yields slipped to one-month lows, with data showing that annual inflation slipped to 5% in January, approaching the central bank's 4% target for 2017.
As the US dollar retreated against a basket of currencies, most other emerging assets also strengthened, with the South African rand and Turkish lira up 0.3–0.5%.
Emerging stocks rose half a percent for their fourth straight session in the black, while Asian shares hit 1½-year highs, led by Taiwan and Singapore.
Kowshik noted Trump had avoided ratcheting up protectionist comments in recent days and has instead hinted at ambitious tax cuts.
"Markets are buying into that. They are still focusing on the reflation theme and pricing out protectionist risks," he added.
Central European currencies did not budge against the euro but Polish stocks rose to new 17-month highs and Hungarian stocks touched a fresh record peak after companies in both countries posted strong results last week.
Asian currencies however weakened earlier in the day, led by the Chinese yuan which was fixed at the weakest level in almost four weeks against the US dollar. Offshore-traded yuan also weakened, briefly falling below its onshore counterpart for the first time since early January.
The Indian rupee weakened 0.2% before the 1200 GMT release of data, which is expected to show retail inflation at a five-year low in January.