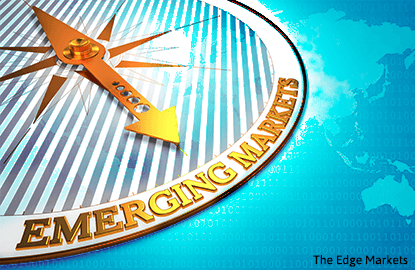 LONDON (Feb 14): Emerging stocks inched to new 19-month highs on Tuesday and most currencies rose against the weaker US dollar but the possibility of a March US rate rise and Chinese inflation at multi-year highs kept gains in check.
The rouble enjoyed its fifth straight day of gains on the back of stable oil prices and a central bank that has signalled its intention of keeping interest rates high, while the US dollar easing off three-week highs after the resignation of a key US presidential adviser supported most emerging assets.
MSCI's emerging equity index rose 0.2%, tracking world stocks higher, though markets remain wary before a testimony by US Federal Reserve chair Janet Yellen later in the day, in case she makes a case for a rate rise in March.
Gains were also capped by data showing Chinese consumer inflation quickening to the fastest pace since May 2014 while factory prices rose at the quickest rate since mid-2011. While this shows China is at no risk of a big slowdown, it will confirm Beijing's recent shift to a tighter monetary policy stance.
Chinese stocks were flat on the day, both on the mainland and in Hong Kong.
"This (inflation data) is important in that it continues a trend we have seen and fits in with this global reflation theme. 2.5% is still short of the 3% target that the central bank has but if this trend continues, the central bank will have to consider tightening monetary policy," said Jakob Christensen, chief emerging markets analyst at Danske Bank.
India's wholesale prices also rose at the fastest pace in two-and-a-half years in January, reinforcing the central bank's decision last week to move to a neutral policy stance as inflation risks grow.
The weak US dollar boosted the rouble more than half a percnt to a new 19-month high while earlier in the day Asian currencies surged, led by the Korean won, which jumped more than 1%. The rand jumped around 1%.
The Turkish lira firmed 0.5% to a one-month high, helped also by data showing a smaller-than-forecast current account deficit in December.
Christensen said however that some of the improvement was down to seasonal factors and there was reason to believe recent lira weakness would not translate into a significant improvement in the deficit, which is considered Turkey's Achilles heel.
"There are some structural factors we should keep in mind — one is the impact of the fear of terrorism on tourism, and trade with Russia is also slow to pick up," he added.
In central Europe, stock markets fell and currencies were unchanged against the euro, with Warsaw stocks retreating from 17-month highs after Hungary and the Czech Republic reported lower-than-expected economic growth for the last quarter of 2016. Romania however posted above-forecast 4.7% growth.
Hungary also showed a rise in the annual inflation to 2.3% in January, above a 2% forecast. The data came after Czech and Polish figures earlier this week also showed a pick up in inflation.
The Serbian dinar was slightly firmer against the euro before a central bank meeting that is likely to keep interest rates steady.