This article first appeared in Capital, The Edge Malaysia Weekly, on July 12, 2021 - July 18, 2021.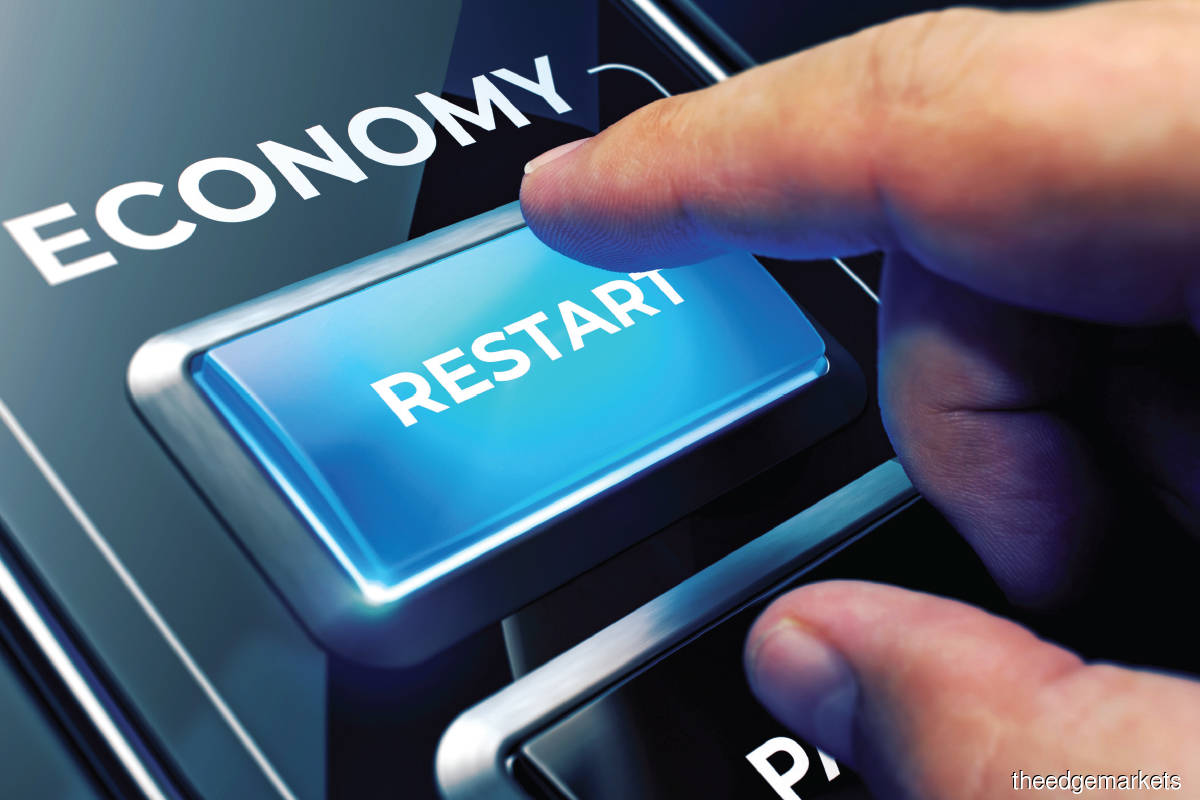 MUCH has been said about advanced nations leading the recovery race on the back of higher vaccination rates. As it stands, the US is the key performer in global markets while Asia is relatively lagging behind, with a mixed outlook.
The disparity between developed and emerging markets is likely to remain for the rest of the year, suggesting that markets in the region may have little to offer investors.
"I have been covering Asia since the Asian financial crisis in 1997. It is quite rare to see such a variation in economic performances across the region. In our forecast, we see China's economy slowing down in 2H and rebounding," Nomura's head of global macro research Rob Subbaraman says in a virtual conference on its "2021 Asia Economic, Currencies & Equities Mid-Year Outlook" last week.
Among Asean markets, Singapore leads with an above-consensus GDP growth forecast of 7.5%, which is higher than its expectation of 4% to 6%, notes Nomura chief Asean economist Euben Paracuelles. Charting the fastest vaccination rate in the region, Singapore has benefited from the strengthening external demand for electronics and pharmaceuticals against a backdrop of improving consumer spending and consistent labour market recovery, he adds.
Thailand and the Philippines are seen as the biggest laggards in the region, whose total output is expected to return to pre-Covid levels only by 3Q2022.
Taking into account Thailand's relatively small vaccinated population, reliance on tourism and current restrictions on Chinese tourists, it will take months before the country can expect a significant number of tourists, says Paracuelles. This will compound the nation's months-long current account deficit against a backdrop of "fairly soft domestic demand and economic recovery".
The Philippines is struggling to reopen its economy, mainly due to a slow vaccination rate while fiscal support measures such as wage subsidies, healthcare spending and other forms of support are limited "compared with the rest of the region". Nomura maintains its 2021 GDP growth forecast for the archipelago at 5.4%, against a contraction of 9.5% in 2020. The country's fiscal deficit-to-GDP is projected to hit 7.5% this year.
"The window for the country to pass any more fiscal measures has closed. That said, what is non-negotiable is for the government to push infrastructure spending to drive recovery. This is likely to pick up in 2H, partly due to the added incentive of the upcoming presidential election in 2022," says Paracuelles.
Meanwhile, mid-ranking Malaysia and Indonesia risk being relegated to the laggard camp.
The latest Enhanced Movement Control Order imposed on various parts of the Klang Valley and the government's financial constraints prompted Nomura to cut Malaysia's GDP growth forecast to 4.4% from 5.6%.
The research house has a GDP growth forecast of 4.9% for Indonesia but expects to be disappointed on account of further lockdown announcements amid the surge of the Delta variant as well as external conditions, in particular the prospect of US Federal Reserve tapering in the coming months.
"As more fiscal support measures become necessary in Indonesia, its fiscal deficit is likely to widen more than the 5.7% of GDP that has been budgeted by the government for 2021. And if so, Bank of Indonesia will be doing more bond purchases to finance the government's increasing requirements as well as more quantitative easing amid Fed tapering, [which will place] pressure on the [rupiah]," says Paracuelles.
China's strong export growth not sustainable
In the wider context of Asia, China's significant shifts in consumption growth and its export performance are seen to hinder growth in 2H2021, according to Nomura's chief China economist Ting Lu.
"Last year, China benefited greatly from its 'first in, first out status' [of the Covid-19 recession] as well as [its role as] a global manufacturing centre. Exports were very strong but we don't think these will be sustainable," he points out.
Developed economies, when reopening, tend to shift from consumption goods such as work-from-home products to services. China's export growth will be impacted as the nation's export strength is in goods rather than services, says Ting.
China's fiscal policies in 2H2021 are expected to be more expansionary compared with 1H. Of the Chinese government's annual RMB7 trillion worth of treasury bonds, only RMB2.5 trillion was utilised in 1H. Therefore, the government will have RMB4.5 trillion worth of net financing in 2H. This will support infrastructure investment, says Ting.
As for monetary policies, Nomura anticipates a rebound in credit growth and rules out rate hikes and cuts for 2022 and 2023.
Despite reporting 43,733 fresh Covid-19 cases last Wednesday, India's active caseload has been declining rapidly amid expedient rollout of its vaccination programme.
Nomura Research India and Asia ex-Japan chief economist Sonal Varma has forecast GDP growth of 9.8% and 10.4% for India in 2021 and 2022 respectively, in anticipation that 50% of its total population — slightly more than 70% of the over-18 adult population — will be fully vaccinated by year end.
Amid the progress in the vaccination rollout, India's services consumption is expected to return and policy normalisation is anticipated to begin in 4Q2021, starting with a 40-basis-point increase in the reverse repo rate and cumulative 75bps of repo rate hikes in 2022 in the light of higher inflationary pressures.
Meanwhile, Nomura is maintaining its GDP growth forecast of 3.6% for South Korea in 2021 against a backdrop of faster-than-anticipated vaccination rollout and growth in its manufacturing sector, even as it struggles with pandemic shocks in domestic consumption and the service industry.
"Markets are now expecting some pent-up demand with the economic reopening as the vaccination rate picks up in 3Q. However, Korean households will not increase spending nor [will they be willing] to give up their [real estate] assets," says Nomura's South Korea economist Jeong Woo Park, who raised the nation's Consumer Price Index inflation forecast to 1.7% in 2021 from its previous estimate of 1.4%.
Global recovery going strong
On the global front, Nomura forecasts a stellar growth of 6.5% in 2021 from 3.2% in 2020. Subbaraman expects that growth at 4.6% in 2022 will be strong by historical standards.
The US, in Nomura's view, is leading the economic recovery in terms of how fast growth is rising above potential. Nomura is forecasting a GDP growth of 6.5% this year. Meanwhile, growth in Europe is recovering but there is still a "hold" on growth compared with the US.
"In terms of GDP levels, the US' [growth] will be well above its pre-pandemic levels by the end of this year. But Europe — the eurozone and the UK — will not be back above pre-Covid levels at end-2021," says Subbaraman.
Japan's recovery, like that of Europe, is underway with a growth forecast of 3.1% in 2021 and it won't be getting back to pre-Covid levels by year end.
"For emerging markets (EMs), Asia ex-Japan's recovery comes in strongest among the other EM regions, having gone well above pre-Covid levels already," says Subbaraman. He observes that Asia ex-Japan shows "a very mixed picture of countries that have clearly recovered" such as China, while others remain laggards.
On inflation fears, Nomura sees the surge in prices in the US to be temporary and they are likely to fall in 2022 as pent-up demand and supply constraints ease.
"The longer inflation stays high, the greater the risk of feeding into inflationary expectations and wage growth, which can make it last longer. Meanwhile, Fed tapering is not expected to start until next January, which will last most of the year, followed by the Fed's first and second interest rate hikes in 2Q2023 and 4Q2023," says Subbaraman.
"In contrast with the Fed, the European Central Bank (ECB) and Bank of Japan will be much slower in their normalisation journey. There will be tapering of asset purchases by the ECB in late 2021 and going into 2022, whereas the Bank of Japan will be further from normalising."
With the Fed in no hurry to normalise, and considering economies emerging from the Covid-19 crisis, he expects the US dollar to have a softer outlook, with a year-end forecast of 112 against the yen and 1.25 against the euro.
Risks to Nomura's views include its own misjudgements — first, on inflation, as it could stay "persistently higher than expected"; second, fears of Covid-19 mutations outpacing available vaccines; and escalation of the US-China tensions.
"EMs are particularly exposed to these risks and would be hit hard if these occurred," Subbaraman warns.
Recovery more sustainable for Malaysia by early 2022
Malaysia, which ranks in the middle in Asean, according to Nomura Research's benchmark list of nations recovering to pre-pandemic levels, may see a more sustainable economic reopening only by early 2022.
A virtuous cycle of accelerating vaccinations, along with a falling case count, will lead to a population less vulnerable to Covid-19 by 4Q2021, which in turn ought to reduce the likelihood of further movement control orders from then on, Nomura's Asean Equity Research head Tushar Mohata tells The Edge.
Therefore, economic reopening should become more sustainable by early 2022, he adds.
For the Malaysian equity market, Nomura's end-2021 forecast for the FBM KLCI is 1,641 points, based on an unchanged price-earnings ratio (PER) of 15 times on FY2022 earnings per share of RM109, implying 8.8% upside through to end-2021.
"The reason Malaysia appears to be a laggard is that the index still has material weight in glovemaker stocks, which have de-rated this year because of recovery from the pandemic. With this largely playing out in 2021, we do not expect Malaysia to be a laggard in 2022," Tushar says.
Investors looking for upside may note that earnings recovery will be gradual for domestic economy-facing stocks such as banks, real estate investment trusts, construction and transport.
Meanwhile, aviation and tourism-related stocks will experience the most delayed recovery as international borders remain closed.
"As for stock prices, given the market discounts on future earnings instead of past earnings, stock prices at current levels have already discounted the FY2022/23 earnings recovery in these sectors to varying degrees," Tushar says.
Downside risks to Nomura's views on Malaysia are prolonged movement curbs, vaccine disappointments or new mutations, political uncertainty and the withdrawal of Covid-19 relief measures.
Notably, Umno's move to withdraw support for Perikatan Nasional last Thursday has shaken the local political landscape again. Prime Minister Tan Sri Muhyiddin Yassin has been urged to step down. This came as Umno said Muhyiddin had failed to fulfil seven requirements the party had set prior to joining the coalition.
Meanwhile, Maybank Investment Bank Bhd (Maybank IB) has reduced its end-2021 target for the FBM KLCI to 1,720 points, from 1,830 points earlier, in the light of the four-phase National Recovery Plan announced on June 15.
Improved clarity on the lockdown, a rising vaccination rate as well as the reconvening of parliament will be expected, going into 4Q, as corporate earnings growth makes a comeback, with improvement of 37.9% year on year compared with a 12.5% contraction in 2020, the bank says.
In a virtual briefing last week, Maybank IB noted that the petrochemical sector was expected to lead in terms of earnings growth this year, growing at 128.1%. Other sectors to chart positive growth include gloves, banks and technology.
The research house has "overweight" calls for the automotive, gaming, large-cap oil and gas, mid-cap financials, plantations and technology sectors.
Meanwhile, CGS-CIMB says in a report that besides Bank Negara Malaysia's policy decision on interest rates as well as further details on the Pemulih stimulus package, investors will also be focusing on the impact of the latest Enhanced Movement Control Order on corporate business.
"Investors will be closely watching political developments, as parliament is set to reconvene in July and the king has indicated that Emergency will not be extended beyond Aug 1. The prime minister's health could also be closely followed, as he has been hospitalised since June 30," it said.
CGS-CIMB maintains its end-2021F KLCI target of 1,709 points based on 15.1 times PER, on the assumption that Malaysia will achieve 70% of its vaccination target by year-end.
"However, if the country is unable to rein in the high number of Covid-19 cases or if there are major hiccups in vaccination progress, we see near-term downside risk of up to 123 points," it says.